Here's How To Tell If You Have Sanpaku Eyes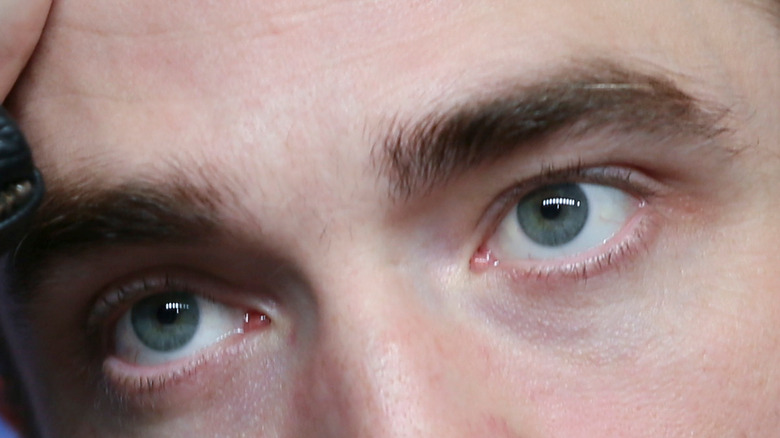 Denis Makarenko/Shutterstock
Our physical traits can warrant a few eyebrow-raising expressions — everything from hip dips to widow's peaks to "baby got back." There are so many to keep track of we barely noticed a new one on the list. Well, not exactly new. But most definitely not as mainstream as those others. If anyone has ever told you have sanpaku eyes and you don't have a clue what that means, let us share.
First, it must be noted that if you have sanpaku eyes, then according to Japanese tradition, you are in danger from the world (per Tofugu). It might also mean you are off balance. Japanese macrobiotic theorist George Ohsawa published a book called "You Are All Sanpaku." In it he claims, "For thousands of years, people of the Far East have been looking into each other's eyes for signs of this dreaded condition. Any sign of sanpaku meant that a man's entire system — physical, physiological and spiritual — was out of balance" (via Your Tango). Ohsawa also went on to say this imbalance could be treated by the macrobiotic diet.
If you have sanpaku eyes then you have some A-list company
Whether you believe the traditions or the theory is completely up to you. Though we're guessing you're now extra curious to find out how to tell if you have sanpaku eyes. Sanpaku is a Japanese term used to describe eyes that have exposed whites under or over the colored portion of the eye. When translated, it means "three whites." The whites of our eyes, known as the scelra, are typically only visible on the sides of the colored portion, also known as the iris. If you have sanpaku eyes, it means the sclera of your eyes is visible on the sides, as well as underneath or above the iris (via Your Tango).
If you don't have sanpaku eyes, that's fine. If you do have them, that's fine, too. Don't be too rattled by the traditions and the theories. Plus, you're in good A-list company. Celebrities who have (or had) this physical characteristic include Abraham Lincoln, James Dean, John F. Kennedy, Sal Mineo, Marilyn Monroe, Robert Pattinson, Sylvester Stallone, and Natalie Wood (per Philippine Daily Inquirer, posted at Lifestyle.INQ). Now, if only we can dig up the roster of A-listers who are rocking the widow's peak and the hip dips.