What You Should Know Before Watching The Nate & Jeremiah Home Project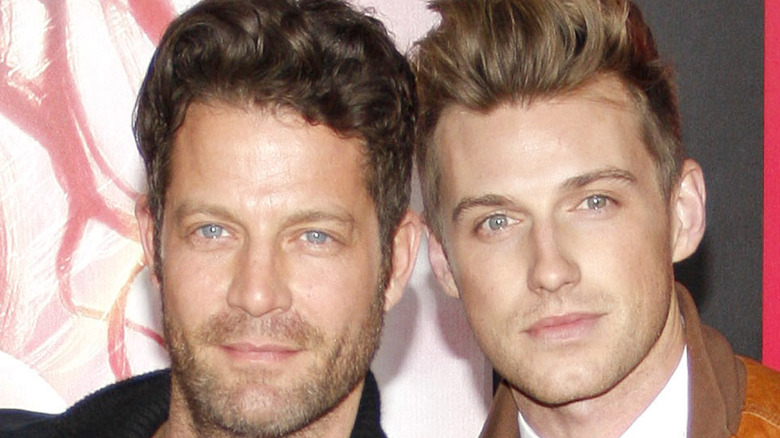 Tinseltown/Shutterstock
Married designers, Nate Berkus and Jeremiah Brent of HGTV's "Nate & Jeremiah By Design" have a new show about to drop, and fans are going to love it. HGTV will air six episodes of "The Nate & Jeremiah Home Project," which will premiere on Tuesday, October 5 on Discovery+ and HGTV (via Meaww). The designing duo already has extensive reality television experience, including "Nate & Jeremiah: Save My House" and "Rock the Block," both part HGTV's previous lineup.
Those who have seen just one of Nate and Jeremiah's shows can attest to the couple's charismatic charm, ability to empathize with complete strangers, and incredible eye for detail. People reports that "The Nate & Jeremiah Home Project" will not disappoint, as the show follows the couple, along with their clients, in sentimental home make-overs.
The HGTV stars shared on the "Today Show with Hoda and Jenna" that each episode is really a "love story," which makes it different from any other show they have done before. Jeremiah goes on to say that the show focuses on the homeowners, their house, and the emotional value of their belongings, rather than selling or flipping the home.
"The Nate & Jeremiah Home Project" will warm your heart
The new HGTV docu-series is, in fact, a collection of love stories, as it details homeowners making over their houses, while keeping their most valued possessions, even if it means repurposing them. "The Nate & Jeremiah Home Project" helps their clients fall back in love with their homes, without having to sacrifice meaningful pieces, such as an old recliner or outdated armoire (via "The Today Show").
The series will no doubt tug on your heart strings, and you may even need the tissue box. People shares some details of the first episode, which follows two sisters from Queens, New York who are renovating their childhood home after the death of their mother. We don't want to spoil it for you, but Nate and Jeremiah find a magical way to restore a family heirloom and making it a part of the more modern design.
"We believe in telling people's stories through their homes," Nate says in a press release (via People). Jeremiah chimes in to add, "In the end, we deliver homes that feel exactly like the people who live in them."