The Advice Katie Thurston Has For Michelle Young On Being The Bachelorette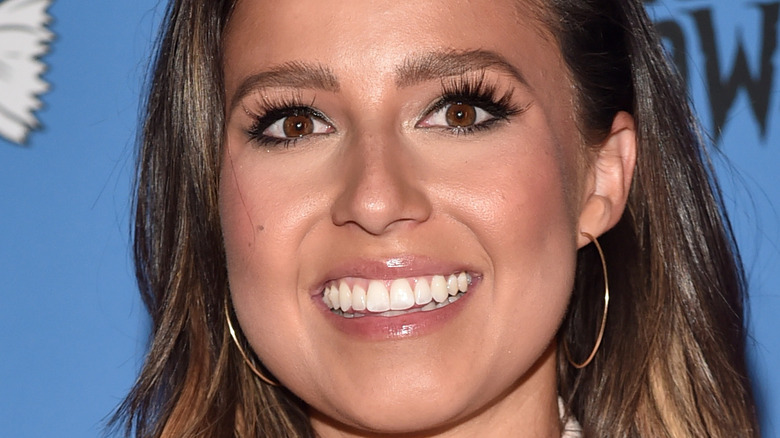 Alberto E. Rodriguez/Getty Images
Following Matt James' historic season of "The Bachelor," the franchise made history for the second time when ABC decided to air back-to-back seasons of "The Bachelorette" (via Entertainment Weekly). Fan-favorite Katie Thurston kicked things off on June 7, 2021, and took Bachelor Nation on an emotional rollercoaster right up until the final rose (via Los Angeles Times). Now that fans have had time to digest the 10-week season, they're ready for round two of "The Bachelorette." According to Cosmopolitan, Michelle Young began filming her season between July and August because she didn't want to miss any time with her students.
Young has since wrapped filming and her highly anticipated season is slated to start on October 19, 2021. Though we've yet to see how Young's season will unfold, there's a strong chance things went in her favor. Thurston had the opportunity to use her new knowledge to prep Young before she began the process of searching for the one (via Screen Rant). Here's what we know.
Katie Thurston urged Michelle Young to stay open
After Katie Thurston wrapped her season of "The Bachelorette," she shared some helpful tips with her close friend and fellow leading lady, Michelle Young. In an interview with Entertainment Tonight, Thurston revealed that she's tried to help Young as much as possible. She said after filming her "Men Tell All" special, "I've spoken to her as much as I can because I know it's any day now they're gonna take her phone away. I think the biggest advice I've given her is to just be open. Don't close yourself off too early. I think guys can surprise you ... weeks later when you don't expect it."
Aside from encouraging Young to trust the process, Thurston revealed that she may even know the perfect guy for the 28-year-old leading lady. She said, "I actually think Josh would be a good match for Michelle for sure. They just have very similar personalities. He is such a sweetheart and I think that's what she's looking for, someone who's just so kindhearted. That's something that Josh really offers." Of course, Thurston is referring to Josh Tylerbest, the IT consultant who was on her season. While we'll have to wait and see if Tylerbest makes a surprise appearance on Young's season, we know that Young will surely have a great pool of guys to choose from. Hopefully one of them is able to form the deep connection she's been searching for.