This One Comment From Olivia Jade Sparked Backlash From Dancing With The Stars Fans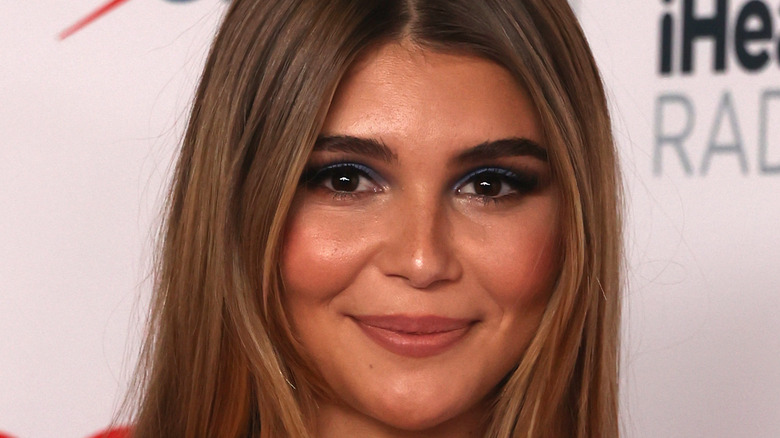 Isaac Brekken/Getty Images
Some fans of "Dancing With the Stars" have had an issue with Olivia Jade's casting on the show from episode one. According to E Talk, fans felt the cast was ruined by the controversial influencer. In case you forgot, Jade is the daughter of "Full House" star Lori Loughlin. Her parents recently served prison time for committing fraud in the college admissions scandal that swept the nation (via CNN). The scam featured payments and lies to get Jade into USC.
During the court proceedings, Loughlin shared, "I went along with a plan to give my daughters an unfair advantage in the college admissions process." She continued by saying that her actions "ignored" her intuitive thinking and went against her own "moral compass." "I thought I was acting out of love for my children. But in reality, it only undermined and diminished my daughters' abilities and accomplishments," she said. 
Now, Jade is a contestant on "Dancing With the Stars," a move most fans didn't agree with. Now that the season has started, Jade has only continued to upset viewers, as she made a comment that has sparked backlash.
Olivia Jade only wants to be known as an influencer
Kathy Hutchins/Shutterstock
Prior to being known for the scandal her parents caused, Olivia Jade was a YouTube beauty guru. Her YouTube subscriber count used to be at 2 million before the controversy dropped that number down (per Distractify). After such a controversial fall from grace, it was shocking to see her cast on "Dancing With the Stars."
If the show was an attempt to get back in the public's good graces, it hasn't been as successful as Jade may have hoped. According to She Knows, she faced backlash for making a joke about the scandal that made her a household name. She said on the show, "I'm probably best known for being an influencer. But the last few years I've been, I guess you could say, wrapped up in a scandal."
Fans were quick to clap back at Jade. One viewer tweeted, "More known for being an entitled cheater!" It is clear the public is not ready to forgive Jade for the scam that made headlines.