The Internet Is Freaking Out Over Billie Eilish's New Tattoo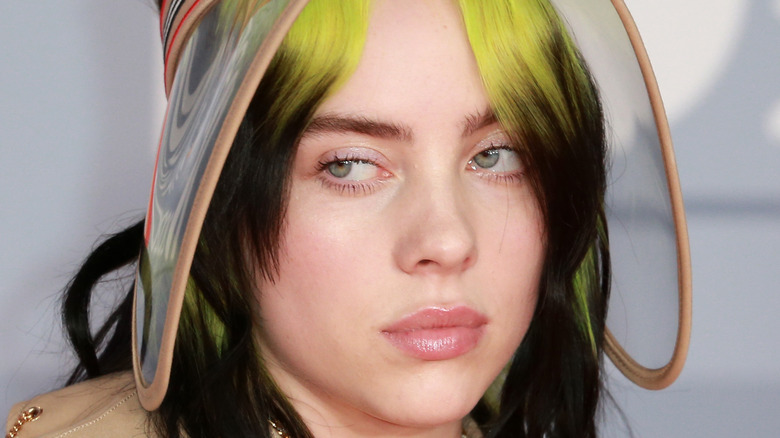 Cubankite/Shutterstock
The devil is in the details for hawk-eyed fans looking for new ink on their favorite tattooed stars. At the "No Time to Die" red carpet, Billie Eilish wore a Gucci outfit that was surely eye-catching, but fans were a bit more excited about her new tattoo that completed the look. A delicate new piece on her hand, the fresh ink had her hoard of followers understandably gushing. 
The new tattoo is an intricately drawn fairy on her left hand, (per Us Weekly). In tattoo symbolism, fairy tattoos represent "spirituality, feminine energy, childhood and beauty in all its shapes and forms," according to Best Tattoo; and that sounds very on-brand for Eilish. The fairy on her hand marks the singer's third tattoo that fans know of. In the past, Eilish has kept her tattoo choices close to her chest — one quite literally. In an interview with Vanity Fair, she talked a bit about another secret tattoo teasing that fans would "never see it." It was later revealed that the piece was her middle name, "Eilish" on her chest, which she got following the 2020 Grammy Awards.
The star also shared some of her tattoo plans in 2019, saying, "No face tattoos. The only two tattoos I want to get are the ones barely anyone can see."  Between the dragon (which is on her thigh) and the fairy, it seems that mythology plays a part in her tattoo choices. But Eilish hasn't commented on the meaning behind her tattoos, so fans are left speculating.
Billie Eilish on finding her style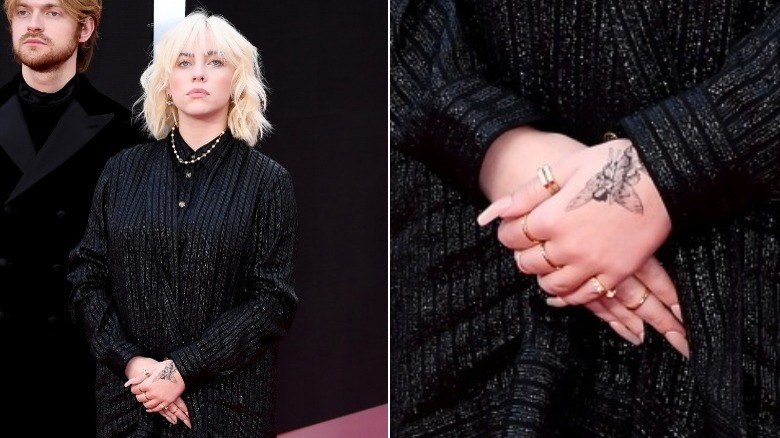 Jeff Spicer/Getty Images
BIllie Eilish has been open about her ever-evolving sense of style as she has come into adulthood. As a young star, she is still mapping out what her personal style and has been adamant that she hasn't settled on a single look just yet. But her expressive nature has gained her respect in the industry. "Billie represents something completely new," Gucci creative director Alessandro Michele, who has worked closely with Eilish, said for her Vogue UK cover. "She is a continuously evolving artist with a new vision and interpretation of herself in terms of femininity. Billie is exactly where she means to be without prejudice. That's why working with her is so stimulating – she forces me to think differently."
Mythological tattoos, bright hair, and distinct fashion choices all play into that changing look. While she may opt to add more ink to her esthetic, it sounds like fans will have to wait patiently if they ever hope to see it. Tattoos appear to be a highly personal choice to Eilish, and something she shares only when she feel compelled to do so. But that little hand fairy sure is cute!