Meet AJ McLean's Wife And Two Daughters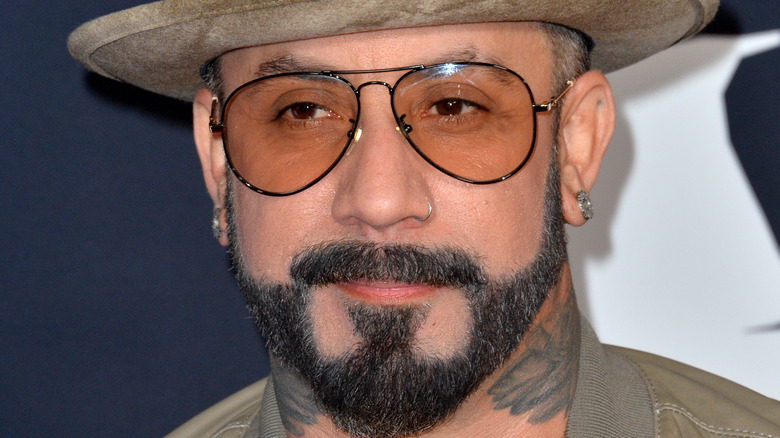 Featureflash Photo Agency/Shutterstock
Back in the 1990s, lip smackers were the makeup of choice, Pepsi was clear, and the Backstreet Boys were churning out chart-topping hits year after year. AJ McLean was the first official member of the group that played a major hand in the boy band mania of the time. Born Alexander James McLean in 1978, McLean entered show business at an early age. He made his film debut at just 10 years old as Little Mike in "Truth or Dare?" (via IMDb). Then, in 1993, McLean and his four bandmates would come together to officially form the Backstreet Boys. By 1996, the group had released their first album, which would catapult the band to major success that would last for years (via The Famous People).
Shortly after the Backstreet Boys found success, McLean began struggling with drug and alcohol addiction. By 2001, he checked in for his first stay in a rehab facility. He was back in treatment for the second time in 2002 and admitted that he was unable to cope with his addictions. Now, McLean just celebrated one year sober at age 43 and attributes his sobriety to his wife and daughters (via People).
It was actually months after leaving a rehab facility in 2011, that McLean found a big reason to celebrate. On December 17, 2011, the singer married his wife, Rochelle Deanna Karidis. In Beverly Hills, CA, the ceremony had a star-studded guest list that included Kathy Griffin, Joey McIntyre, and his fellow Backstreet Boys bandmates. The couple has since welcomed their two children.
If you or anyone you know is struggling with addiction issues, help is available. Visit the Substance Abuse and Mental Health Services Administration website or contact SAMHSA's National Helpline at 1-800-662-HELP (4357).
AJ McLean met his wife just like anyone else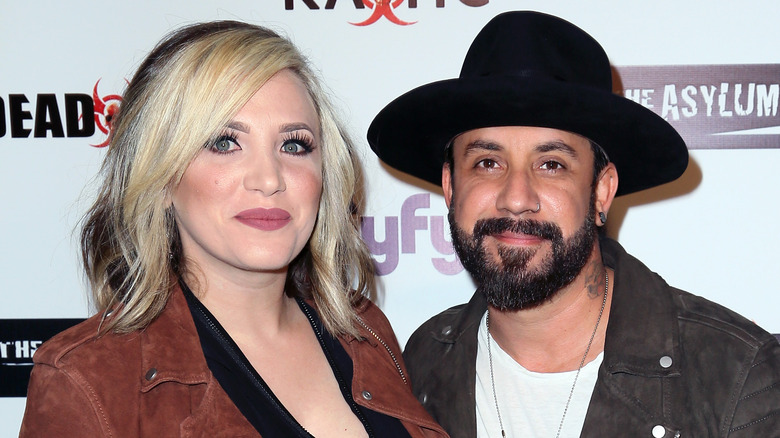 David Livingston/Getty Images
AJ McLean met his love in 2009 at the same place that many non-celebs find their partners — a bar. Having been more of an N*SYNC fan, Rochelle Deanna Karidis wasn't necessarily impressed by McLean's boy band history (via Heavy). A year after meeting Karidis, McLean was ready to pop the question. He proposed to his now-wife in Las Vegas during one of his performances, and Karidis, of course, was happy to say yes (via AmoMama).
While you may not recognize Rochelle Deanna Karidis' name, the model, hairstylist, and makeup artist has found tons of her own success in the entertainment industry. Her makeup artistry has been featured on "Project Hollywood," "Nick's Big Show," "Family Jewels," and "Population Suicide." She has even dabbled in costuming.
Nearly ten years after the couple said "I do," McLean and Karidis are still going strong and raising their two daughters. Although they had originally planned on waiting several years to start a family, McLean and Kardis welcomed their first daughter, Ava Jaymes McLean, in November 2012, less than a year after their nuptials. Five years after the birth of their first child, the couple was ready to expand their family again, welcoming Lyric Dean McLean to the family in 2017. Their children are taking after their father, with both girls excelling in dance classes and competitions.
AJ McLean still struggles with balance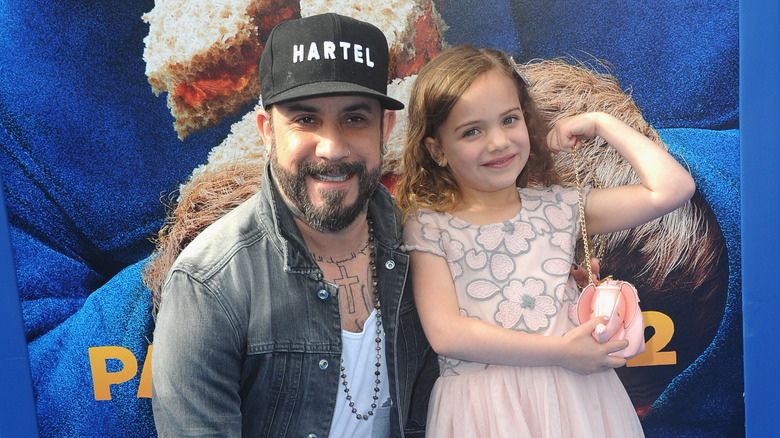 Albert L. Ortega/Getty Images
It's no secret that AJ McLean loves his family life. His Instagram account boasts tons of pictures of his wife and children, but he does admit that he has struggled to balance family life and his career. He has been regularly performing in Las Vegas and released a song as a solo artist in 2019. Among the successes, McLean received a text from his eldest daughter, Ava, begging him to give up life in the spotlight as a Backstreet Boy and to become a dad (via AmoMama). McLean used this as an opportunity to teach his daughter about what it means to be a working parent. While McLean is busy working, Rochelle Deanna Karidis has committed to making herself available to her children at all times.
Raising a family is never easy, and fame certainly adds a unique set of challenges into the mix for McLean and Karidis. Luckily, the couple is still very much in love and committed to making a loving home and life for their two daughters.