Kate Middleton Has Completely Stepped Up Her Royal Game. Here's How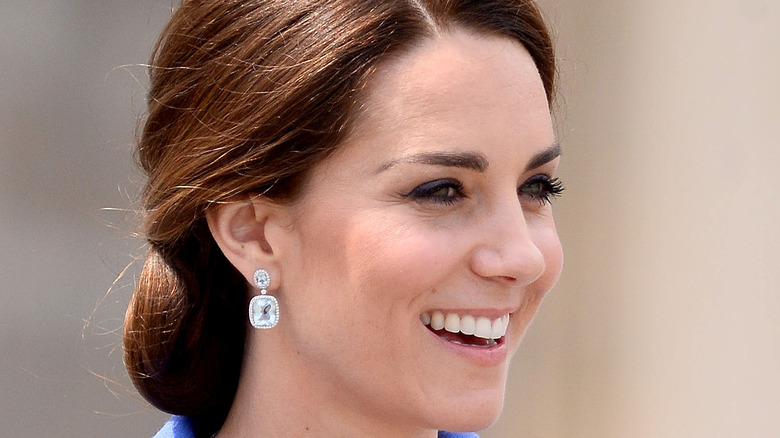 Isaaack/Shutterstock
The stars were out in force for the glitzy London premiere of "No Time to Die," the highly anticipated and long-delayed latest entry in the "James Bond" franchise. As Vanity Fair reported, amongst the various glitterati — including stars Ana de Armas and Lashana Lynch — no one shine like Kate Middleton, who dazzled in a stunning, floor-length Jenny Packham dress with sheer panels and gorgeous gold detailing. Kate attended the event, which took place at the iconic Royal Albert Hall, alongside husband Prince William, who was suited and booted Bond-style and looked thrilled to have her on his arm. The Duchess of Cambridge kept her accessories simple but effective, with gold earrings by O'nitaa and classic nude heels by Aquaruzza. 
Kate has been a fan of British designer Packham for ages, and her ensemble even impressed Bond himself, Daniel Craig, who told her, "You look jolly lovely," (via People). Fellow royals Prince Charles and wife Camilla, Duchess of Cornwall, were also in attendance for the start-studded night alongside Billie Eilish and brother Finneas O'Connell (who wrote and performed the titular song for "No Time to Die") Phoebe Waller-Bridge, who co-wrote the film's script, and stars Rami Malek and Léa Seydoux. Kate was clearly the star of the night though, judging by several gushing headlines. And, if certain commentators are to be believed, her confident showing proves just how powerful a royal the duchess is becoming.
Conflict pushed Kate Middleton to rethink her royal approach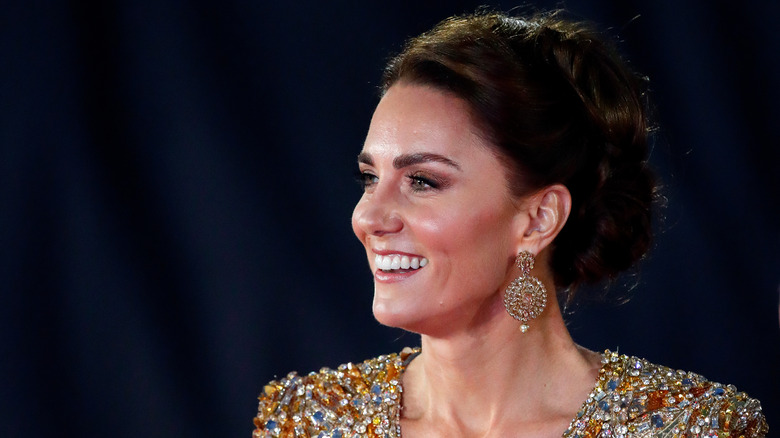 Max Mumby/indigo/Getty Images
It's no secret Kate Middleton and Meghan Markle were pitted against each other while the two women were still part of the royal family. Meghan was frequently painted as the aggressor in the situation but, as the former "Suits" star revealed in her infamous Oprah interview, Kate might have actually been the mean girl all along (via E! News). But in spite of the conflicting reports and rumors, it's no secret that Kate has stepped into her own sense of royal power as of late. According to a senior royal insider, who spoke to the Daily Mail, all the attention Meghan is getting, despite giving up her royal status, has made Kate step up her fashion game. 
The source revealed, "She knew she was going to have to up her game — and she did. Now she's a royal rock star — everything Meghan should have been." The Duchess of Cambridge is becoming a powerful player in her own right, and her golden goddess look at the "No Time to Die" premiere is emblematic of her confidence in her new role.
Kate Middleton has the power to affect major change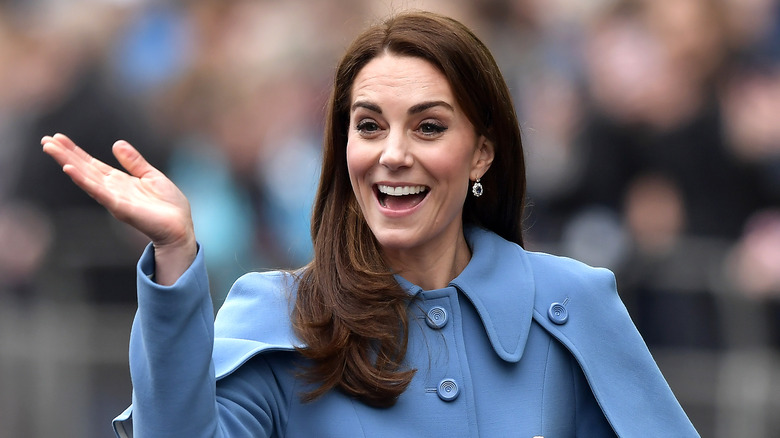 Charles Mcquillan/Getty Images
As the insider, Dan Wootton, revealed to the Daily Mail, there came a time when Kate Middleton had to decide to "be more confident in her style, her approach, her projects, the events she would say yes to." Wootton added, "It was about Kate acknowledging the Duchess of Sussex had changed the game and it was necessary for her to compete." Although Kate was reportedly hesitant to get involved in the ongoing rift between brothers, and princes, William and Harry, once she realized "how Meghan was trying to use the monarchy for her own personal gain ... it helped Catherine understand the importance of the role she could play." 
This extends, naturally, to fixing things between the warring brothers, which many believe only Kate can do since she's seen as the ultimate bridge-builder. Likewise, as the Daily Beast noted, the duchess has learned a harsh lesson from the past few years with the royal family rift, and likely wants to protect her own children from falling victim to such issues. If one element of Kate's royal life and staggering influence is crystal clear, it's that her ability to redefine royalty in the eyes of millions is not to be doubted.