Jimmy Kimmel And Matt Damon's Feud Explained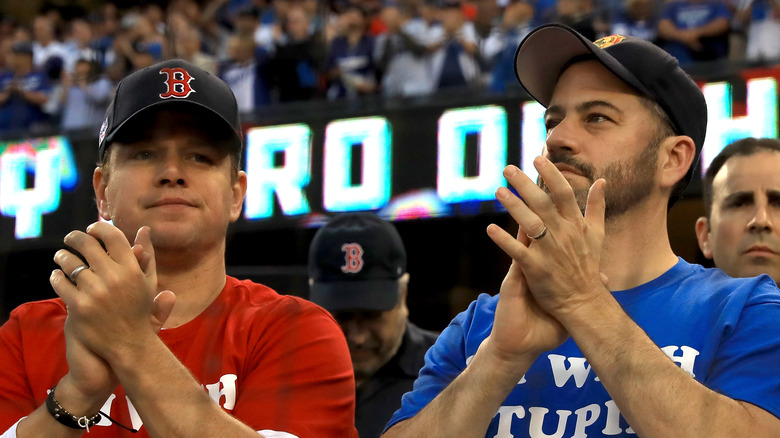 Sean M. Haffey/Getty Images
Perhaps you've heard of the Late Night Wars between David Letterman and Jay Leno when the two competed in 1992 to take over Johnny Carson's spot hosting "The Tonight Show" — or the subsequent war between Jay Leno and Conan O'Brien in 2010 (via Vulture, CNN). But there's another Late Night War that's a little harder to explain — the one between "Jimmy Kimmel Live" host Jimmy Kimmel and actor Matt Damon. The pair have found themselves in an almost 20-year long feud that's almost as confusing to them as it is to Kimmel's audience.
It was 2003, and Kimmel's show wasn't the mega-ratings driver it is today. So, at the end of the night, Kimmel took a chance — one that would change everything. "We had a bad show. ... The guests were bad, and I was feeling pretty bad about myself at the end of the program. And I decided to say, for the amusement of one of our producers who was standing next to me ... 'I want to apologize to Matt Damon. We ran out of time,'" Kimmel told NPR in 2013. "And he got a kick out of it, the producer, so I just started doing it every night to amuse him."
Wanting to pick a celebrity they would not bump, Kimmel chose Damon. Even Kimmel can't believe the joke's longevity. "Repeating the same joke every single night, you'd think eventually people would get tired of it, but they don't."
Damon takes his 'feud' with Kimmel in stride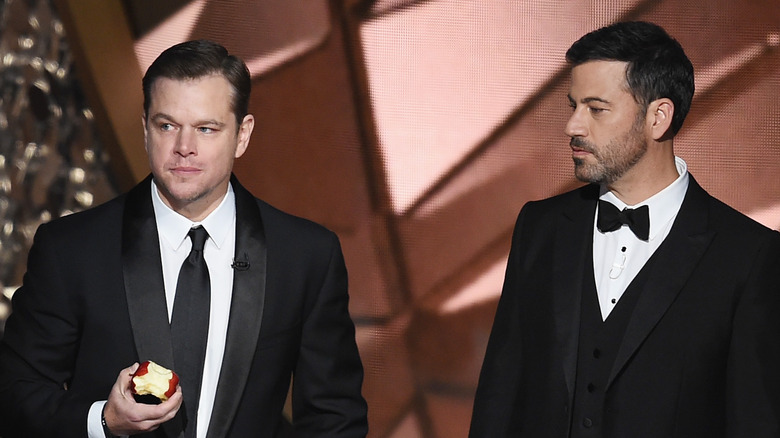 Kevin Winter/Getty Images
Perhaps no one was more surprised by Jimmy Kimmel's words than Matt Damon himself. At this point, the pair hadn't even met. "Maybe I had a movie out that week," Damon guessed during a SiriusXM interview, per Youtube. Either way, Damon still has a good sense of humor about it, even as the joke became a recurring bit on the show and later evolved into more of a full-on "feud." "It changed the course of both of our lives," Damon said. We've kept this feud going for, you know, it's gotta be 15 years now. We've had a lot of fun doing it."
In the years that ensued, Damon and Kimmel have become actual friends, at one point even attending a baseball game in matching "I'm With Stupid" shirts (via MLB). As their so-called feud grew, the pair even brought their friends and partners into the fun. In 2008, Kimmel's then-girlfriend comedian Sarah Silverman created a video with Damon called "I'm F***ing Matt Damon," wherein she posits that she's, well, f***ing Matt Damon (via Vox). Kimmel — not one to back down — released his own video with Damon's best friend Ben Affleck, titled "I'm F***ng Ben Affleck."
Over the years, the bits continued: In 2015, the two sat down on-air for "couples therapy," and in 2017 they brought it as far as to the Oscars (via Youtube). So as long as these two remain close friends IRL, it seems like they will continue to be enemies on-screen.