Here's How Tall Conan O'Brien Really Is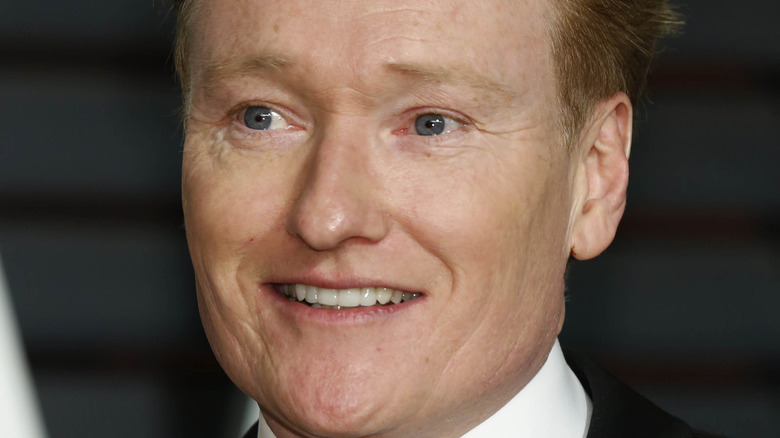 Kathy Hutchins/Shutterstock
Conan O'Brien may not have won at the 2021 Emmys, but he certainly made his presence known (via Los Angeles Times). From the crowd, he heckled and gave a hilariously long salute to Frank Scherma, the chairman and CEO of the Television Academy, according to The Wrap, as well as appeared alongside Stephen Colbert as he accepted the award for Outstanding Variety Special (via USA Today).
O'Brien certainly made headlines and became a meme in the process, but his appearance on the stage also cemented how tall he is in real life as well (via CNET). His ability to tower over pretty much every celebrity isn't a new thing, but it's still a little jarring when you're so used to seeing him sit behind a desk (via Bustle).
His height was often a point of conversation on TBS' "Conan," with guest Kristin Chenoweth recalling a time where O'Brien suggested that if they had kids they'd be normal sized (via YouTube). According to A Real News, Chenoweth is reportedly around 4'11", so how tall is Conan O'Brien?
The height of celebrities was a regular talking point on Conan O'Brien's TBS late night show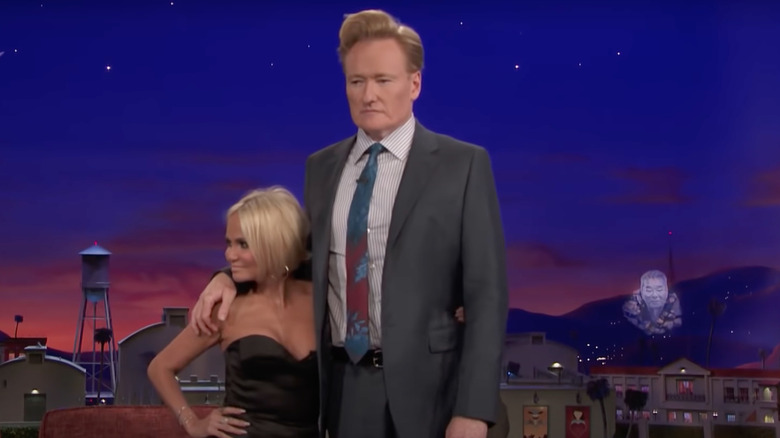 Team Coco/YouTube
Seeing as when Kristin Chenoweth and Conan O'Brien stand next to each other, the actress barely comes up to his shoulder, it comes as no surprise that the talk show host is said to be an astonishing 6'4" (via New York Magazine). Fans like to remind O'Brien this fact whenever he's spotted on the streets, to which he almost always replies, "Gotta get a bigger TV." "It's not that good a line," O'Brien explained, "but it kills every time. It drives my wife crazy. I'm like, 'You want a new line for everybody?'"
The star's height is often a talking point on "Conan," so much so that he and radio producer and writer Starlee Kine had to prove how tall Jake Gyllenhaal really is after some fans were getting riled up about his exact measurement on Celeb Height (via YouTube). As it turns out, Gyllenhaal is 5'11", just above the average height of men in the United States (via Healthline).