Oprah Reveals Why She Doesn't Have Many Friends
DFree/Shutterstock
Oprah Winfrey is one of the most famous women in the world. The 67-year-old lead the legendary daytime talk series "The Oprah Winfrey Show" for 25 seasons (via Biography). She later launched the television network, the Oprah Winfrey Network (OWN), which enjoys much success. Winfrey also has hew own book club, co-founded the publication "O Magazine" and has a partnership with Apple to create original content for the streaming platform Apple TV+. Throughout her decades-long career, Winfrey has made connections with many influential figures. The journalist maintains a friendship with the Duke and Duchess of Sussex, Barack and Michelle Obama, Tyler Perry, and more celebrities (via Insider).
Though Winfrey has relationships with many people in the entertainment industry, the philanthropist only counts a few people in her inner circle. While appearing on a recent episode of Hoda Kotb's podcast "Making Space," Winfrey revealed that she only considers three people her close friends (via NBC).
Oprah Winfrey and Maria Shrivers share a special bond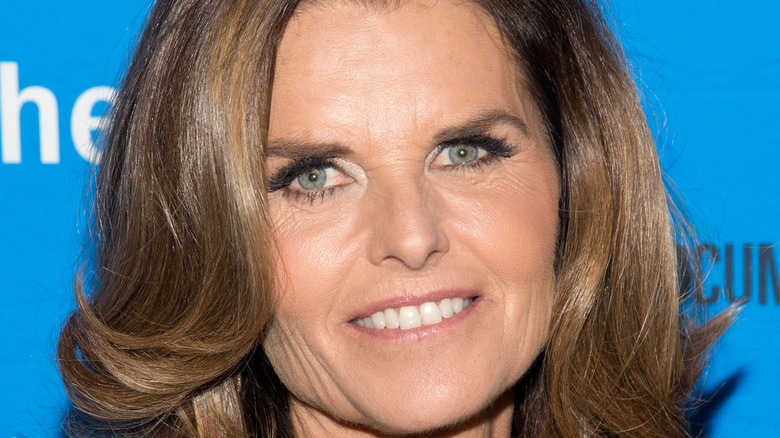 Debby Wong/Shutterstock
While talking with Today's Hoda Kotb on the "Making Space" podcast, Oprah Winfrey shared that she doesn't have many close friends (via NBC). She explained, "So, I don't have a lot of friends. Everybody knows Gayle [King]. There's Gayle, there's Maria [Shriver], there's Bob [Greene]. And that's — that's about it, you know?" Shriver also appeared on the podcast with Winfrey and helped explain how the pair cultivated their 42-year-long relationship. Winfrey and Shriver met at a Baltimore television station bathroom and had an instant connection. The OWN founder explained, "I forever think that that was, like, a divine moment that happened because she was one of my true, grounded friendships that carried me through my entire career."
The journalists were able to bond over the many "aggressions and micro-aggressions" they faced early in their careers. Shriver said, "There's grit. There's all-nighters. There's Nashville. There's Baltimore. There's working the way up. There's being yelled at. There's being told you're, you know, too this, too that, too whatever." Winfrey and Shriver support each other through it all. Shriver closed, "I grew up in a big family, in a big life. But when I close my eyes, it's the little moments. It's you having dinner with me. It's her bringing the coffee. It's having a laugh. I think we're all pushed to have these big, big moments. But I think it's the little moments that people aren't pushed to have, that really are the transforming moments."