Why Oprah Winfrey Is Still Cringing Over This Celebrity Interview
Rachel Luna/Getty Images
Legendary talk show host Oprah Winfrey has been gracing our television screens since the late '70s, when she first appeared as a local news anchor in Baltimore (via History). After moving to Chicago in 1984, Winfrey took over a local morning television program and subsequently made the show into one of the highest rated talk shows, and in 1986 "The Oprah Winfrey Show" was broadcast nationally for the very first time.
"The Oprah Winfrey Show" aired for an impressive 25 seasons from 1986-2011, and after her show ended, the talk show queen launched the Oprah Winfrey Network (OWN) the same year, which is home to popular shows like "Queen Sugar," "Greenleaf," and "The Haves and Have Nots." And while Oprah has long since stepped away from the talk show that catapulted her to A-list fame, that doesn't mean she's completely stepped away from the limelight, as evidenced by her explosive Meghan Markle and Prince Harry tell-all, as well as her new interview series, "Super Soul," which you can watch on Discovery+ (via USA Today).
Out of all the interviews Oprah has done, one still makes her cringe to this day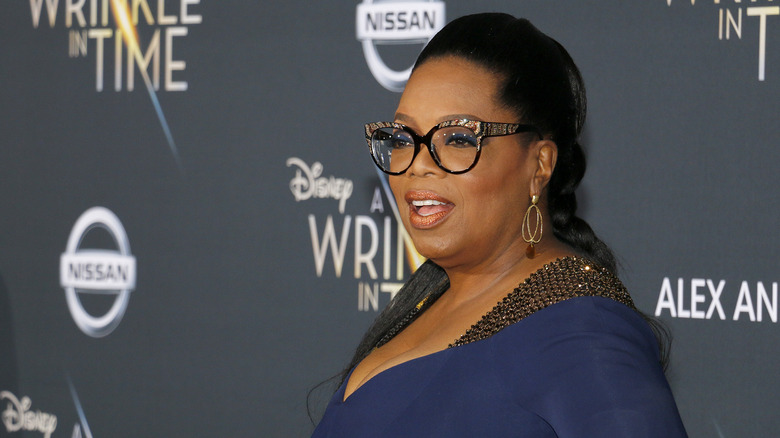 Shutterstock
During an appearance on Rob Lowe's "Literally" podcast on Wednesday, May 12, the 67-year-old billionaire philanthropist opened up about one of the celebrity interviews that still makes her cringe. After Lowe complained about late night talk show hosts focusing on playing games with their guests rather than trading stories back and forth, using the late Burt Reynolds as an example of a fascinating celebrity with countless entertaining stories, Oprah chimed in with her own Burt Reynolds story.
Winfrey recalled interviewing actress Sally Field, who famously dated Burt Reynolds and starred in the classic 1977 action-comedy "Smokey and the Bandit" with him. "My big mistake: I asked her, 'Does Burt sleep with his toupee on?' I even say now, I cringe to even think that I asked that question," she said (via E! News). "But I asked it because the producers are like, 'You have to ask, you have to ask, you have to ask. That's what everybody wants to know.'"
"And so I asked it, and she went cold on me. She shut down, and I could not get in again," the "A Wrinkle In Time" actress continued, adding, "It was like, 'Whoa, Sally went cold on me on live TV.' I deserved it, I deserved it, I deserved it, 'cause that is such an inappropriate question."