Why Meghan Markle's Post-Royal Style Is All About Confidence - Exclusive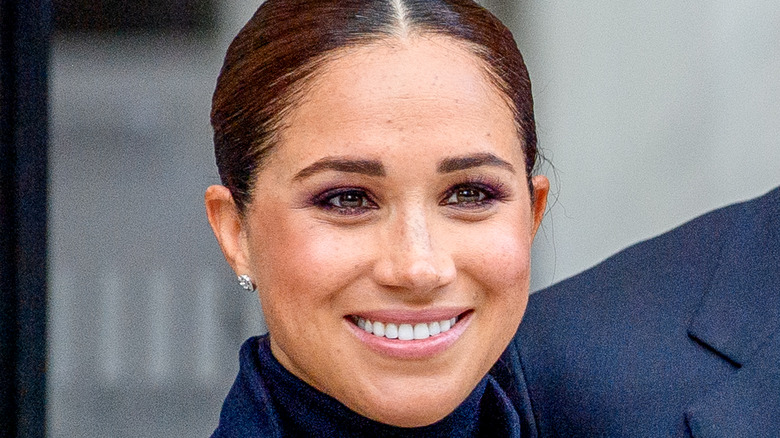 Roy Rochlin/Getty Images
Marrying Prince Harry in May of 2018 made Meghan Markle a working royal, but in January 2020, the couple announced they were stepping back from the working royal roles (from Town and Country). During her time within the royal family, Markle's fashion choices made headlines with some thinking she was breaking royal style protocols, like skipping pantyhose, wearing a pantsuit, painting her nails a dark color (via Insider). She even got negative headlines about her wedding dress (from news.com.au). Alongside the comments about her fashion choices, Markle faced other negative press (via Stylist). And in the couple's sit-down with Oprah Winfrey, she revealed that the culmination of all that negativity was one of the reasons that she struggled with her mental health when working as a royal (from New York Times).
Now the couple are over a year into their time away from being working royalty, they have concentrated on philanthropy and activism. And Markle is projecting a strong, confident vibe, thanks in part to her fashion choices, which had made negative headlines in the past.
Fashion expert and TV personality Cindy Conroy exclusively shared with The List her assessment of Markle's post-royal look. "Mark my words, Meghan Markle's style will continue to skyrocket into adventurous fashion play! It all started with her jaw-dropping Emilia Wickstead cape dress she wore for Commonwealth Day. Instead of stepping out in something beautifully understated, she went for a daring head-to-toe look to conclude her duties as a royal."
Markle's fashion choices reflect her newfound freedom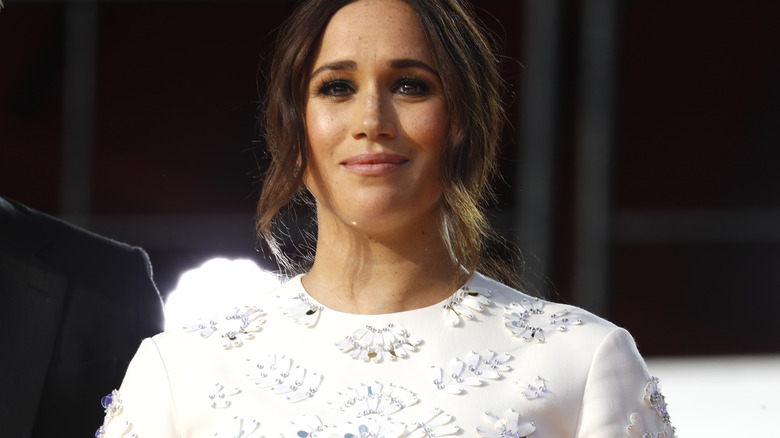 John Lamparski/Getty Images
The royal couple's recent New York City visit, where the couple advocated for vaccine equity, was an opportunity for Markle to shine. "From her delicious Loro Piana red cape and pants ensemble to her dreamy floral applique shift dress by Maison Valentino. It all spells confidence," Conroy explained. "Markle is exploring her fashion sensibility rather than dressing to appease others. And that's a beautiful thing. She's harnessing her power in all areas of her life, which is seeping into her fashion choices. What's influencing Markle's new look? Freedom. Freedom to be herself and speak her mind. To empower women through kindness and support — with nothing holding her back."
Markle's definitely all about empowering women. For her 40th birthday, she established the 40x40 initiative to help women get back into the workforce after Covid.
And as she continues to raise her two kiddos — Lilibet and Archie — as well as working to make the world a better place, Conroy is predicting more stylish looks from Markle: "I predict she'll continue serving fashion moments, whether she's spotted wearing California casual threads, or in full glam for a night out on the town. Keep your eyes peeled for powerful yet simplistic outfits and elevated ensembles. Think classic with extra juice — and a tsunami of fashion designers topping her must wear list.
"Must wear" indeed; it's called the "Markle Sparkle" when women buy outfits and accessories because they see Markle wearing them (from Glamour).