How Alana Thompson's Sister Responded To Critics Of Her Teen Vogue Shoot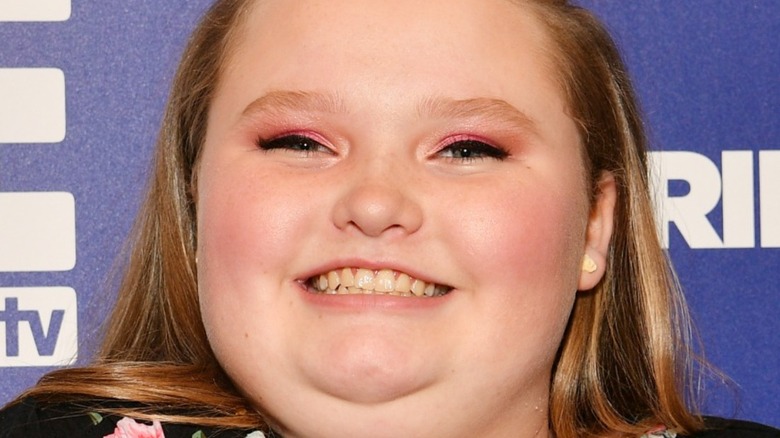 Dia Dipasupil/Getty Images
Body positivity is more than a hashtag. Since the beginning, the fashion, modeling, and entertainment industries have celebrated socially acceptable bodies while shutting out sizes or shapes that fall outside of the "norm." Though these industries have gone through radical change and are becoming more size-inclusive, that doesn't erase the decades of shaming and exclusion people faced. 
Affinity brought attention to the fact that as diverse as modern-day modeling can be, certain criteria still exist for plus-size modeling: You have to be a certain height, have the right hip-to-waist ratio, and have a "slim-thick" body type. At a young age, Alana Thompson is not only breaking these barriers but also calling them out. 
In her August 2021 Teen Vogue photoshoot, the former "Here Comes Honey Boo Boo" star got candid about her experiences with body shaming and critiqued the body positivity movement. "I feel like my generation is probably making [fatphobia] worse," she opined. "Everybody's all about body positivity, body positivity, until they see a body they don't like."
Thompson's Teen Vogue profile isn't her first foray into the fashion world. In April 2020, she posted an Instagram video of herself modeling in a fashion show (via Access). But that didn't stop people from bashing Thompson's 2021 photoshoot in the magazine's comments section to the point where her older sister Anna Cardwell had to intervene (via Us).
Anna Cardwell argued that modeling isn't one-size-fits-all
In an August 2021 interview with The U.S. Sun, Anna Cardwell defended her younger sister Alana Thompson's Teen Vogue photoshoot. "Alana is beautiful," she shared. "There are models like Ashley Graham who are 200 pounds, and she has huge contracts. I mean, hell, Victoria Secret is working with plus-sized models. Does weight even matter?"
Cardwell also highlighted how the modeling industry has evolved, while stressing that body-shaming helps no one. "The modeling industry has gotten so much backlash for not having plus-sized models, now they're doing diversity with all different types of people and cultures," Cardwell told the outlet. "Alana actually stood up and did it, and hopefully she gives others the courage to do it. Basically, she is putting herself out there, and [for] all the teens who are overweight now, she has given them the encouragement." 
With her support system backing her, Alana Thompson is set to change the industry for the better.