This Is Why Adrienne Maloof And Paul Nassif Divorced
Frederick M. Brown/Getty Images
Fans got to know Adrienne Maloof and Paul Nassif on the early seasons of "The Real Housewives of Beverly Hills" but, despite their near-constant bickering, it was still a major shock to the system when the socialite and plastic surgeon announced their divorce. As People reported in September 2012, Nassif was the one who originally filed, and, almost immediately, things got ugly between them. 
The couple was married for a decade, after tying the knot in a lavish ceremony at the Beverly Hills Hotel in 2002. Around 500 guests were present. They also share three children. Nassif initially requested legal separation, with Maloof admitting shortly after that she hoped to reconcile with him. But, just a month later, it was over for good as the "Botched" star began official divorce proceedings. 
A nasty back and forth ensued, particularly when it came to custody of the kids, with Nassif alleging that Maloof was gradually becoming more "unpredictable" and "physically violent." He even termed her behavior "toxic." TMZ confirmed that the couple's divorce was finalized in November 2012. They noted in a joint statement, "We have reached agreement on a settlement. We want the best for each other and we're confident we can help each other make a continuing positive impact with our children." 
But, why did they call it quits in the first place?
'Real Housewives' was not to blame for Adrienne Maloof and Paul Nassif's split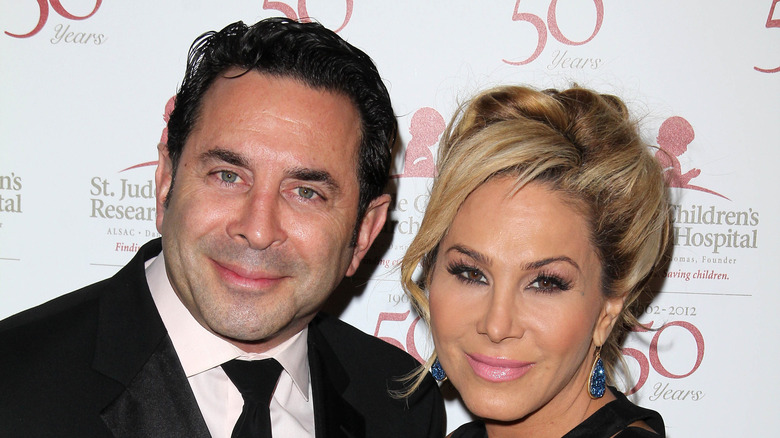 s_bukley/Shutterstock
In 2020, former "Real Housewives" star Adrienne Maloof opened up about her nasty divorce from former husband Paul Nassif in the digital series "Life After Bravo." As E! News reported at the time, on whether being on TV impacted their split, Maloof admitted, "I think that the show actually did me a favor by getting [me] out of a relationship that was not right for both of us. When I look back, I think it would've happened, it just happened sooner than later." 
Thankfully, the exes are on great terms nowadays and have learned how to co-parent their children effectively, too. Maloof and Nassif went through years of counseling to work through their issues, she said, but it was all worth it in the long run "because we both had to learn how to be adults for our children."
Although the couple clearly regrets the damaging rumors that came out in the press around the time they were negotiating their split, it's worth noting that, as per People, it was Maloof's allegedly aggressive behavior that led Nassif to file for divorce. The final straw came when she reportedly attacked him, in fact. However, as Us Weekly notes, Maloof accused Nassif of physically abusing her, too, so it's tough to know what really happened between them. 
Thankfully, everything has calmed down in the years since, and, evidently, as Maloof herself acknowledged, it wasn't meant to be in the first place.