The Celebrity Approved Water Bottle Dylan Dreyer Is Obsessed With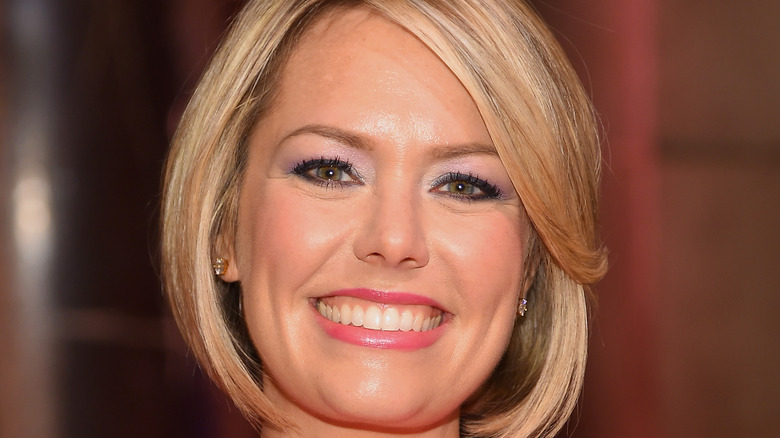 Ben Gabbe/Getty Images
We may receive a commission on purchases made from links.
Celebrities often rave over the most high-end products out there. Heck, Kourtney Kardashian and Gwyneth Paltrow have even made an entire career of sharing the most bizarre fashion, beauty, and home products with people. But when it comes to staying healthy, there are a lot of affordable finds out there. Dylan Dreyer shared her favorite water bottle, and it's so affordable that you can add it into your daily routine in just two days (via Today). Get ready to hydrate in style, friends.
There are tons of different water bottles on the market. From the super-trendy Hydro Flasks to the bottles of water that you can buy at the gas station, there is an endless supply of hydration options. Not all of them can give you encouragement while you do it though. According to Today, Dreyer and co-anchor Jenna Bush Hager are big fans of the gallon water bottle that has motivational sayings on it. They're not the only ones loving the fitness item, either.
This gallon water bottle gives you a pep talk
Dylan Dreyer's water bottle is pretty great for a few reasons. The first is that it gives you words of encouragement every time you go to take a sip. The HydroMATE water bottle has phrases like "you got this" and "halfway there" on the side of the bottle, marking how much water if left in the jug (via Amazon). According to Sports Performance Bulletin, encouragement is proven to increase fitness performance.
That's not the only thing that makes Dreyer's recommended water bottle impressive though. It actually holds one gallon of water. That means that you likely won't need to fill up throughout the day. Just fill it up in the morning, and you're good to go with encouragement and hydration. It's like paying a trainer but way easier.
Ready for the best part? The HydroMATE water bottle is under $25 on Amazon. Oh, and it's available on Prime, so you can have a healthier daily routine in just two days. It is worth noting that you may not need to drink the entire gallon throughout the day. According to Healthline, everyone has different hydration needs depending on gender, activity level, and weight. You should consult with your doctor to find the best option for you.
Khlow Kardashian uses a motivational water bottle too
Dylan Dreyer isn't the only celebrity that loves motivational water bottles, either. According to People, Khloe Kardashian posted a similar style, the Fidus Motivational Water Bottle, on her Instagram. "I had no idea my gallon water bottle would be so exciting to so many people," Kardashian said on her Instagram story. "This makes me happy knowing I'm not alone getting this excited over a jug. Adulting is FUN."
From the looks of the post, Kardashian added lemon and herbs to her water bottle. But the real key is the motivational sayings on the side. Each saying also has a time of the day by it, so you can see if you're staying on pace. This trendy little bottle also gets bonus points for affordability. While the price varies by color, they're all under $25 on Amazon. The bottle is also available on Prime, so you can start hydrating in style in just 48 hours.
While celebrity trends can be pretty, well, pricey at times, it's nice to see that there are some practical health tips floating around out there as well.