What We Know About Blake Shelton's Song He Wrote To Impress Gwen Stefani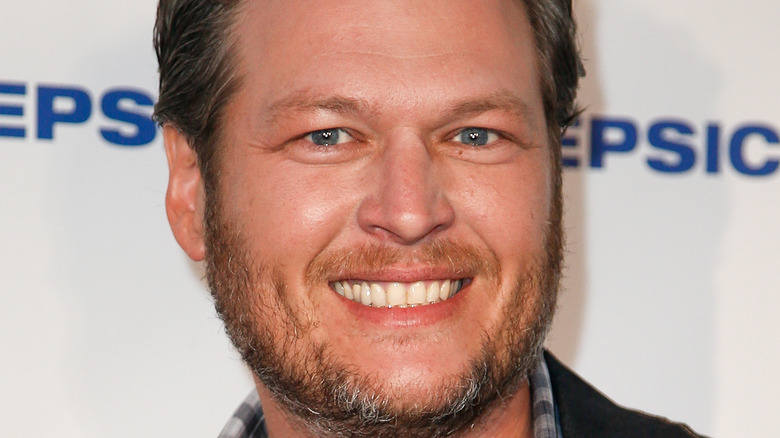 Debby Wong/Shutterstock
Blake Shelton is a country music icon. The Oklahoma native has stayed on the top of Billboard's Country Music charts throughout his career, setting the record for the most consecutive No.1 country hits (via iHeart). Shelton's impressive music career led him to be cast as a judge on NBC's hit singing competition series, "The Voice."
The "Honey Bee" singer's time on the show allowed him to build connections with upcoming artists and fellow musicians. In 2014, Shelton met fellow judge Gwen Stefani. The two co-hosts started as friends, but through the years, their friendship evolved into something more. The summer of 2015 marked a turning point in the duo's relationship when they began to confide in one another as each neared the end of the respective relationships. Black Shelton divorced his wife and fellow country music royal Miranda Lambert in July 2015 (via People). Stefani also brought an end to her 13-year-marriage to Gavin Rosedale.
"Gwen saved my life," Shelton told The Huffington Post. "Who else on earth could understand going through a high-profile divorce from another musician? You can't even imagine the similarities in our divorces."
The duo became each other's confidants as they faced the devastating end of their marriages; this connection became the foundation of their budding romance.
From heartbreak to happy endings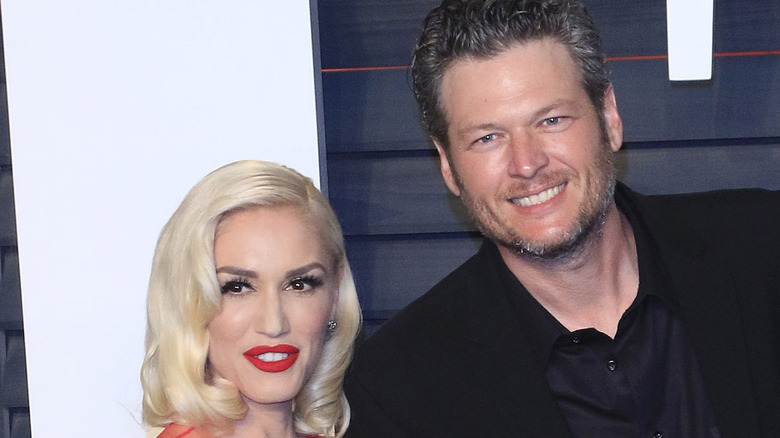 Joe Seer/Shutterstock
Amidst the turmoil of their divorces, Blake Shelton and Gwen Stefani found comfort in one another. "Blake and Gwen met and fell in love during a time when they both were [going through difficulties]," a source close to the couple told People. "They bonded during 'The Voice,' and it grew from there."
During this time, Shelton wrote: "Go Ahead and Break My Heart" for his fellow coach. In an interview with "Today" show, Shelton admits he attempted to impress the Grammy-winning artist (per InStyle).
"It's funny because I only started the song to just try to impress her because it was like, at that time, we were getting to know each other," the country star said. "I was like, 'I'm going to write her a song. That's what I'll do,'" he added.
And impressed she was! Stefani not only loved the song, but she also added her own verse. The song expressed the couple's "serious insecurities" from their previous relationships as they began to build their new relationship with one another. "We both had trust issues. We were getting over it, but we wrote this song about it, and it's perfect," Shelton told People.
Shelton and Stefani tied the knot this past summer at Shelton's beloved Oklahoma ranch.