Zendaya's Auburn Hair Color That Fans Envy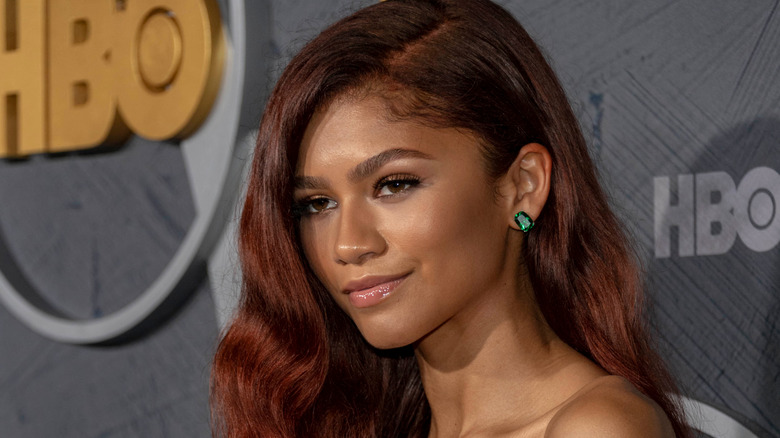 Eugene Powers/Shutterstock
We may receive a commission on purchases made from links.
No matter what event Zendaya attends, everyone knows that she will show up with a hairstyle to rival them all. Who could forget, as Byrdie reminds us, when she wore those gorgeous "fauxlocks" to the Oscars in 2015? And what about those voluminous Diana Ross-styled curls she rocked at the American Music Awards that same year?
One style in particular has drawn attention from fans over and over again: Zendaya's auburn red hair at the 2019 Emmy Awards (via InStyle). With dark undertones and a rich, coppery finish, Zendaya made time stop as she glided across the red carpet in an emerald green dress. Her hair was styled by Ursula Stephen, who drew from old Hollywood glam in creating the sweeping long waves and heavy side part.
While it may seem impossible to recreate the hairstyles of Hollywood elite, Zendaya and her team were happy to reveal that they used an affordable semi-permanent dye to achieve the look. That dye came from Overtone (via Allure).
How to recreate Zendaya's auburn hair color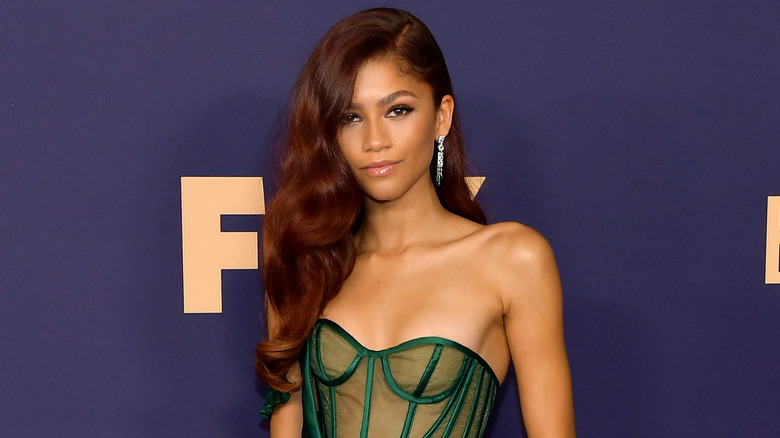 Matt Winkelmeyer/Getty Images
If you're dying to test out Zendaya's 2019 auburn hair on your own locks, you'll need the Overtone Orange for Brown Hair Coloring Conditioner ($25), or the Red for Brown Hair Coloring Conditioner ($32). You may even need a mix of both colors if you want to achieve an auburn shade. Then, simply follow the instructions on the bottle to achieve your desired look.
It's worth noting that Zendaya's stylist achieved the perfect auburn color because the actress' natural hair is brown underneath. Auburn hair has brown undertones, which helps soften the bright red and orange tones. If your hair is already very dark, you may need to lighten it a few levels before you can dye it auburn. If you aren't sold on Overtone, other dyes to try include Madison Reed's Light Spicy Copper Red ($22) or Clairol's Semi-Permanent Auburn Hair Dye ($18.75).
If you're unsure of the best way to recreate Zendaya's stylish auburn 'do, it's a good idea to consult a professional first. A stylist will be able to recommend a shade that compliments your skin tone, per Allure. They will also be able to recreate the hair of your dreams without frying it or stripping it of its moisture. With these tips in mind, you should be able to achieve the color of your dreams.