The Drugstore Hair Product Zendaya Swears By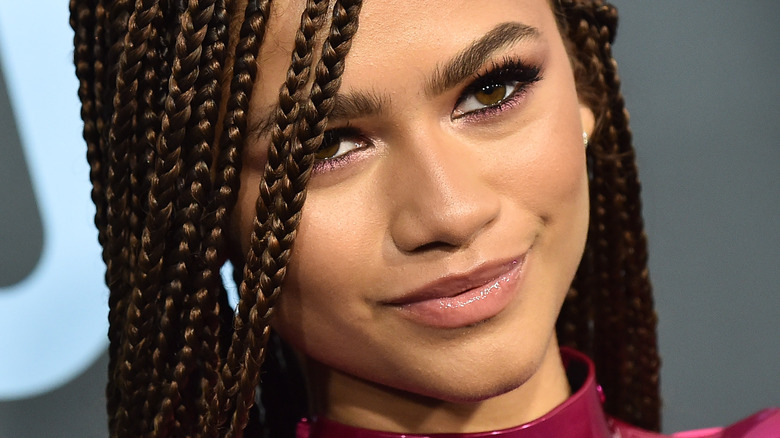 Shutterstock
Zendaya is a beauty icon thanks in large part to the actor and activist's stubborn refusal to bow to prohibitive societal standards. Zendaya has been known to do her own makeup for red carpet events, as Allure notes, and even goes completely fresh-faced on occasion too — including for her role as MJ in Marvel's most recent "Spider-Man" movies, which Zendaya nabbed after foregoing makeup for the audition in order to properly portray a 15-year-old kid (via Variety). Her confidence shines through regardless.  
When it comes to haircare, Zendaya keeps it simple, too, especially considering her job requires so much intense styling. As she told Allure, "When I hit 15, [my hair] had been so fried [on sets] that it was falling out in the sink. Heat is the enemy. I find other ways to achieve the styles I want — pin-curling overnight, a roller set under a dryer with low, cool air. It takes more time, but it's worth it." Thankfully, one of her go-to products for gorgeous hair is one everyone can quite easily pick up. 
Zendaya's go-to keeps her curls perfectly defined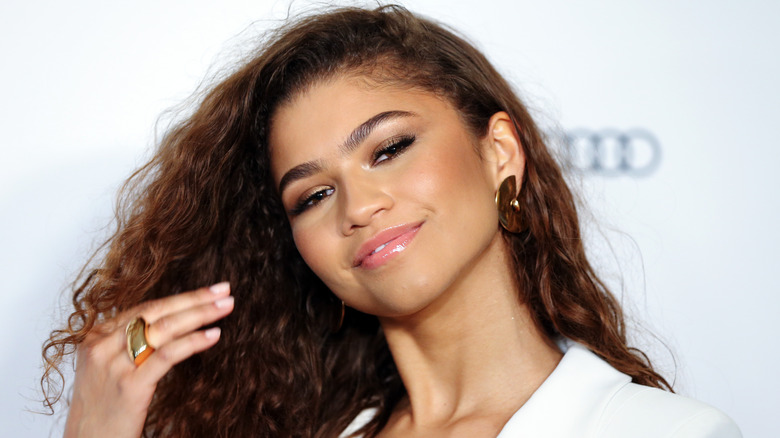 Brendon Thorne/Getty Images
As Stylecaster notes, in a since-deleted YouTube video, Zendaya shared her simple, five-step routine for perfectly curly, textured hair. One product, in particular, stood out — Miss Jessie's Multicultural Curls (which you can purchase for $16 here). As the "Spider-Man: Far From Home" star explained, this gel "basically helps to define the curls or the waves... without making it crunchy." The Black-owned company's gel is such a key element of Zendaya's routine, in fact, that she calls it her "special juice." The starlet wrapped up the ludicrously simple tutorial by drying her hair with a microfiber cloth and adding definition with a diffuser.
As Zendaya explained to Seventeen, it took a while for her to figure out what her hair actually required. "I wasn't comfortable with my curls when I was a kid," she admitted, noting, "I had to learn to appreciate and understand my hair." These days, the outspoken actor has embraced her naturally textured tresses. She has several terrific tips for keeping her hair looking great at all times, too, including sleeping on a silk pillowcase, using an oil-based shampoo and conditioner, brushing through with a wide-tooth comb immediately after showering, and spritzing throughout the day to keep her curls bouncy.
The "Euphoria" star put it perfectly to Byrdie, stating, "Beauty has no definition, and if you do create a definition for yourself as you grow older, it's ever-changing. It'll be very different from when you're 18 years old to when you're 22 and 30. Take your time."