The Exact Lip Color Hayley Atwell Wears As Peggy In Agent Carter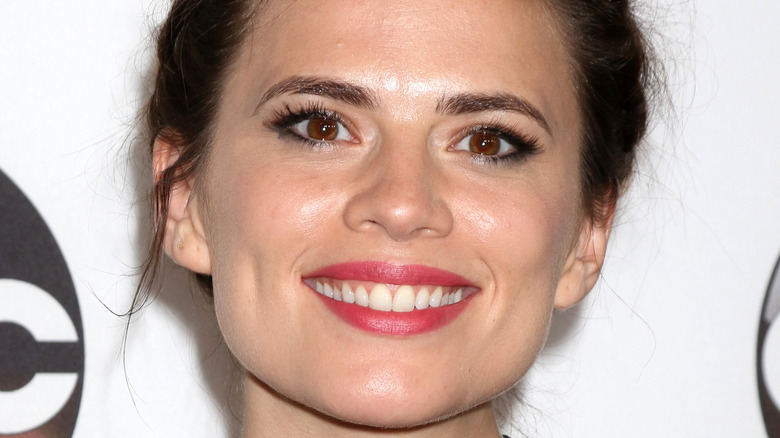 Kathy Hutchins/Shutterstock
The Marvel Cinematic Universe has been dominating pop culture since the premiere of the first "Iron Man" movie back in 2008. Over the last several years, Marvel has released numerous films and television shows, each of which focuses on a different set of characters originally popularized by their comic book counterparts. Some of these iterations have been more successful than others, despite the media juggernaut's dedicated fan base. 
One example is the "Agent Carter" television show that premiered in 2015 (via IMDb). Centered on Hayley Atwell's character, Peggy Carter, from the original "Captain America" movie, the show originally aired on ABC. Fans of Atwell's character flocked to the series in droves, but, unfortunately, it only ran for two seasons before ABC officially pulled the plug (via CBR.com). Atwell went on to revisit her role as Peggy Carter a few more times after "Agent Carter" was canceled, which is some consolation for those of us who adored her vivacious character.
Peggy Carter has become an iconic name amidst the broad expanse of the Marvel Cinematic Universe thanks to each of Atwell's memorable performances on the big and small screens. Everything from the character's intellect and independence to the gorgeous ensembles she wears when she's saving the world is fuel for further adoration. 
If you similarly fell in love with Peggy Carter's bold choice of lipstick, you're not alone. We've unveiled the exact lip color that Atwell wore during her time on "Agent Carter," and it's even better than expected.
Hayley Atwell wore this shade of red lipstick as Peggy Carter in 'Agent Carter'
Peggy Carter is one of the coolest characters in the Marvel Cinematic Universe, which is largely due to actress Hayley Atwell's portrayal of this iconic role. Atwell was just as disappointed as her fans when ABC decided to cancel "Agent Carter," stating in an interview with The A.V. Club, "It's a shame the network canceled it and wanted to put me in something more mainstream." The mainstream show Atwell is referring to was the short-lived drama "Conviction," which ran from 2016 to 2017 (via IMDb).
Though the "Agent Carter" series was shelved by ABC, Peggy Carter herself remains an integral figure in the lives of Marvel fans across the world. Not only does Agent Carter have an impressive set of skills, but she always looks great when she's taking down the bad guys and fighting for justice. Her signature red lipstick was perfectly reflective of the 1940s era, and TikTok has revealed the exact color used by Atwell's makeup team on set.
Atwell wore Bésame Cosmetics' Red Velvet Lipstick 1946 throughout the duration of filming, per Britney Kale. Apparently, the lipstick became so popular that Bésame Cosmetics created an "Agent Carter" section on its website. For just $24, you can also look like a daring femme fatale à la Atwell.