The Exact Lip Color Emma Stone Wears In Cruella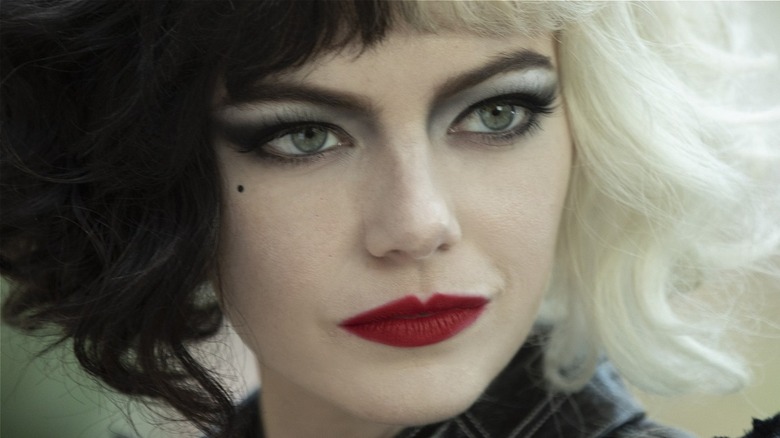 Laurie Spharham/Disney Enterprises Inc.
Finding the perfect lipstick shades can seem like an endless hunt. Between finding your undertones and looking at different price points, lip shade shopping is a personal thing. But if you've been hunting for the perfect red lip — and you also happen to be a massive Disney and/or Emma Stone fan — you're in luck. Consider this the end of your search, because this red is likely the classic and timeless hue of your dreams.
There is nothing more iconic than a red lip. There's also nothing as challenging to nail. But makeup artist Nadia Stacey picked one heck of a classic red for Stone in "Cruella" (via Glamour). The shade is not too bright, but not too dark either. It turns out that you can get the exact color right now, too. Here's everything you need to know about the Cruella-inspired product so you can take your beauty routine up a notch.
Emma Stone wore MAC's Lady Danger lipstick in Cruella
Let's just jump right into it. Emma Stone wears MAC Cosmetics' Matte Lipstick in Lady Danger in "Cruella." But it wasn't just the Disney reboot that kicked off the shade's popularity. In fact, Editorialist placed the ruby hue at number four out of 16 on its list of "the best MAC lipsticks of all time," without even a mention of the film. But the best part is you can shop the shade right now on the brand's website for $21, which is a small price to pay for nailing the perfect red lip.
MAC describes this lip shade as "vivid bright coral-red" with "no-shine." The reviews on this product are incredible, too. According to Editorialist, it's the "crisp white button-down of lipstick," meaning that it goes with everything and is a total classic.
Can we just take a moment to talk about how perfect the name "Lady Danger" is for this role? Yes, it was out years before "Cruella" was ever in the making — the Makeup & Beauty blog even described it as the perfect color if you're in a "playful mood" in 2011 — but it's incredible how the shade and the name match the character's style perfectly.
There's an entire Cruella collab with MAC Cosmetics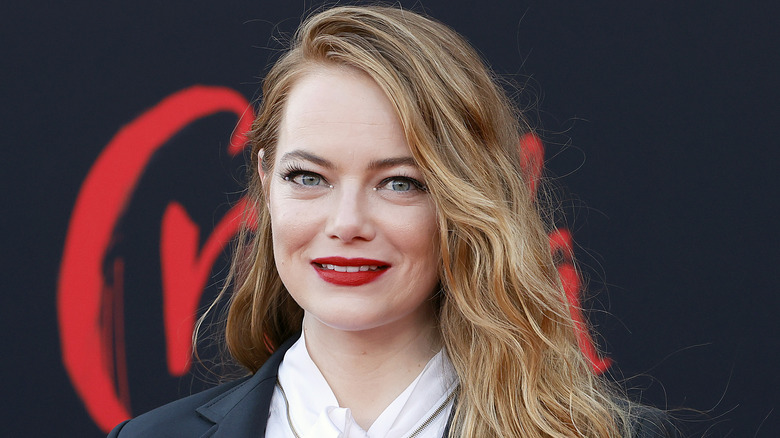 Frazer Harrison/Getty Images
If this shade of lipstick isn't for you but you still want a Cruella-inspired look, MAC Cosmetics still has you covered with an entire makeup collaboration with Disney in honor of the movie. The Disney Cruella Collection features four different products, including a different shade of red. Called De Vil In The Details, the shade is what the brand deems "punk-rock red."
The "Cruella" makeup artist used another MAC Cosmetic product to nail the on-screen look, too. According to Glamour, MAC's Eye Kohl Eyeliner Pencil in Smolder was applied roughly to help complete the "Cruella" look by complimenting the bold red lip with "a smokey effect" around the eye. And really, is there a more timeless combo than that?
You can shop the product right now for a cool $19, and nail the entire on-screen look. Whether you're buying the exact products or just taking inspiration from the classic beauty look, you really can't go wrong.