Why Many Celebs Are Choosing A Blue Hair Look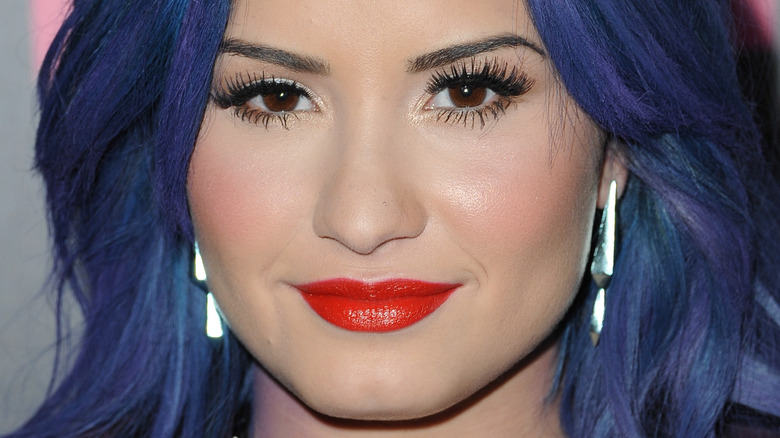 Allen Berezovsky/Getty Images
Beauty trends are the perfect way to experiment with your personal style. Most of them are temporary and easy to change, and hair color is no different. If you're looking to go bold, the latest hair trend is for you: blue hair. According to Byrdie, dark blue hair is flattering on every skin tone, which is why so many celebrities are trying the trend.
Unconventional hair hues are nothing new. Kylie Jenner rocked the blue hair trend almost a decade ago, if you can believe it. She's not the only one. Per Page Six, singer Jessie J, designer Nicole Richie, and beauty mogul Kat Von D have all sported the look. You don't have to be an A-lister to try the trend, though. The dark blue hue is the new trend coming into town and is replacing aquamarine highlights or bright tips. It's more subtle than bright blue, making it a more attractive option for the masses. The fact that it is universally flattering helps out, too. Here's everything you need to know to nail the trend.
Dark blue hair complements any skin tone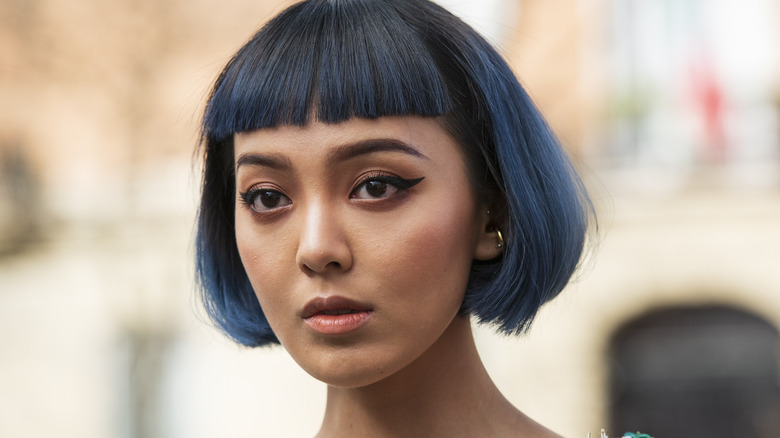 Kirstin Sinclair/Getty Images
Hair is an easy way to completely change up your look. One snip or the choice to curl rather than straighten your hair one day can completely alter the vibe of your style. Dying your hair deep blue is one notch up from there. As The Trend Spotter suggests, the deep blue hair color is a great way to ease into a new bold color, without going over the top. For those worried about the health of your hair, luckily, adding deep blue to your hair doesn't require any lightening beforehand, like a pastel or bright color would need, as noted by Byrdie.
Ready for the best part of this trend? You can get the look right at home. Byrdie suggests trying the Splat Hair Chalk in midnight blue first, to make sure you like it before you commit to something more permanent. It's less than $10, so it won't break the bank, either. Garnier Nutrisse has all-over color for less than $10 as well, and, according to reviews, it has a dedicated following.
According to Teen Vogue, blue hair fades pretty fast, so you'll want to find a way to maintain your color. There are products out there, like Overtone, that actually condition your hair while making sure your hair stays vibrant. Basically, if you've been dreaming of going blue lately, this is your sign to jump into the trend.