The Best Blue Hair Colors For Your Skin Tone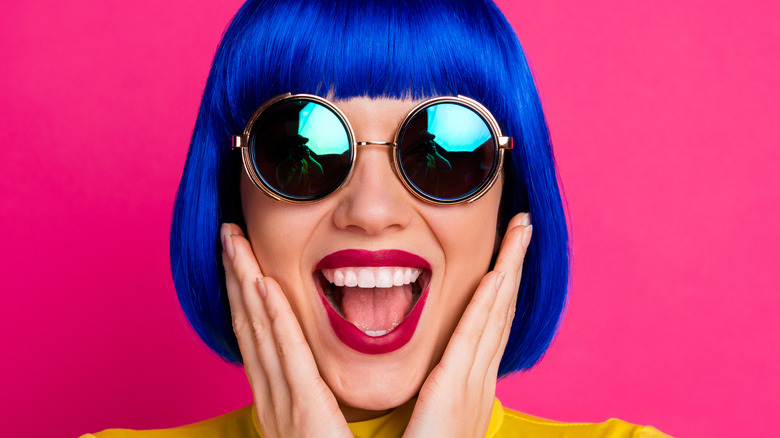 Shutterstock
Are you itching for a bright, bold, beautiful change? What better way to reinvent your style than by trying out one of 2021's hottest hair colors? 
Men and women are absolutely going for it by switching up their looks in drastic and edgy ways, like going for vibrant hair colors over natural tones. Forget browns and blondes, it's all about flashy colors like pinks, reds, purples, and blues. 
However, making a major change to your look can be a bit nerve-wracking, especially if that change includes a bold hair color. That's why finding the right shade for your complexion is key. No one wants to feel as though their new do washes them out or clashes with their natural complexion. 
If you're feeling blue — in a good way — keep reading to find the hue that's right for you. Whether you go navy, turquoise, or a soft pastel, here's what you need to know to pick the best shade of blue for your skin tone.
Here's what you need to know before you go blue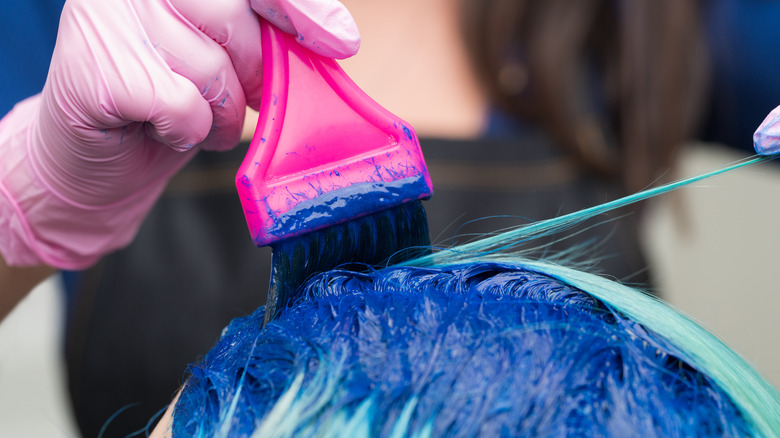 Shutterstock
The first thing to remember if you want to dye your hair blue is that it's typically a long process. Those who have naturally dark hair may need to bleach their natural hair color to achieve a lighter, more porous color before dying it blue. That's because bright shades like blue typically don't take to dark hair. Bleaching is not only a long process, but it can also be damaging if not done by a professional. 
"Between washing, bleaching, drying, coloring, drying again, styling, and possibly cutting, getting [blue] mermaid hair is a time investment whether you go to a salon or do it at home," writer Suzannah Weiss told Teen Vogue, noting that she spent more than six hours at the salon to transform her locks.
Another major thing to consider is that before and aftercare is a must. "Bleach zaps your hair of moisture," Teen Vogue reports, so you're going to want to grab a good deep conditioner or hit the salon for conditioning treatments to prevent damage. 
Style Vanity recommends a strategic shampoo schedule (Think: less is more), adding hair oil to the roots, and even taking a hair vitamin. L'Oréal also suggests taking a break from your curling iron or your flat iron.
Now that you know what to expect, let's find the perfect shade of blue for your skin tone.
Find the best blue hue for your skin tone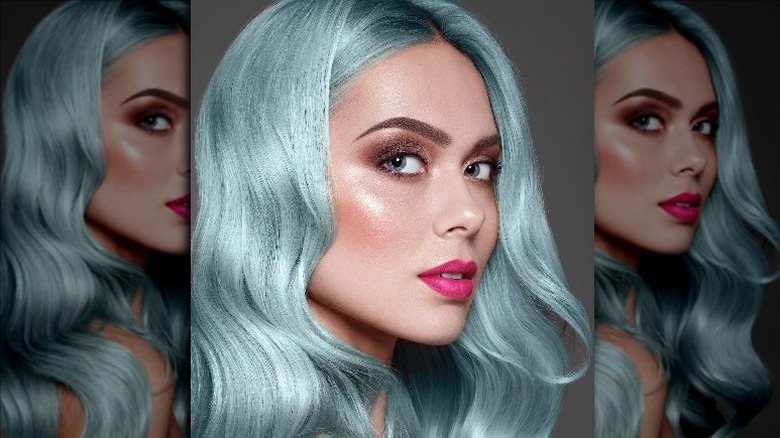 Shutterstock
Stylists recommend considering your skin tone when choosing the right shade of blue for your hair. 
Those that have pale, porcelain skin can choose one of two extremes," reports L'Oréal. "You can either go all out with an ocean-inspired teal hair color or keep things subtle with light blue hair." The jewel tone brings the drama without washing out your complexion, but a powder blue or Tiffany blue can create a soft, dreamy effect.
If you're someone with a more olive complexion, you may want to try going a bit darker and more vibrant. "For people with medium-toned skin, a cobalt color strikes just the right balance between dramatic and wearable," reports L'Oréal. 
For deeper skin tones, like caramel and brown, L'Oréal claims midnight blue "is basically the new black" because it adds a subtle but sophisticated vibe to your tresses. The severity of contrast may not work well for lighter skin tones, but "if you have naturally dark hair and a dark skin tone to match, you're a perfect fit for this hue," the site said. The great part about midnight blue is that it may work well on dark hair without requiring heavy bleaching.
Bottom line, have fun and stay true to your blue.