Inside Conan O'Brien's Friendship With Jeff Garlin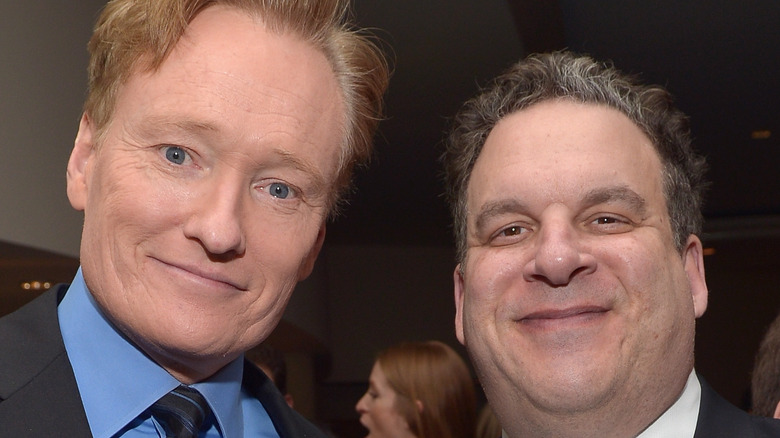 Charley Gallay/Getty Images
It's hard to imagine a more well-liked guy than late night host Conan O'Brien. O'Brien, who got his start writing for "Saturday Night Live" and "The Simpsons," in 1993 made the jump to hosting his own show, "Late Night," replacing David Letterman after he fled NBC for CBS (via NPR).
Over the years, O'Brien became one of the most iconoclastic late night hosts, attempting weirder and wilder comedy bits than anyone else. Following the infamous "Late Night War" wherein NBC promised Jay Leno's "Tonight Show" slot to O'Brien — only to return it to Leno — O'Brien brought his talents to TBS (via Time, Good Housekeeping). And there O'Brien remained for another 11 years, until June 2021, when it was once again time for a new chapter.
When Conan's show ended, there was an outpouring of affection for the comedian, who many consider to be a late night pioneer.
"I remember being incredibly nervous my first time on [his show] because I was trying to promote my show that was on MTV. He was so kind to me. He came to the dressing room and talked to me like I was a normal person. It instantly made me feel okay," Nicole Byer told Vulture.
D'Arcy Carden, comedian and "The Good Place" star, shared, "Now, Conan is a great friend. I don't mean that like, 'We're so close.' I mean that he's a generous friend. He will reach out, be the one to extend the hand. I can't tell you how much that means to me."
Living with a 'madman'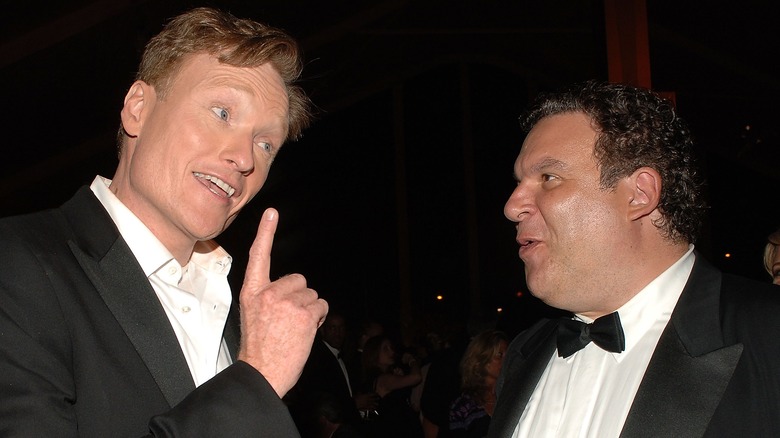 Stephen Shugerman/Getty Images
But of all the comedians who have affection for O'Brien, likely only one can claim that they had the distinct honor of being his former roommate (via Chicago Tribune).
Comedian Jeff Garlin — who fans may recognize from "The Goldbergs" and "Curb Your Enthusiasm" — shared an apartment with O'Brien in Chicago's Wrigleyville, back in 1988, when the two were still up-and-coming comics. But it wasn't always fun and laughs.
"I'd be fast asleep, it would be 3 in the morning, he would kick my door open, kick my door open and say 'It's pudding pop time,'" O'Brien recalled on his show.
Garlin drove a tough bargain, it seems. He'd "make me do impressions and skits for him for his amusement, and for some reason, I did," O'Brien shared. "He has that power. I didn't say no. I just was like, this guy is yelling at me to perform, I better do it."
Despite this, O'Brien and Garlin still seem to be as close as they were back then, even paying a visit to their old digs in February 2020 and filming it for "Conan."
"I don't like to brag, but Jeff and I had a bit of a reputation in Chicago," O'Brien says in the clip. "Guys who didn't get laid," Garlin says, finishing his sentence.
Perhaps for Conan's next venture he and Garlin would consider moving back into their old apartment; at the very least, it makes for a good sitcom premise.