The Auburn Hair Color Emma Stone Fans Envy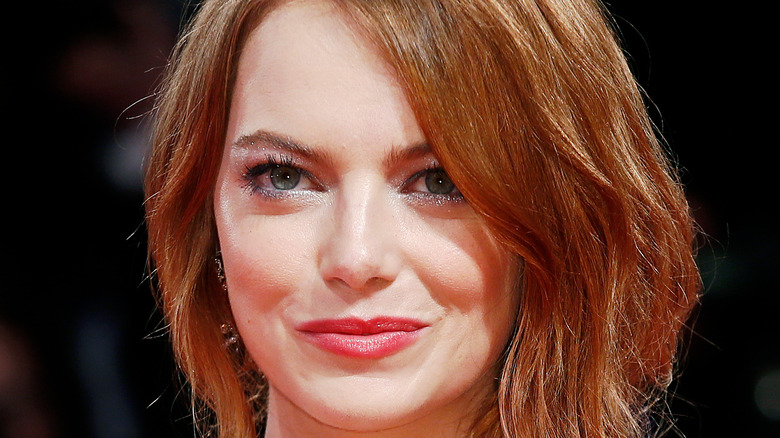 Andrea Raffin/Shutterstock
Emma Stone has rocked an array of hairstyles over the years, from warm brunette updos for the red carpet to platinum blonde locks onscreen to a variety of styles in between (via Vogue). She looks stunning regardless of whether she has bangs or a bob, but one of her hair colors stands apart from the rest. Most often, the actress rocks a gorgeous shade of auburn hair that perfectly complements her porcelain skin tone and hazel-green eyes — and which fans rightfully envy.
This type of red-brown color is achievable in a variety of different shades, as is evidenced by the style galleries dedicated to celebrities who showcase each individual hue (via Elle). If you're one of the fans who lives in constant envy of Stone's signature shade of auburn, we've got some tips to help you achieve the hair color of your dreams. 
You'll need to choose the best shade of auburn hair for your skin tone, of course, but this particular blend of colors can be used by your hairstylist to create the right hue for you — just like Emma Stone.
Emma Stone's auburn hair color is a mix of warm tones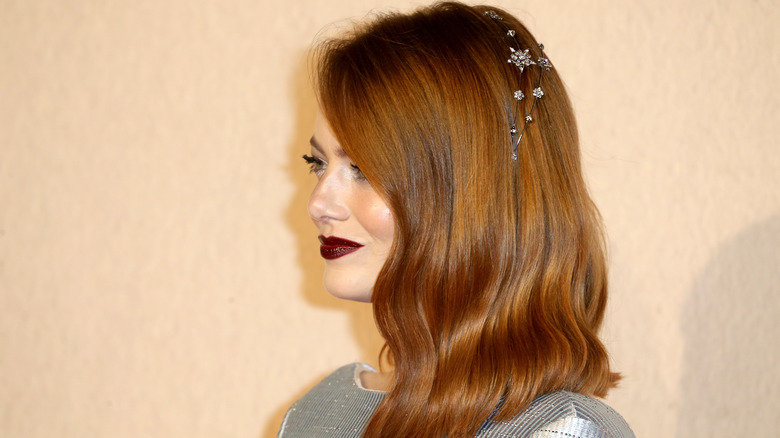 Cubankite/Shutterstock
Even though Emma Stone is a natural blonde, she's most famous for her auburn hair, as this is how she frequently appears in films and during public appearances (via Allure). To achieve her exact color, hair colorist Mark Mileti recommends requesting a copper-auburn shade when you're at the salon (via Byrdie). More specifically, he says that Stone has "a copper color with a slightly brown base and a hint of gold."
Getting the right color is only half the battle. It's equally important to ensure that you have the right tools to maintain the brilliance of your auburn hair over time. Thankfully, Stone's personal hairstylist, Tracey Cunningham, provided some insight into how she maintains the actress' gorgeous hue. Speaking with Refinery29, Cunningham said she uses the Olaplex No. 3 Hair Perfector as a pre-shower treatment, followed by the Olaplex No. 4 Bond Maintenance Shampoo and the Olaplex No. 5 Bond Maintenance Conditioner. 
For super-glossy auburn locks, Cunningham recommends finishing your look with the Redken Extreme Anti-Snap Anti-Breakage Leave-In Treatment, which is exactly what she uses on Stone.
Now, who's ready to book a salon appointment?