Why John Oliver Will Never Forget His First Post College Performance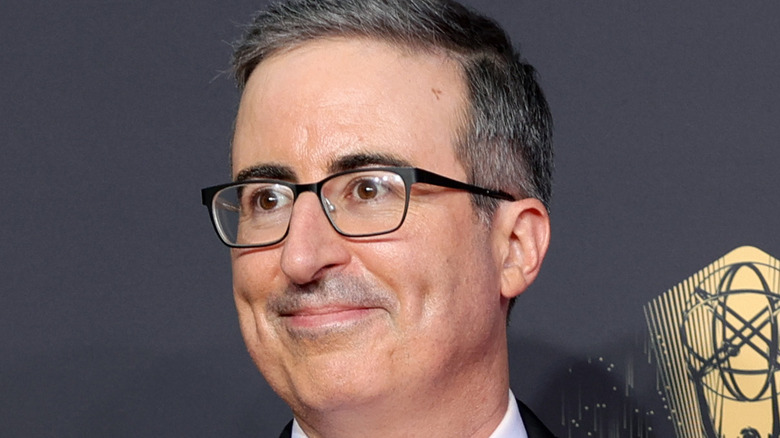 Rich Fury/Getty Images
Ever since John Oliver made a splash on "The Daily Show with Jon Stewart," audiences were immediately taken in by the comedian's dry wit. Oliver spent eight years as the show's "Senior British Correspondent," memorably speaking to members of the Tea Party and announcing the birth of the royal baby (via The Week, Bustle). There were many who would have liked to see Oliver assume Stewart's hosting role, particularly as Oliver was known to knock his guest hosting duties out of the park (via The Hollywood Reporter, The Guardian). However, no such thing was to come to pass. In 2015, Oliver announced that he was departing "The Daily Show" for his very own program: "Last Week Tonight" on HBO.
"We weren't otherwise searching for another weekly talk show, but when we saw John Oliver handling host duties on 'The Daily Show,' we knew that his singular perspective and distinct voice belonged on HBO," HBO shared of their decision. Oliver, of course, knew exactly who to thank. "Most of all, I'd like to thank Jon Stewart," he said. "He taught me everything I know. In fact, if I fail in the future, it's entirely his fault."
In the years since, "Last Week Tonight" has become a critical darling, quickly winning rave reviews and many, many Emmys (via Vulture, Deadline).
Oliver's inauspicious beginnings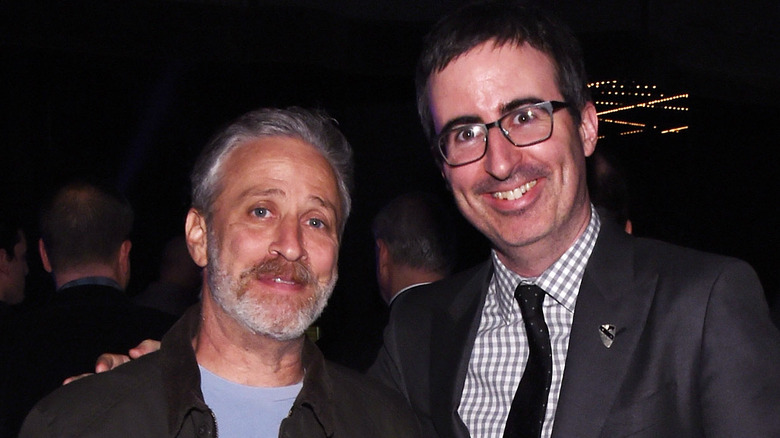 Ilya S. Savenok/Getty Images
Like any comedian, Oliver had to start somewhere. And for him, that was at Cambridge University in England, where Oliver studied and became involved with the renowned Cambridge Footlights (via Bustle). Oliver went on to become vice president of Cambridge Footlights during his time at university, and famous alumni include Mitchell & Webb, Olivia Colman, and Richard Ayoade (via Cambridge Arts Theatre).
Following graduation, Oliver then began making appearances at the Edinburgh Festival. His first appearance at the festival was in 2001, and it was memorable: Oliver participated in a sketch show alongside Daniel Kitson, Lee Mack, Frank Skinner, and Simon Day (via The Guardian). The sketch show involved a video installation, and at the time, The Guardian noted how this technology was a departure from what we think about when we think about sketch comedy.
"Stand-up comedy used to demand a straightforward set of skills ... The intrusion of technology into the live comedy circuit, as in so many other arenas, has proved a mixed blessing. It doesn't matter how funny you are or how well-crafted your material if your interactive video wall is on the fritz," the author noted.
Also intriguing is that Oliver played an "oleaginous journalist" — oleaginous defined as "resembling or having the properties of oil" — and while it seems likely the critic didn't mean this literally, it's impossible to say with sketch comedy. But either way, it's with thanks to that very festival that Oliver's (pretend) oleaginous journalist days are behind him.