Tim McGraw Shares How He Really Proposed To Faith Hill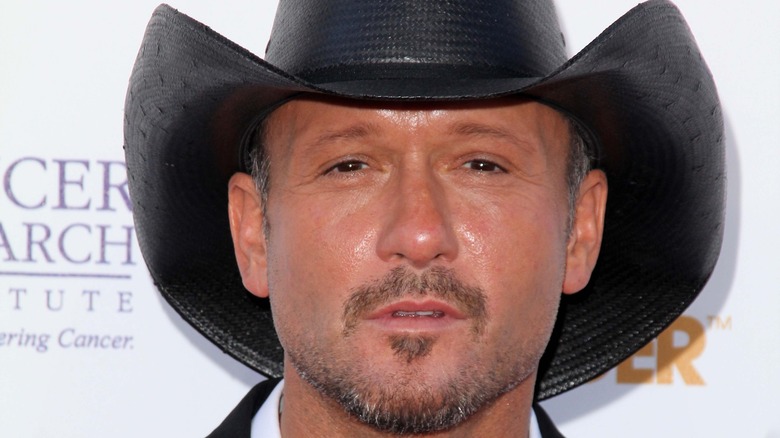 s_bukley/Shutterstock
Tim McGraw and Faith Hill are country music royalty. The couple not only rule the charts, but they also know how to keep their romance alive. The pair first met back in 1994 when they were both budding country artists making a name for themselves. The two crossed paths during a gig in Nashville, but they were both in other relationships at the time, per Us Weekly. McGraw was dating Kristine Donahue and Faith had just finalized a divorce from her first husband, Daniel Hill. However, two years later, their paths crossed again when Faith joined her future husband on the "Spontaneous Combustion" tour, and their connection was undeniable.
McGraw and Faith had a whirlwind romance when they began dating in 1996. That same year, the couple made it official when they tied the knot in the "Humble and Kind" singer's hometown in Louisiana. The couple went on to welcome three daughters together, Gracie, Maggie, and Audrey, who are now adults.
While it seems that McGraw and Faith may have a perfect storybook marriage, the "Don't Take the Girl" singer said he had to do a bit of convincing to get Faith to agree to be his wife.
Tim McGraw and Faith Hill celebrated 25 years together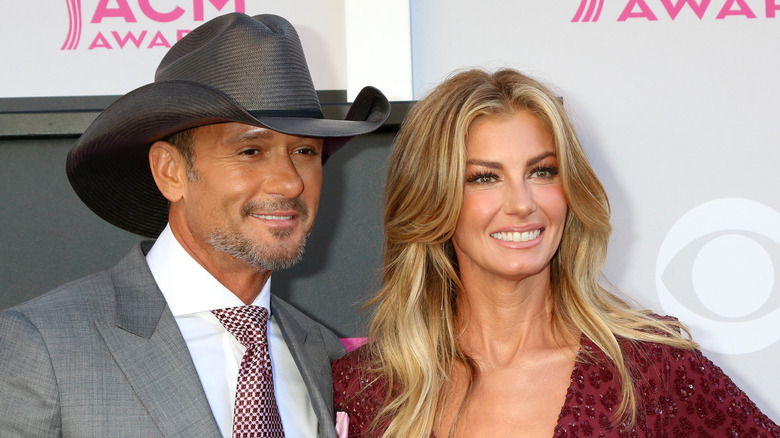 Kathy Hutchins/Shutterstock
Tim McGraw and Faith Hill hit a huge relationship milestone in 2021. The couple officially celebrated 25 years of marriage and McGraw commemorated the event by telling the story of how the pair became engaged (via Yahoo!). McGraw told fans via social media that it wasn't easy to convince Hill to become his wife.
"We had dated for a while," McGraw explained. "I actually asked her to marry me quite a few times and she kept saying no. She said, 'I'm not going to get involved with another country singer, it's just not going to work out.'" Finally, he said that she accepted his proposal while they were on tour together.
"I'm getting ready to go on stage, and I had this sort of case that had this big mirror in it. She's standing there, and we're talking, and I said, 'Look, let's get married.' And she says, 'You're asking me to marry you at a country music festival in a trailer house.' And I said, 'Well, it's pretty apropos if you think about it.' She goes, 'Are you serious?' And I said, 'Well yeah, I'm serious.' I came off the stage and went back into my dressing room and Faith wasn't there, but I looked at the mirror. In lipstick it said, 'Yes! I'm gonna be your wife,' and we still have that mirror. And it was the best day of my life, that's for sure."
The rest is history, McGraw and Hill are still going strong today, and we're in a puddle of tears over here thinking about how cute that proposal was.