Why Photos Of RHONY Star Sonja Morgan's Daughter Has Fans Doing A Double Take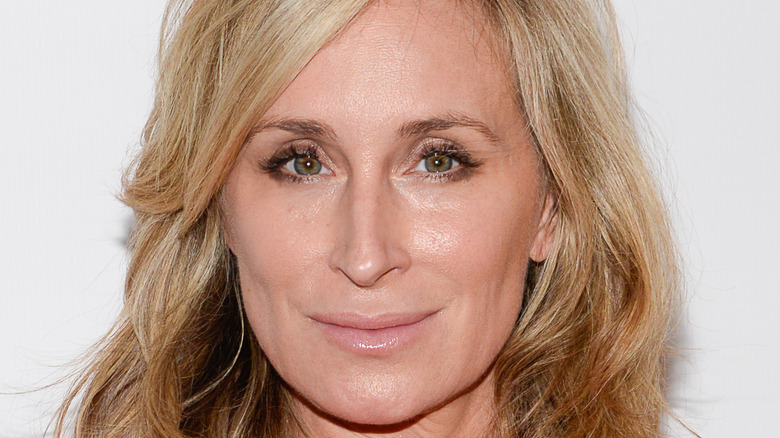 Dave Kotinsky/Getty Images
Sonja Morgan has been sharing her life with viewers since all the way back in 2010, when she joined "The Real Housewives of New York City" and became a fully-fledged public figure. Sonja has entertained us for over a decade but, although she's never been shy about opening up, the businesswoman keeps her daughter, Quincy Morgan, firmly out of the limelight. In May 2021, Sonja told Page Six that, although Quincy had recently made her Instagram account public, it shouldn't be taken as an indication she was about to join the "The Real Housewives of New York City" ranks. She teased, "We're going to have to see," adding, "This was the first step, going public with her Instagram." 
Sonja elaborated, "I know she'll handle it well, but let's see how she feels about it and revisit the topic later. Who knows? It's her choice at this point. She's an adult." The reality star previously admitted she didn't think it was fair to drag her daughter into the show's ongoing messiness. Likewise, going public with her Instagram was purely "a business move" for Quincy, who was studying math, science, and arts at the University of Pennsylvania with a view to being an entrepreneur someday just like her mother. However, in honor of a huge milestone in Quincy's life, Sonja shared a rare shot of the two women together and immediately got tongues wagging.
Sonja and Quincy Morgan look like they could be twin sisters
Sonja Morgan celebrated her beloved daughter, Quincy Morgan's, 21st birthday with a stunning video of the two ladies snuggling up together during a photoshoot. "Here's what 21 looks like. Happy Birthday my dearest, light of my life, center of my universe," "The Real Housewives of New York City" star gushed on Instagram, to which Quincy responded simply, "I LOVE YOU." Fans were quick to point out the two women could easily be sisters, with several even calling them "twins." As Page Six noted, Quincy's 21st birthday bash was a reliably glitzy affair, held at Sony Hall in New York City. Sonja shared tons of photos and videos from the event, which included a delectable three-tier cake and a cocktail especially for her sweetly called the "SonjaRita."
According to Bravo, in an Instagram Story from the event, Quincy confirmed the drink was comprised of tequila, blood orange, triple sec, lime, and sour mix. She hilariously wondered aloud, "Should my first drink as [a 21-year-old] be a sonjarita?" The stunning young lady also posted several photos from the shoot with her mom on Instagram, showing off the super girly cowl-neck sequin minidress and matching gloves she rocked for the event, both by Dyspnea. Quincy even posed with a cupcake from New York's finest, and "Sex and the City" staple, Magnolia Bakery, too. Clearly, she takes after her mother when it comes to being completely fabulous.