The Chicago Med Series Regular Who Started Out As Just A Guest Star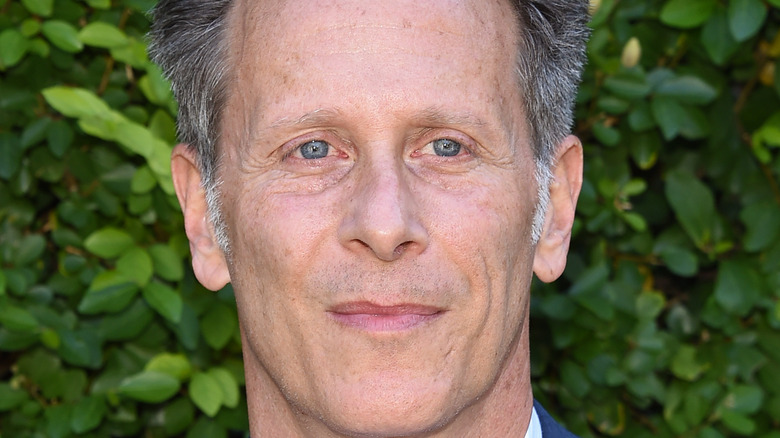 DFree/Shutterstock
It cannot be an easy task to join the cast of a popular, established show such as "Chicago Med." Unlike the original cast members — whom viewers have had ample time to fall in love with in previous seasons — new actors have to find a way to distinguish themselves as being worth a closer look while also blending in with the rhythm of series regulars. Steven Weber opened up about the reality of landing a guest spot on the show in an interview with the Chicago Tribune earlier this year.
The actor, who found breakout success in the '90s sitcom "Wings" and more recently played a part in Netflix's "13 Reasons Why," signed on to play the role of former Navy surgeon Dr. Dean Archer for the sixth season of "Chicago Med" (via IMDb). His character was invited to join the Emergency Department staff by Dr. Ethan Choi (Brian Tee) and wound up with plenty of power by the season finale (via TVLine). 
Weber compared being a "journeyman actor" to hopping on "a train that's running." In this case, it was even harder since the pandemic sidelined him for 10 months before he accepted the gig. His role was billed as a 7-episode run with the opportunity for expansion. Clearly his work on set paid off, because Deadline reported in July that Weber has been promoted to a series regular for the show's recently premiered seventh season.
Steven Weber didn't identify as a fan of "Chicago Med" before taking the role
Although "Chicago Med" is well-known, Weber told the Chicago Tribune that he wasn't well-versed before joining the cast. The actor explained that he doesn't closely follow many network shows. "That's not a function of me being a snob," he added. "My TV habits are kind of old-fashioned. I tend to have comfort food versions of television. I watch 'Seinfeld' reruns and 'Shark Tank' and old movies."
That didn't stop him from being excited to land a role on the show. In an interview with One Chicago Center, he opened up about playing Dr. Dean Archer — who he describes as "an interesting character" — and working alongside Brian Tee to develop Archer and Dr. Ethan Choi's relationship. "I think there's a lot to be mined from the fact that these people were serving their country at one time and endured some challenges," he said. "They saw action. They were witnesses to the darker side of serving the country and they brought it back with them."
Weber also reflected on his lengthy relationship with NBC, the network that airs "Chicago Med." He previously worked with the network on the likes of "Wings" and "Studio 60 on the Sunset Strip" and acknowledged that it was "gratifying" to return. "It's great to know that you're part of something that is big and constructive, and pays reasonably well, and continues to put out a great product," he said.