How To Take Care Of Your Skin After A HydraFacial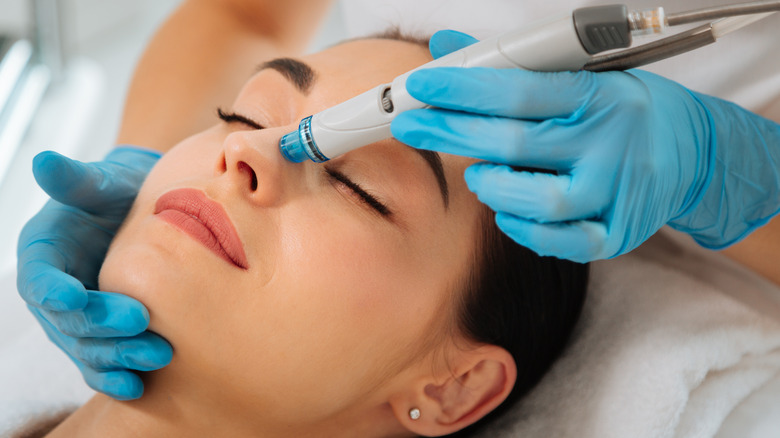 Dmytro Zinkevych/Shutterstock
Hydrafacials are trending for good reason; they're facials that give you instant results with minimal irritation. The patented treatment provides deep exfoliation and can improve the tone and texture of your skin in under an hour (via Healthline). They're also indiscriminate. 
"This is nice for teenagers with acne; adults with pimples, wrinkles, and hyperpigmentation; and for older patients with sun damage and even flaky pre-cancerous spots (as part of more serious treatments)," Ellen Marmur, an associate clinical professor in dermatology at the Icahn School of Medicine at Mount Sinai in New York City, told Allure in 2018.
But what are they? Facialist Joanne Evans explained to Harper's Bazaar in 2020, "Hydrafacial is a multi-step treatment using glycolic acid, salicylic, antioxidants, and hyaluronic acid in different percentages, according to the skin's needs. It uses suction to deep-clean and exfoliate the skin, allowing deeper penetration of ingredients." Surprisingly, a Hydrafacial treatment requires no downtime and usually leaves no redness or peeling, per Healthline. However, there are a few precautionary measures to take before and after a session.
Avoid exfoliation before Hydrafacials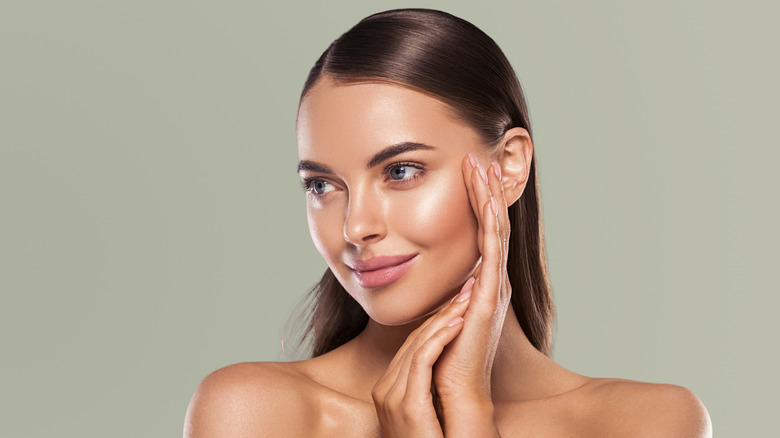 Irina Bg/Shutterstock
Before booking a Hydrafacial appointment, you should consult a dermatologist to make sure you're prepared. According to the Allure Enhancement Center in Louisiana, preparation can begin as many as six months before the treatment. Prep starts with discontinuing any product with Isotretinoin, such as Accutane, six months before getting the treatment. When your appointment is two weeks out, make sure you're not getting Botox done, as that can hinder the process. However, you can get Botox done after your Hydrafacial; in fact, some centers recommend it (via Face RX).
As good skin day approaches, you'll need to stop using salicylic acid, benzoyl peroxide, or topical Retin-A products 48 hours prior, per the Allure Enhancement Center. Avoid exfoliating, too, as you're going to get enough of that with the vacuum wand used in Hydrafacials. These rules apply to your post-treatment skin, too. The spa recommends applying a PCA Hylauronic Boosting Serum for 30 days after your procedure and recommends staying out of the sun as much as possible. Beverly Hills Med Spa also says you should "stay away from heat for the first 24 hours after the treatment," including hot showers.
Aside from these recommendations (which you should confirm with your dermatologist), a Hydrafacial can leave you with perfect skin on the same day. That's why it's "highly requested before red-carpet events and weddings," Shereene Idriss, a clinical instructor of dermatology at the Icahn School of Medicine at Mount Sinai in New York City, explained to Allure in 2018.