What Heat Protectant Can And Can't Do For You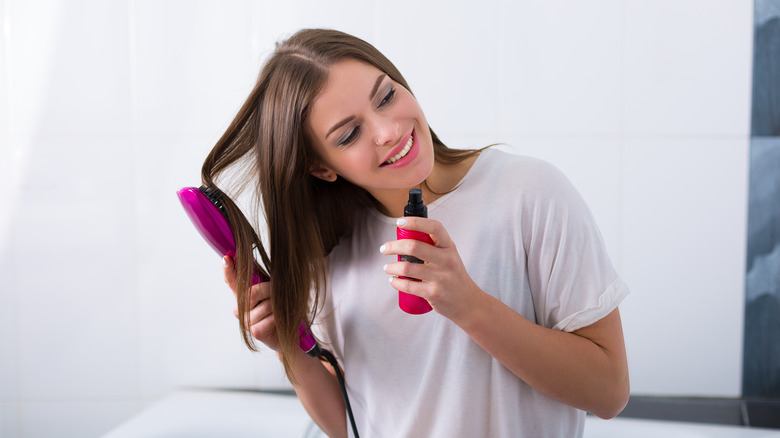 Tinatin/Shutterstock
Heat protectant: It's like that loyal, low-key friend who always has your back and saves you from your biggest regrets. Although it may not lift and hype up your roots like a volumizing hairspray or absorb unwanted grease from your hair like a dry shampoo, heat protectant is an absolute must-have hair product for all hair types and textures. That's because heat protectants are designed to shield your hair from blow-dryers and heat-powered styling tools, per All Things Hair. The hero ingredients in heat protectants that save your hair from a bad hair day are silicones.
The silicones coat the cuticle, which protects the hair from heat damage and seals in moisture (via Hairstory). This results in your hair heating up in a more gradual manner than if you didn't use heat protectant, which means less chances of heat damage to your hair. According to All Things Hair, the specific silicones in heat protectants are cyclomethicone and dimethicone. Cyclomethicone is a lightweight ingredient that leaves a silky slip to your hair strands, while dimethicone coats the strands and detangles any knots, making your hair look shiny and smooth. 
The silicone coating is also water-resistant and is in many ways like a primer for your hair. Your hair strands are porous and absorb moisture, which is why your hair can look frizzy on a humid day. Heat protectants decrease the porosity of your hair. They also help heat tools grip your hair better.
Who would benefit from a heat protectant?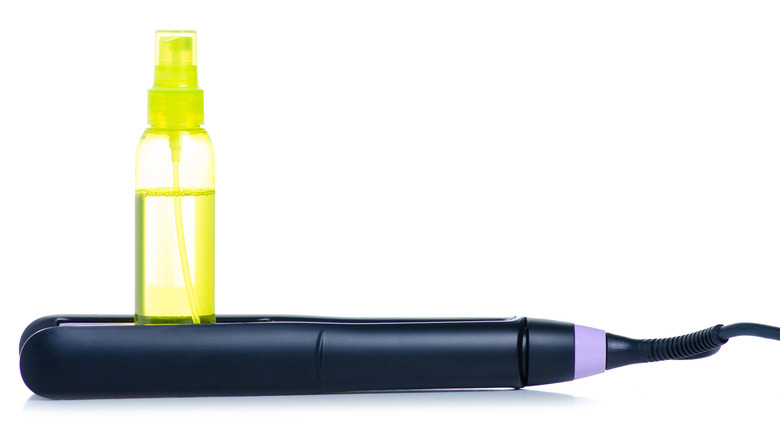 Kabardins photo/Shutterstock
Heat protectants benefit everyone, but especially aid people with damaged hair, per All Things Hair. Hair that has been color-treated, chemically processed, or damaged from excess chlorine or saltwater is especially vulnerable and would particularly require a heat protectant. If you have color-treated hair, just make sure to buy a color-safe heat protectant that won't strip your hair of its color, per Wethedryers.
Now that you know you need a heat protectant, the next step is to find one that works for your unique hair type. If you're on a budget, Byrdie recommends Pantene Pro-V Nutrient Boost Heat Primer, which protects your hair from temperatures up to 450 degrees. Leonor Greyl Detangling Milk Styling Spray is a creamy, coconut-infused heat protectant that works wonders for dry hair.
Color-safe options include Pureology Colour Fanatic Leave-in Conditioner & Heat Protectant, HSI Professional Argan Oil Color-Safe Heat Protector, and Giovanni Avocado & Olive Oil Leave-In Protective Spray (via Wethedryers).
Harper's Bazaar recommends Tresemme Keratin Smooth Flat Iron Smoothing Spray and L'Oreal Advanced Hairstyle Sleek It Iron Straight Heatspray for those who specifically use flat irons regularly. On the other hand, if you're going for the salon-style blowout look, you can try the OGX Protecting + Silk Blowout Quick Drying Thermal Spray, infused with silk and quinoa.
Heat protectants do have limitations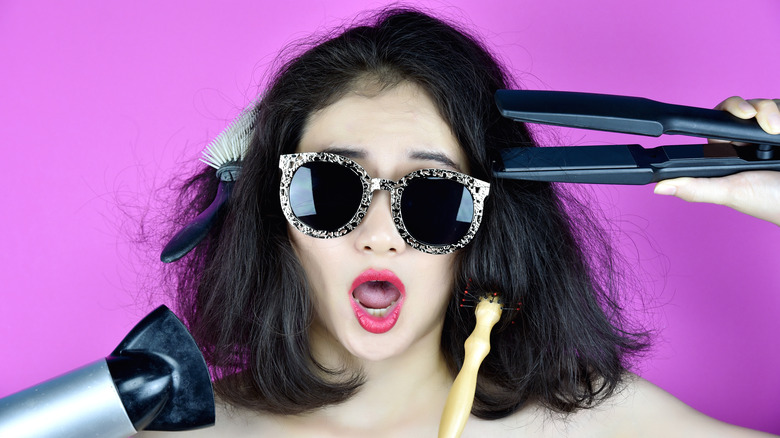 ARTFULLY PHOTOGRAPHER/Shutterstock
While using a heat protectant is necessary before any heat styling, it doesn't make your hair completely impervious to heat damage. At best, heat protectants will only abate heat damage by 50% (per Hairstory). Generally, heat protectants won't protect your hair from free radical damage that can be caused by prolonged sun exposure and/or air pollution. 
To protect your hair from UV rays, look for heat protectants that provide UV protection, like Sun Bum Protecting Heat Protectant Spray (per Wethedryers). Another great protectant that offers UV protection is Living Proof Restore Instant Protection Spray (per Byrdie). It works on wet or dry hair, which makes it great for styling touch-ups. Ensure that you use your heat protectant to its maximum benefit by evenly distributing the product throughout towel-dried, damp hair, making sure to apply it from the roots to the ends (via Hairstory). Make sure to use tools with adjustable temperature settings and to not use a higher temperature setting than necessary. 
Per All Things Hair, it's also important to blow-dry your hair so that it's completely dry prior to using any heat-styling tools. Applying heat to damp hair can lead to damage and breakage as it can cause the water inside your hair strands to suddenly evaporate, even if your flat iron claims to be a wet-to-dry tool (via All Things Hair and L'Oreal). And this is something that not even heat protectant can save you from.