Dylan Dreyer Shares Her Trick To Getting Her Kids To Eat Veggies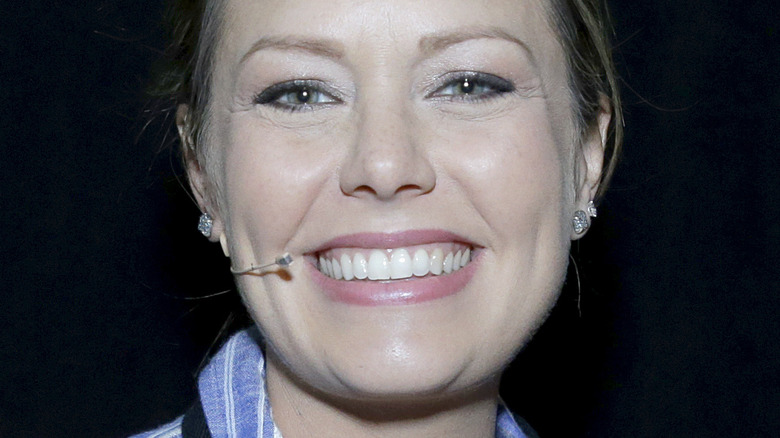 John Lamparski/Getty Images
As viewers across the United States welcome NBC News anchors into their homes every day, they get to witness the evolution each anchor undergoes as they grow increasingly good at their job. The stunning transformation of Dylan Dreyer is one such case. Dreyer is popular for her personality and her precision as a meteorologist, and she's grown so popular that she even shares big family news with the world.
Dreyer's family has grown by one as she and her husband, Brian Fichera, welcomed a baby boy into the world. Their baby, Russell James, was born six weeks early and spent some time in NICU but was allowed to go home with Dreyer and Fichera in October, per People. Russell James joins the family as Dreyer's third child alongside 20-month-old Oliver George and 4-year-old Calvin Bradley. Per Good Housekeeping, fans are beyond happy and excited for Dreyer, especially after the meteorologist posted her first full family photo including Russell to Instagram.
With her family ever-expanding, Dreyer is learning all kinds of new parenting tips and tricks, and now she's sharing them with the world. This is how Dreyer gets her kids to eat their vegetables.
This is the only time secrets are good
Dylan Dreyer is bringing her parenting tips and tricks directly into fans' homes with her new show "Dylan Dishes: Cooking with Cal," in which she cooks with her son Calvin. Dreyer announced the series in a Today article, and the show will air on "Today All Day." "Sometimes the best way to ensure that everyone around the table is getting nutritious and delicious meals is to be a little sneaky," Dreyer wrote in her announcement.
This is her main secret: She sneaks vegetables into unlikely recipes to ensure her children receive the nutrients, vitamins, and minerals they need. For example, Dreyer recommends adding small-cut vegetables like carrots and bell peppers to stir-fried ground beef or incorporating vegetables such as zucchini into your fresh-baked breads. These are easy ways for children to consume vegetables without even seeing them. Dreyer's zucchini bread recipe includes a whopping two cups of grated zucchini, meaning the kiddos will be getting plenty of green goodness when they eat a slice.
Of course, Dreyer also gets her kids to eat vegetables while seeing them, too. One of her favorite additions is adding chickpeas and broccoli to pasta dishes. When coated in pasta sauce, the vegetables will taste better, and it's an easy way to elevate traditional pasta with red sauce into a meal that's even more nutritious. Ultimately, according to Dreyer, eating more nutritiously as a family is all about being conscious of what you're putting into your meals.