Where NeNe Leakes And Kandi Burruss Stand Today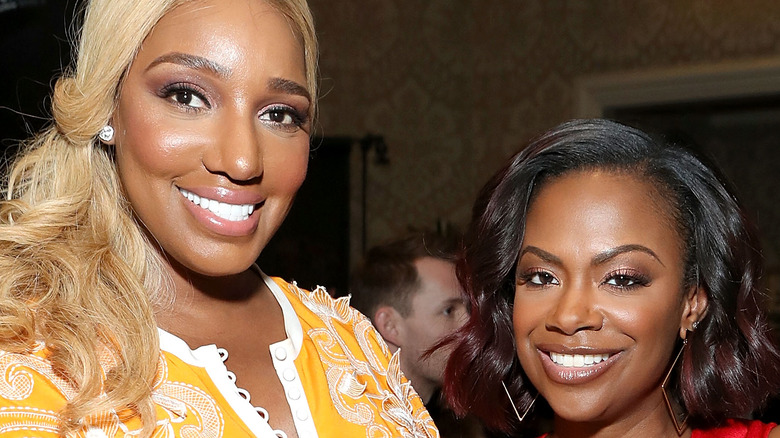 Randy Shropshire/Getty Images
As the housewives with the longest run on "The Real Housewives of Atlanta," Kandi Burruss and NeNe Leakes have been through some things together.
During the 12 seasons Burruss has been on the show and Leakes' 10-year run, according to StyleCaster, they've argued (remember the famous "we see each other" comment?), supported one another, and worked on their friendship, according to BuzzFeed. Of course, this doesn't mean they haven't had a few snarky comments here and there, but their relationship has only improved since Season 2.
Then, these two appeared to be on a better footing by Season 11 when the comedian was invited to serve as host of Burress' "The Great Xscape Reunion Tour" in 2017, per Showbiz CheatSheet. Unfortunately, that partnership was dissolved before the tour even left Atlanta due to an incident that left Leakes apologizing for her comments directed at a heckler, according to the outlet.
The question is where do NeNe Leakes and Kandi Burruss stand today?
NeNe Leakes and Kandi Burruss have had words
The last time NeNe Leakes starred in the show was the eventful Season 12 that gave us Snakegate, popcorn throwing in Greece, and fighting in a hotel room, per The Sun.
Then, things got heated at the virtual reunion show when the "Glee" actress sparred with the Xscape singer over comments Leakes made during a livestream on her YouTube channel, which appears to be a "she said, she said" spat. Following typical RHOA reunion fashion, there was lots of yelling and name-calling, which eventually caused Leakes to close her computer and leave the reunion, via Bravo Daily Dish.
In an interview with ET Online, Leakes continued to throw barbs at Kandi Burruss calling her "boring" and forgettable. "I know she said whatever she said, 'I'm embedded in your head,' but honey, you can never be embedded in my head. You got to be way more entertaining to be embedded into anything over here," she said.
Unlike past seasons where we can actually watch the dust settle between the two strong personalities, Leakes did not return for Season 13 and will not be on Season 14, so now we have no clue if they are friends or foes.
Kandi Burruss has been there for NeNe Leakes
So, where does their friendship currently stand? Since this is not the first time Kandi Burruss and NeNe Leakes have gone head-to-head, fans can only assume that these two will patch things up. During an interview with "Close Up by E! News" on Quibi, Burress remarked that at the time of the reunion "it was a very heated discussion," per E! Online.
By August 2021, Leakes and Burruss appeared to push their beef aside and focus on what really mattered: Honoring the memory of Gregg Leakes who passed away in September from colon cancer. According to Showbiz CheatSheet, Burruss and Xscape performed a song in memory of Gregg Leakes.
Burruss also shared her condolences with Leakes and family in an Instagram post. In the photo of the two "The Real Housewives of Atlanta" stars with Todd Tucker and the late Gregg Leakes, Burruss wrote, "My prayers go out to @neneleakes & her family. @greggleakes was an amazing man who always brought love & great energy to any room he walked into. I'm thankful for the great memories I have of him. Rest in peace Gregg ❤️🙏🏾."
With all that has transpired between these two, fans hope the recent communication between the actors means their friendship is on the mend.