How Much Money Did Rudy Giuliani Really Get For Representing Donald Trump?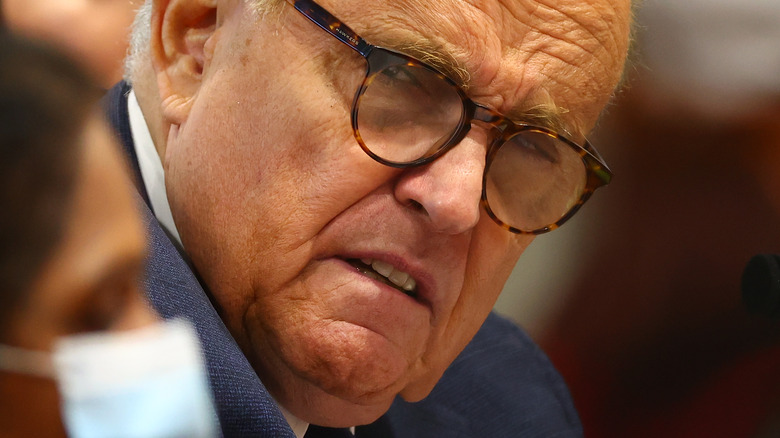 Rey Del Rio/Getty Images
It seemed as though former New York City Mayor Rudy Giuliani was everywhere after the November 2020 elections. He attempted to overturn or nullify elections results in Arizona, Georgia, Michigan, Nevada, and Pennsylvania (via ABC), to no avail. President Joe Biden won the 2020 election, despite Giuliani's efforts to give former President Donald Trump a second term in the White House.
During that time, it was reported that Giuliani had asked for as much as $20,000 a day for all that work, according to The New York Times. When asked about the payment at the time, he denied that he was making any money off the election lawsuits. The Times noted that the $20,000-a-day fee included expenses for the former mayor's staff.
In a court deposition tied to a defamation lawsuit filed against him by Dominion Voting Systems' CEO Eric Coomer, Giuliani revealed that he was not financially compensated for his role in filing the lawsuits seeking to overthrow the results and that he had only been reimbursed for his expenses. When the lawyer representing Coomer asked why Giuliani would work without being paid, he responded: "The president — the president ordered me to do it" (via Business Insider).
A "sense of commitment" led Rudy Giuliani to work for free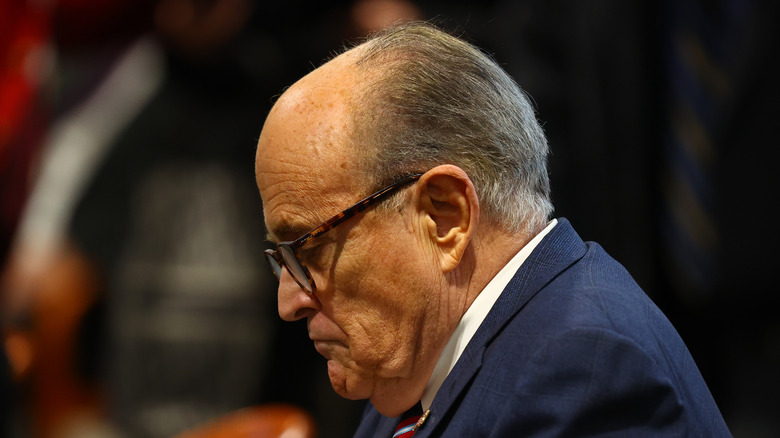 Rey Del Rio/Getty Images
The court deposition transcript further reveals that former President Donald Trump reportedly asked Rudy Giuliani to oversee his reelection campaign. "He said, 'Go over and tell them you're in charge, it's got to be straightened out,'" the transcript shows (via Business Insider). Giuliani then said that he wasn't sure what the scope of work was — whether it was just to manage the legal aspects of the campaign or the whole matter. As reported by The New York Times in January, Giuliani said he didn't expect to receive anything, and that he felt "extremely bad that I'm portrayed as some kind of money-grubbing ambulance chaser."
Giuliani elaborated in January, via the Times: "I represented him out of my sense of commitment. I didn't see anything about this that was going to lead to great wealth. I did see a lot about this that was going to lead to great torture."
His words proved to be prophetic. Giuliani now faces two defamation lawsuits against voting technology companies Smartmatic and Dominion, each seeking more than $1 billion in compensation. Giuliani has also had his license to practice law suspended in New York and Washington D.C. In commenting on the suspensions, lawyer George Conway said in July (via The Independent): "It's now almost inconceivable that he will ever set foot in a courtroom again as anything other than a defendant."