Washington Has Just Done This To Rudy Giuliani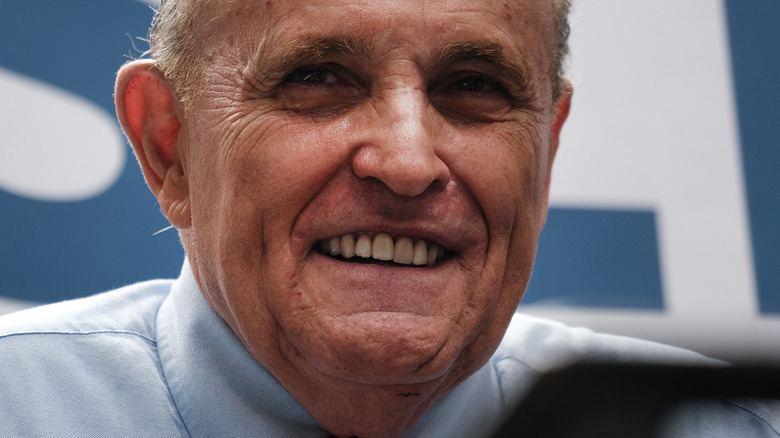 Spencer Platt/Getty Images
Rudy Giuliani has been a well-known figure in political and law circles for decades. The Italian-American lawyer from Brooklyn began his legal career as a student at New York University School of Law and then as a clerk for a district court judge, per Biography. After working several high-ranking jobs in Washington, including associate attorney general during the Reagan administration, Giuliani was appointed U.S. attorney for the Southern District of New York. He later ran as a tough-on-crime Republican candidate to become the mayor of New York City and won the seat in his second race.
While he has a notable career behind him, Giuliani has most recently been known as former President Donald Trump's personal lawyer, although they are now distancing from each other. Giuliani was Trump's defender in and out of court throughout the former president's campaign to overturn the results of the 2020 presidential elections (via Insider). "This is beyond anything I have ever seen before," Giuliani said at a 2020 Trump rally in November about the alleged election fraud (via The Independent). "We're going to stick with this. We're going to win this election. We've actually won it. It's just a matter of counting the votes fairly."
Fast-forward to July 2021 and it looks like Giuliani will no longer be waging such battles in Washington, at least not in court.
Rudy Giuliani's law license has been suspended in these states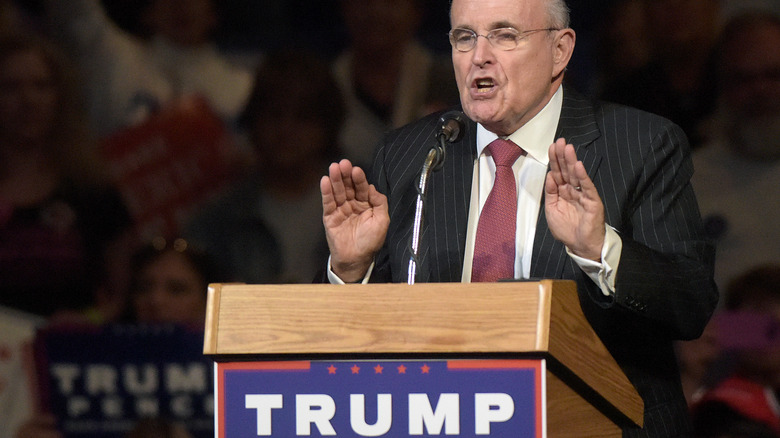 Shutterstock
Rudy Giuliani and Donald Trump have a long history as political allies, dating back to when Trump donated thousands of dollars to Giuliani's mayoral campaign, according to City & State NY. After appearing in comedy sketches together and attending each others weddings, Giuliani eventually became part of Trump's legal team in 2018 when the lawyer was assigned to represent the then-president on an investigation into Russian interference in the 2016 election.
However, supporting Trump has disrupted Rudy Giuliani's legal career. As a result of his claims of there being electoral fraud in the 2020 elections, and it preventing Trump from being reelected, Giuliani has temporarily lost his law license in New York. On June 25, 2021, the former New York City mayor was suspended of his law credentials in the state — with the ruling pointing to Giuliani's "false and misleading statements" about the 2020 election. The suspension could be lifted, pending the outcome of Giuliani's full formal disciplinary hearing (via CNN).
On July 7, Washington followed suit, with the court suspending Giuliani's license to practice law in Washington, pending the result of his New York situation (via CNBC). This means that Giuliani cannot practice law in these districts temporarily, until a formal disciplinary hearing occurs. Additionally, a new book about Trump's post-presidential life states that Trump cut off ties with Giuliani and is "annoyed" that the lawyer is asking for legal fees corresponding to his work defending Trump in 2020 election fraud cases (via The Times).