The Truth About Adam DeVine's Relationship With Chloe Bridges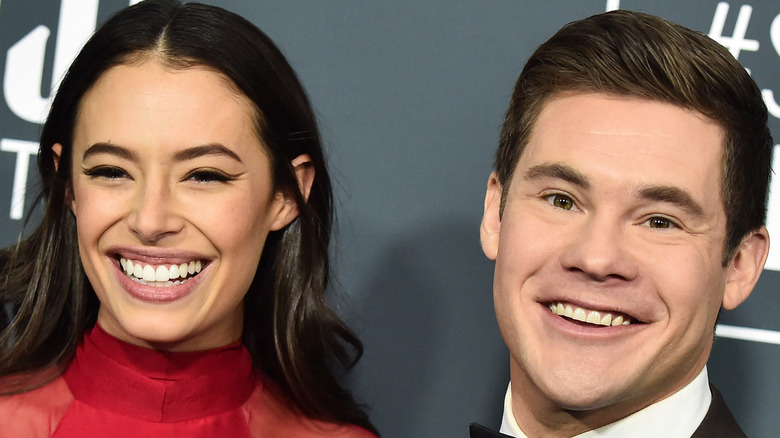 DFree/Shutterstock
Comedian Adam DeVine and "The Carrie Diaries" star Chloe Bridges finally tied the knot on October 9 in Cabo San Lucas, Mexico (via Us Weekly). DeVine's "Workaholics" costar Erik Griffin shared an image of the nuptials on Instagram with the caption, "Dem Boyz! [DeVine] is off the market! Such an awesome wedding!" While the ceremony was a success, DeVine and Bridges struggled to arrange the event. Due to the ongoing coronavirus pandemic, the newlyweds had to adjust their original vision.
In January, Bridges said on Instagram, "Back at the beginning of October I posted that we had finally locked down a wedding venue and a date and were pretty proud of ourselves ... But since then, that venue has canceled all 2021 events, so it's back to the drawing board! Is planning a wedding during a pandemic a lost cause?" With Bridges and DeVine's beautiful ceremony fresh on our minds, we're taking a deeper look at their relationship.
Adam Devine and Chloe Bridges always had a special connection
Adam DeVine began dating Chloe Bridges in 2015 after they met on the set of their film "The Final Girls" (via Entertainment Weekly). Since connecting DeVine and Bridges have become one of the most adorable couples in Hollywood. After a few years of dating, the pair got engaged in 2019. At the time, the "Pitch Perfect" star posted an Instagram photo with the caption, "She said yes! Well actually she said 'ahh Adam' and then kissed me but I'm pretty sure that means YES! I love Chloe more than anything and I'm so excited to spend the rest of my life with her amazing self." Bridges also shared engagement photos on her Instagram feed.
She captioned the images, "I've known we had a special connection since we first met (well FIRST I liked the way his butt looked in his jeans and the way he made me laugh and the fact that his backpack was monogrammed which seemed VERY adult to me five years ago)." The 29-year-old added that DeVine is the best man she knows. She concluded, "I quickly learned that he is the kindest, funniest, most incredible man I've ever met. I'm so proud to be his girl and will be even prouder to be his wife." We're excited to see what's next for the happy couple.