What You Never Knew About Ana De Armas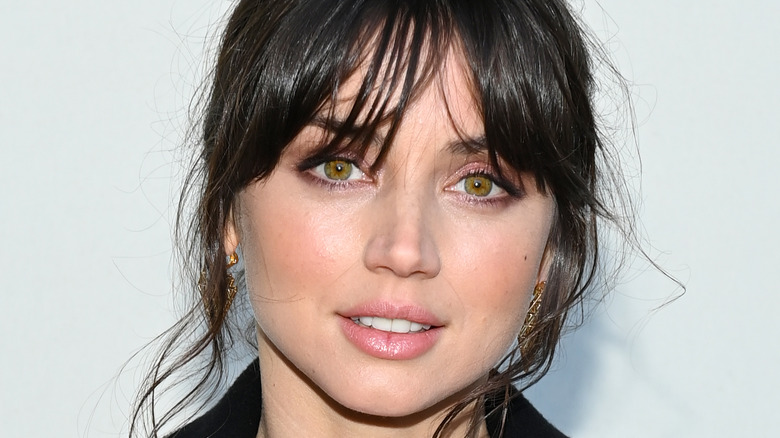 Pascal Le Segretain/Getty Images
Ana de Armas' rise to Hollywood stardom has been like something out of a storybook. The up-and-coming actress grew up in Cuba, dreaming of a life in the movies. When she was just 14, she began studying acting in Havana. By the time she was 16, she had appeared in her first feature film (via Empire). When she was 18, she moved to Spain to continue her career. There, she quickly rose through the ranks of Spanish cinema (via CinemaBlend). Then, in 2014, she moved to L.A. to pursue a career in English films. Soon enough, she proved herself to be more than up to the task.
Since moving to America, de Armas has racked up numerous credits in some of Hollywood's biggest movies, including "Knives Out," "Blade Runner 2049," "War Dogs," "No Time to Die," and more (via IMDb). It's pretty clear that de Armas is set for a busy, successful acting career. Want to find out more about this incredible actress? Here are some things you never knew about Ana de Armas.
Ana de Armas always wanted to act as a kid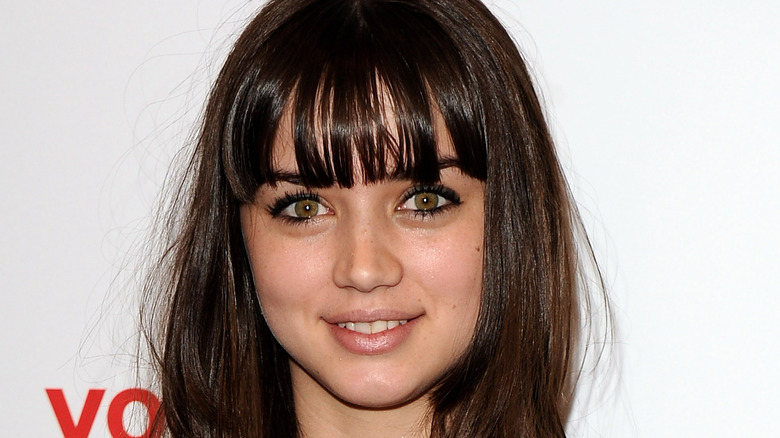 Carlos Alvarez/Getty Images
When you see Ana de Armas acting, it's easy to think that it was a career she was destined for. As it turns out, de Armas was always drawn to cinema, even as a child. As she explained to Flaunt, as a kid, she was desperate to act. Like other children, she went through "phases" of wanting to do other jobs. However, whenever she thought carefully about her future, she always returned to her dream of acting. "I don't remember feeling like I wanted to do anything else... since I was 11 or 12, I just started driving my parents crazy, just repeating on loop, 'I want to be an actress, I want to be an actress,'" de Armas recalled.
Clearly, her perseverance and determination paid off — by the time she was 14, she had landed a place at an acting school, and a few years later, she was acting on professional movie sets!
Ana de Armas almost passed on her role in Knives Out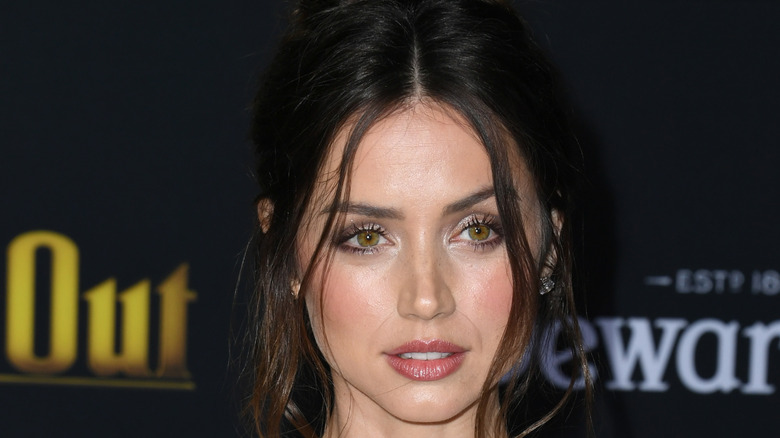 Jon Kopaloff/Getty Images
In 2019, Ana de Armas played Marta in the mystery film "Knives Out." The role proved to be one of the most significant in her career to date — it even earned her a Golden Globe nomination for best actress!
However, it turns out that the actress wasn't initially too keen on the part. As she explained to The Hollywood Reporter, she didn't even want to audition when she saw the character description, which simply called Marta a "pretty Latina caretaker." "I'm like, 'Latina again, really? No! I am not doing this,'" she recalled.
In another interview with The Hollywood Reporter, de Armas explained that once she read the script, she realized there was a lot more to the character than her ethnicity. "When I finally read the script, I realized that the description didn't fit at all because Marta is so much more than that," she said.
Ana de Armas dated A-list actor Ben Affleck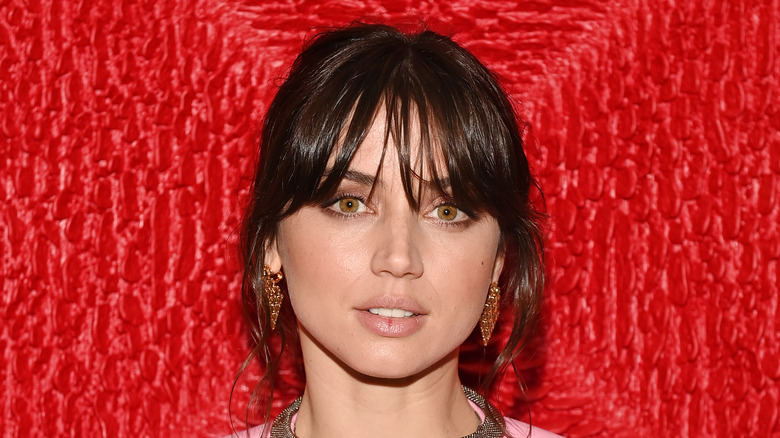 Pascal Le Segretain/Getty Images
Ana de Armas made plenty of headlines in 2020 when she was seen on numerous occasions with her "Deep Water" co-star, Ben Affleck. According to Us Magazine, the pair met on set and quickly became close. After their initial meeting, the couple were spotted vacationing in Cuba (via Daily Mail).
During the first COVID-19 lockdown, de Armas and Affleck appeared to be getting closer than ever — most of us probably saw the paparazzi shots from their numerous PDA-packed walks around L.A. (via The Sun). Affleck even made it onto de Armas' grid in April 2020 when she posted a set of photos for her birthday.
However, in early 2021, the couple went their separate ways. As a source told People, "She broke it off. Their relationship was complicated." However, as another source told People, the pair remained friends, while Affleck continued to "work on himself." Later in 2021, Affleck made headlines yet again when he got back together with his ex, Jennifer Lopez. It seems that he and de Armas were never meant to be after all (via BBC).
Ana de Armas learned about beauty during her youth in Cuba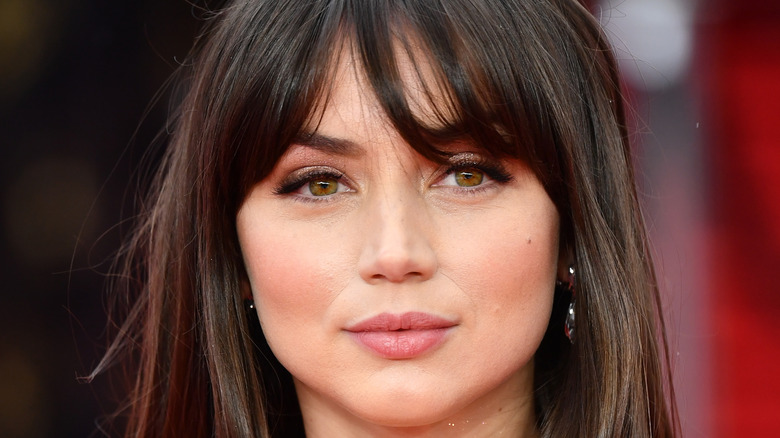 Gareth Cattermole/Getty Images
Moving to Spain and then to Los Angeles from Cuba must have been quite the culture shock for Ana de Armas. One of the major differences between Cuba and America is each culture's beauty practices. As the actress told Harper's Bazaar, she grew up with more of a DIY approach to beauty.
"Growing up in Cuba, we did not have products in beautiful jars," she said. "It was more a case of putting things in a blender and making your own cucumber mask or honey and sugar scrub." She and everyone she knew, she explained, learned beauty recipes from their mothers.
As far as Cuban attitudes about beauty went, it was all about protecting the skin and keeping things minimal. "Beauty was more about enhancing your own natural beauty and taking care of your skin," she recalled. Instead of piling on makeup, which they didn't have much access to, they tried to keep their skin healthy and fresh. Sounds like a great approach if you ask us.
The COVID-19 pandemic was particularly hard for Ana de Armas
When the COVID-19 pandemic forced us all into lockdown in 2020, most of us had to adjust to the new reality — and it wasn't always easy. As Ana de Armas told Byrdie, she found the transition particularly difficult. "I guess, like everyone else, [I'm] trying to figure things out every day," she said. For de Armas, it was a challenge to stay in touch with her friends and family. "Even though I don't love it, being on the phone and video calls have made a big, big difference," she said. De Armas also had to learn to go without her cherished spa visits. "You had to learn ... how to get that glow and that rested feeling [you get] after three hours at the spa," she said.
As de Armas explained to Natural Diamonds, she doesn't think she could have ever gotten used to living in lockdown. "It's wrong to think anyone can feel or be normal — it will take a long time to heal," she said.
Ana de Armas has a stripped back makeup routine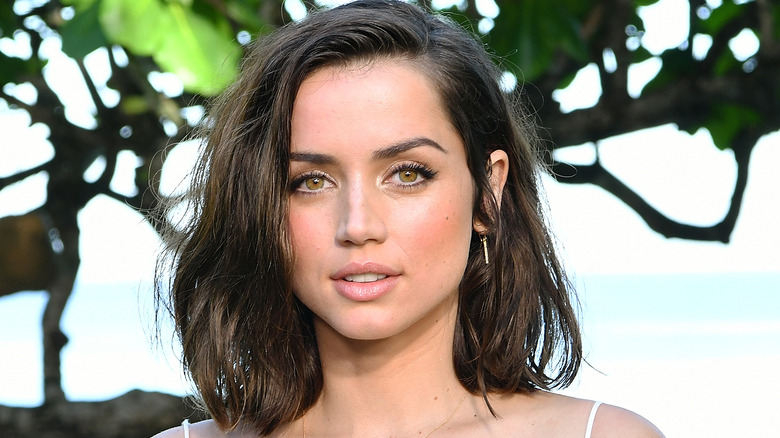 Slaven Vlasic/Getty Images
So, what does Ana de Armas put on her face everyday? Well, as she told Refinery29, she tends to prefer a very laid-back, low-key routine when it comes to everyday makeup. In fact, she usually sticks with just two essentials — mascara and blush.
"I usually end up putting my blush on my lips, or the other way around," she joked. "At night, if I were to go out, I might use a soft metallic eyeshadow that's very subtle."
In another interview with Allure, de Armas explained that even though she doesn't wear much makeup in her daily life, she does love putting on makeup for a role. For instance, when she first got to try Marilyn Monroe's makeup for the film "Blonde," she cried! "I completely transformed," she said. "One of the most beautiful things about my job, I think, is to see yourself become someone else."
Here's how Ana de Armas got the part in Blonde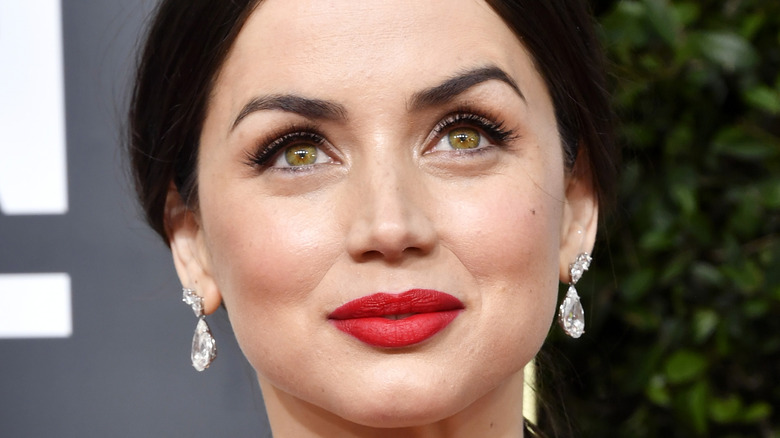 Frazer Harrison/Getty Images
In 2021, Ana de Armas was cast as Marilyn Monroe in the film "Blonde." It was a huge step for the actress — especially since English isn't even her first language! Plus, a Cuban playing the role is truly groundbreaking casting. Even though de Armas may not initially seem like the perfect fit for the part, it's clear that she wowed the casting directors.
In an interview with Vanity Fair, the actress explained how she landed the part. "I only had to audition for Marilyn once and Andrew said, 'It's you,' but I had to audition for everyone else. The producers," she said. Convincing the "money people" was more of a challenge, but in the end, she won them over.
After landing the part, de Armas set to work on nailing her Monroe imitation by studying all of the actress's films, learning about her life, and, of course, working with a dialect coach. "It was a lot of work," de Armas confessed to Flaunt. We can't wait to see the final product!
Ana de Armas adores her dogs Elvis and Salsa
As many fans of Ana de Armas probably already know, the actress has an adorable dog called Elvis — and she is completely obsessed with him! Elvis is a small, fluffy white dog who is frequently featured on de Armas' Instagram feed. For instance, on New Year's Eve in 2018, she posted an adorable selfie with Elvis as the pair celebrated together. Cute! In 2020, de Armas added a second dog to her family, a black, white and tan Havanese puppy called Salsa. It's safe to say that this actress is definitely a dog person.
In fact, de Armas is so in love with her dog Elvis, she even got him a part in "Blonde" as Marilyn Monroe's dog, Mafia. As she explained to Flaunt, "He's a movie star, of course. And he's Elvis!" Sounds like even de Armas' dog was destined for fame!
Here is how Ana de Armas prepared for No Time to Die
In 2021, Ana de Armas played Paloma in "No Time to Die." Becoming a Bond girl was a huge moment in the actress' career — but it certainly wasn't an easy role!
To prepare for the action-packed role, de Armas had an intense training regime. However, she didn't have that much time to get in shape. "I was shooting 'Blonde,' and I had only a few days to train, so I went straight from 'Blonde' to shoot for Bond," she told Harper's Bazaar. "I didn't have the time to actually commit to any kind of diet or workout or training because my schedule just didn't allow for it." That definitely makes her performance even more impressive in our eyes.
Of course, as de Armas told The Hollywood Reporter, she didn't have to worry about preparing for the actual acting side of things, as she'd already had plenty of experience acting alongside Daniel Craig in "Knives Out." As she put it, "There was no ice to be broken. It was just easy and smooth."
Here's what makes Ana de Armas happy
Ana de Armas always seems to be busy at work on a new movie — but even she has a little spare time to kick back and do what makes her happy. As she told Byrdie, she loves spending time with friends for a quick boost of happiness. She also loves: "Dancing. A glass of wine. Going to [the] beach, the ocean... those things."
In another interview with The Cut, de Armas explained that the ocean is her "happy place." "I like nature in general, but going to the beach or sitting in front of the ocean brings me a lot of joy," she said, explaining that it reminds her of her childhood home in Cuba. Another happy place for de Armas is the cinema. "I usually go with friends, and we get our popcorn, sit through the movie, and then talk about it," she explained. Sounds like de Armas certainly knows how to make the most of her spare time!
Ana de Armas doesn't spend too much time thinking about fashion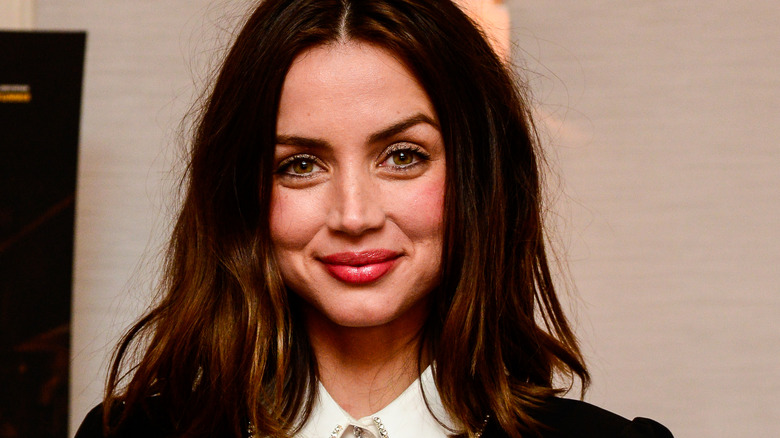 Ray Tamarra/Getty Images
Ana de Armas always looks fabulous on the red carpet — it's hard to picture her ever making a fashion faux pas. However, it turns out the actress doesn't actually care that much about clothing. In an interview with Grazia, de Armas explained that her go-to look on off days consists of a lot of loungewear. "My style is definitely more relaxed — I've been wearing my sweatpants more often," she said.
Instead of carefully planning her outfits during the pandemic, de Armas preferred to focus on other things. "I've been less focused on my style and have been paying more attention to all of the things happening in the world," de Armas said.
That being said, de Armas doesn't mind dressing up every now and then. Luckily, she has a great stylist to help her make great fashion decisions or big events. "All of that is fun, but I am still learning," she told Harper's Bazaar. "That's why I like my stylist, because she knows me and gets me."
Ana de Armas was completely cut from her role in Yesterday
Ana de Armas has already appeared in numerous major Hollywood films — but it turns out, there was one more film the actress was meant to star in. That is, until her role was entirely cut out of the movie!
It turns out, de Armas was meant to be in the 2019 Richard Curtis movie "Yesterday." She even filmed a scene with Himesh Patel and James Corden, in which she played a famous actress called Roxanne who met the lead character during a chat show appearance. Unfortunately, her scenes were later cut.
As Curtis told CinemaBlend, he hadn't wanted to cut her scene, but the film was simply too long. "That was a very traumatic cut, because she was brilliant in it. I mean really radiant," Curtis said. Curtis went on to explain that de Armas' character had become a potential love interest who was a "complicating factor" for the main couple. It's too bad that we'll never see de Armas' whole performance in the film!
Ana de Armas isn't a big fan of being in the spotlight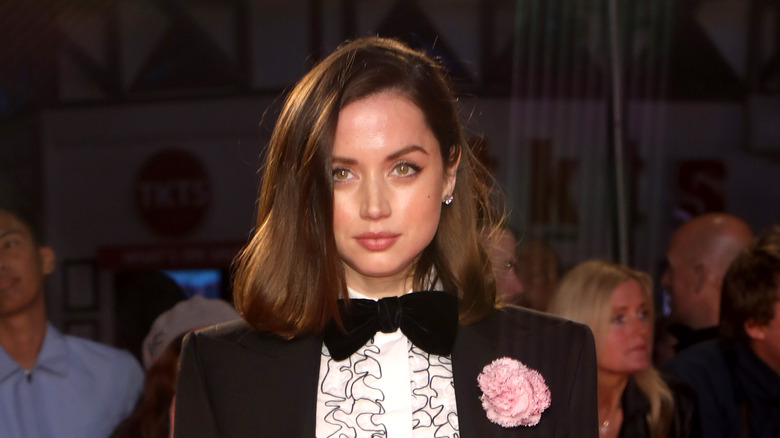 Lia Toby/Getty Images
Ana de Armas has become one of the most recognizable actresses in Hollywood, but her success has come with a few downsides. For de Armas, the constant pressure of fame isn't always fun.
In 2019, she told Harper's Bazaar that her fame wasn't something she enjoyed. So, instead of leading a typical movie star life, she tried to keep things normal even after becoming a household name. "I always look for normalcy in my life and that's what makes me the happiest, so it's how I try to keep it," she said.
As the actress told Flaunt, "It's funny as an actor because you do what you do and you don't think of the consequences of your job and then all of a sudden you are in the spotlight and you realize, 'Oh, this is not what I wanted,'" she said. For de Armas, fame was never the end goal — in fact, she actively dislikes the attention!
Ana de Armas refused to chop her hair for her role in Blade Runner 2049
In 2017, Ana de Armas starred as Joy in "Blade Runner 2049." As she explained to James Corden, during the audition process, she set down a few conditions. After the second audition, she recalled, the director asked her if she'd be willing to do nudity in the film and cut and dye her hair. While de Armas didn't mind the nudity, she said that the hairdo was a deal breaker. However, once de Armas met her co-star Ryan Gosling in the next audition, she changed her mind. "I was like, 'I'm fine with anything you want to do — I just want to be in this movie!'" she explained.
It seems that de Armas has become a little more easy going about her hair since starring in "Blade Runner 2049." In fact, in 2021, de Armas ended up cutting her hair into the dark, short style the director had wanted for "Blade Runner 2049" for another role in another Ryan Gosling film! She told Elle, "It's a really active role. ... Action films don't really work with wearing wigs so I was like, 'I'm going for it, let's cut it for real!'"