The Surprising Drama Surrounding A Contestant On Clayton Echard's Season Of The Bachelor
While ABC has yet to reveal its official selection for the 26th Bachelor, the network has reportedly made its decision. According to Variety, a contestant from Michelle Young's upcoming season of "The Bachelorette" will be our newest leading man. E! News recently spotted Clayton Echard with a camera crew, and Page Six captured footage of the 28-year-old on a "Baywatch" inspired group date. While we've yet to meet this mystery man, Echard made a strong impression on Young's season. A source previously told Page Six that the Sales representative, "impressed everyone on set and is definitely a big upgrade from any of Katie [Thurston]'s guys."
With the latest season of "The Bachelor" projected to air in January 2022, Bachelor Nation is already scrambling to figure out as many details as possible. Luckily Style Caster released an unofficial cast list. Though each of the women look promising, one contestant in particular is already causing drama (via Elite Daily).
Salley Carson is one to watch on this season of The Bachelor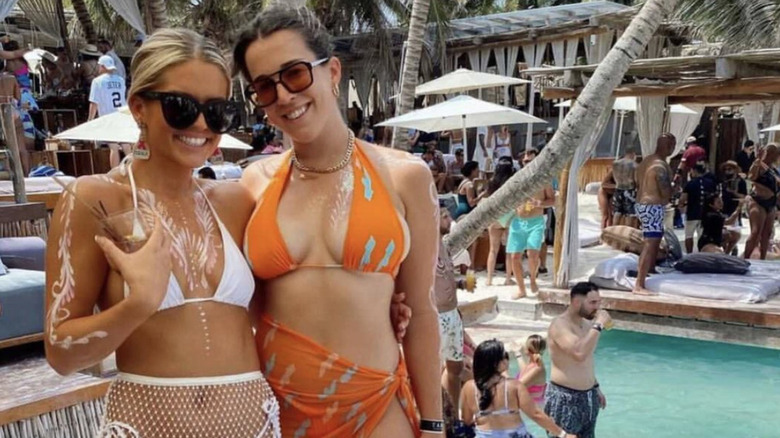 Instagram
Bachelor Nation sleuth Reality Steve revealed that upcoming "Bachelor" contestant Salley Carson was reportedly engaged to be married less than one month ago (via Elite Daily). Reality Steve wrote on Twitter when the Season 22 cast was announced, "Salley Carson was engaged [and] having her bachelorette party a month ago. She was set to be married TOMORROW but wedding was called off a couple weeks ago. Now she's on the Bachelor." He also shared a photo one of the 26-year-old's friends posted on Instagram calling Carson a "bride," as well as, a photo of Carson with her alleged ex-financé. 
Later the spoiler account @bachelornation.scoop posted a wedding registry that matched Carson's name and promised a September 26th wedding date. However, it can't be confirmed whether or not the Crate & Barrel registry belongs to Carson. The Instagram account also shared a few direct messages that claimed that Carson split from his fiancé because he was still legally married to someone else. While all of this information is speculation, we're hoping to get some answers this season.