Jill Duggar Dillard Shares Heartbreaking Family News
As a member of the enormous Duggar family of reality show fame, Jill Duggar Dillard grew up surrounded by siblings, participating in family traditions and supporting the family's mission to raise awareness about their beliefs. Unfortunately, Jill and her parents are currently estranged because of disputes over money and control issues, per People. Still, the family-first values Jill learned as a child have remained with her. 
 She and her husband, Derick Dillard, are the parents of sons Israel and Samuel, and Jill spends her days as a stay-at-home mom. Her social media feed is full of picture-perfect moments such as making homemade apple butter, crafting macramé, going for jogs and bike rides, and visiting water parks, aquariums, and baseball games with her little ones.
But Jill's most recent social media post reveals that even the happiest of families can suffer the greatest heartaches. On October 11, Dillard posted a video on her Instagram and family blog. It begins happily enough: The Dillards are shown buying home pregnancy tests and eagerly waiting for the results. A test is positive, revealing that Jill and Derick were in the beginning stages of expanding their family. We see the boys grinning at the news of being big brothers, and Jill consulting a pregnancy chart showing how a fetus grows every month. 
Then the video abruptly cuts to a still photo of Jill Dillard looking solemn, as she found out she was no longer pregnant. 
Jill and Derick Dillard gave their unborn child a name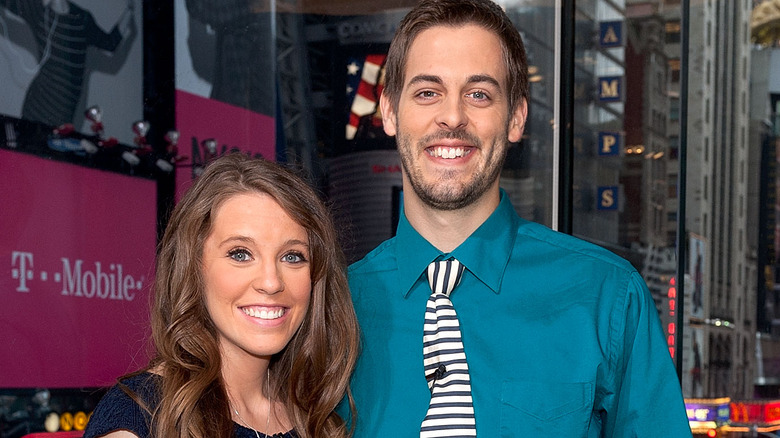 D Dipasupil/Getty Images
In the still shared in the video, Jill Dillard wrote, "I carried you for every second of your life & I will love you every second of mine" to honor her miscarried child. The video ends with a close-up photo of Jill and Derick Dillard holding hands, with two captions. The first says, "We wanted to give you the world, but you got heaven instead." The second caption has a pink and blue memorial ribbon and their lost baby's name: River Bliss Dillard.
The family blog explains, "Even though it was too early to tell the baby's gender, we picked a name that we feel encompasses our baby's significance and the life we will always remember: River Bliss Dillard." They chose River because of its tranquil meaning and its biblical associations with the spirit of God. Bliss represents both the baby's eternal paradise and the "immense joy and happiness" River gave to the family, if only for a short time.
A first trimester miscarriage is the most common form of pregnancy loss, occurring in about 10% to 15% of pregnancies, per March of Dimes. The cause of miscarriages vary, but often they're the result of a chromosomal abnormality, uterine or cervix problems, or infections. The odds of miscarriage also increase with the mother's age; women over 35 are more likely to suffer pregnancy loss.
Family and fans are offering support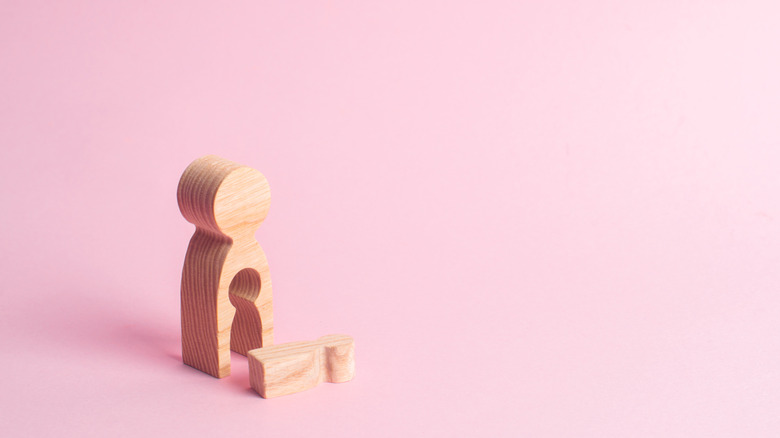 Andrii Yalanskyi/Shutterstock
Condolences quickly poured in for the grieving mother. Two were from two of her younger sisters. Joy-Anna Duggar Forsyth wrote, "River Bliss was so loved. I love you Jill. My heart breaks for y'all. I'm so so sorry you are having to go through this. Praying for you all," per The U.S. Sun. Jill replied with heart and crying emojis, "Thank you so much sis!" Jinger Duggar Vuolo wrote, "Jill my heart aches for you all. Love you so much and praying for you, sis!" 
Many who wrote messages of support also shared their own stories of pregnancy loss to show Jill that she is far from alone. One wrote, "Oh Jill, I'm so sorry for you and your family, I've been there it's so much heartache, sending you prayers for healing."
Jill's parents, Jim Bob and Michelle Duggar, already have 21 grandchildren, per Showbiz Cheat Sheet, with two more on the way. Anna Duggar, wife of oldest son, Josh, is expecting her seventh child soon, and son Jed and his new bride, Katey, will welcome their first in the spring. River Bliss would have brought the total to 24. At the time of this writing, the senior Duggars have not commented on their daughter's tragic loss.