Victoria Beckham's Latest Appearance Has Fans Concerned. Here's Why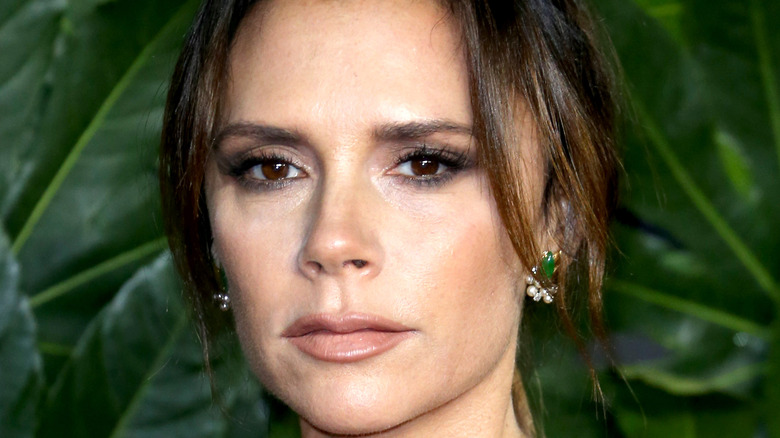 Cubankite/Shutterstock
Known best for being a member of the Spice Girls, Victoria Beckham was the posh one of the group, and she went on to form a fashion label in 2008, followed by a beauty brand in 2019 (via victoriabeckham.com). However, when she appeared on "Good Morning America" on October 12, 2021, she had people worried. "What's happened to your face? Stop filling your face with crap. You look plastic," one viewer wrote on Twitter. "I love the Beckham's but ... Please no more lip fillers. It's all [too] much," another one tweeted. One social media post went on to say that "what's been done to her lips is a shame."
Over the years, there have been other conversations about Beckham's looks, as she talked about a boob job then denied having ever gone under the knife. She apparently first had work done on her breasts in 1999, again in 2006, followed by a reduction in 2009 (via Harper's Bazaar). However, in October 2019, she said she has not "been tempted by a cosmetic procedure," (via The Mirror). So where does the truth lie when it comes to Beckham and her plastic surgery history?
Experts say that Victoria Beckham has clearly had work done
In a letter to her younger self, Victoria Beckham once wrote, "Don't mess with your boobs ... All those years I denied it — stupid. A sign of insecurity. Just celebrate what you've got," as reported by Harper's Bazaar in 2017. But given her October 2021 appearance on "Good Morning America," it's clear to some experts that Beckham hasn't listened to her own advice. 
A surgeon at MYA Cosmetic Surgery said that Beckham "has most likely had Botox on the forehead and the glabella," the area between the eyebrows, as "she has a smooth forehead, raised eyebrow arches, and a frown and limited expression." The surgeon went on to say that she "may have had non-surgical treatment of the obturators on her cheeks," since "fillers can be used in this area to reintroduce structure and volume along the cheekbone," (via The Mirror).
Another plastic surgery professional spoke with Closer Online, saying that Posh Spice has "had a nose job with subtle changes" and that "it's clear she's had filler injected into [her lips] to achieve a fuller pout." Given that a number of viewers took to the comments after her appearance on "Good Morning America" with thoughts such as, "She should really slow down with the lip fillings, she can barely talk let alone smile," it's clear that Posh Spice's fan base is hopeful she'll pump the breaks on the plastic surgery.