The Truth About Zendaya And Tom Holland's Latest Outing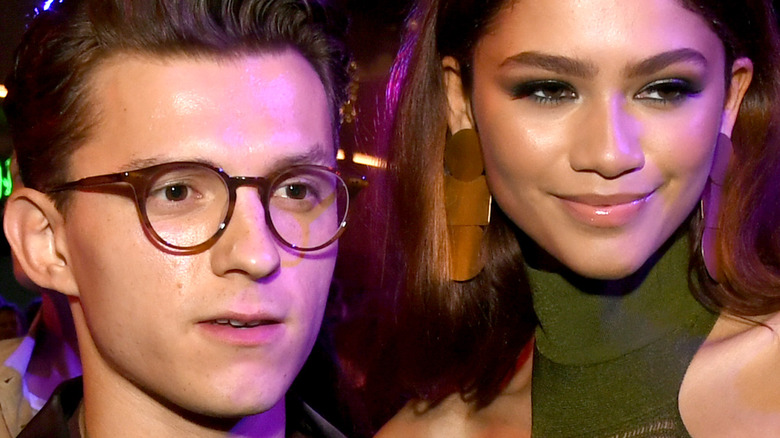 Kevin Winter/Getty Images
Zendaya and Tom Holland have probably been hanging again since wrapping up filming "Spider-Man: No Way Home," the third "Spider-Man" movie in which they star as more-than-friends. Holland's been posting teasers featuring the two of them together since February to his Gram. Then, in an April interview with British GQ the British actor sweetly credited Zendaya for helping him temper his off-putting "typical Londer reaction[s]" to fawning fans. He also cleared up the source of previous relationship rumors between Zendaya and himself. "You mean, because I tagged Zendaya over my groin in an Instagram post?," he laughed. "That was so funny; it was obviously a mistake."
Or ... was it? Twitter, as reported by Glamour, doesn't think so. At least not after Page Six caught Zendaya and Tom Holland spending quality time together on July 1. What did their Thursday in Los Angeles itinerary entail? Remember the dating scene on the bridge in the 2019 "Spider-Man: Homecoming"? That, as the co-stars confessed to Fandango All Access, might have been difficult to shoot because they were constantly stopping for cars. IRL, however, the two know how to take advantage of a little bit of traffic. Page Six got their hands on photographs of Zendaya and Tom Holland making out in Holland's posh Audi. That's not all. 
Are Tom Holland and Zendaya finally a couple?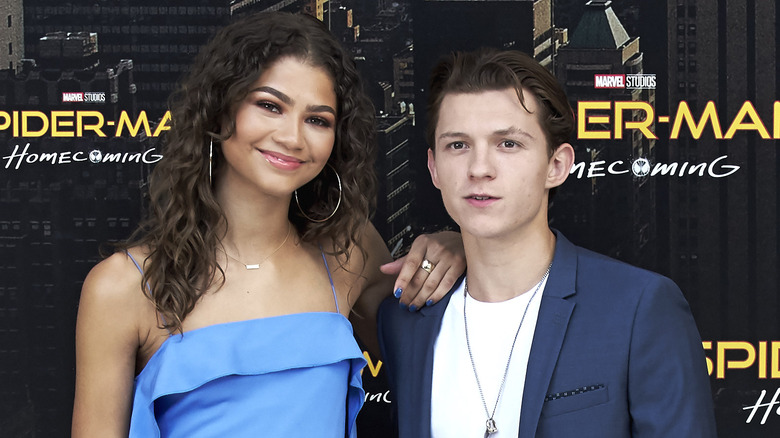 Carlos Alvarez/Getty Images
Are Tom Holland and Zendaya finally a couple? The evidence that Page Six presents after spotting them in Los Angeles earlier this week is riveting. The gossip column didn't only catch the two smooching. Holland, apparently, also "caressed" Zendaya's chin at one point. And, the two "Spider-Man" stars even spent some time with Zendaya's mom. Is that definitive proof of a relationship? When People spotted Ben Affleck hanging with JLO's mom in L.A. in June, the media outlet certainly thought that it confirmed the long-awaited return of Bennifer. For what it's worth, Lopez and Affleck aren't Instagram official either.
Might we be getting ahead of ourselves? Sure. Neither Zendaya nor Holland have responded to the media's requests for comments (via People). We know from his interview with British GQ that Holland is extremely cautious when it comes to going public with a relationship. "Because if something does happen between the two of you, it's not just happening between the two of you, it's happening in front of the entire world," he reflected to the magazine. "And it can be very complicated." Like, for example, a single car kiss can generate hundreds of headlines and tornados on Twitter. 
Were Zendaya and Tom Holland ever a couple?
Robert Marquardt/Getty Images
Back when Zendaya and Tom Holland were recently graduated from being teenagers, Zendaya described her chemistry test with Holland to Variety. "He says when we first met it was super awkward because he went for a handshake and I went for a hug," the actress told the news outlet. "I was like, 'D**** it! It's going to be weird because I'm super tall.'" Obviously, she needn't have worried. 
E!'s documented their relationship timeline, and it seems the two have been pals since 2016, when they started hanging out in pools on Sundays, or something like that. It took until 2017 for anonymous sources to confirm to news outlets that Zendaya and Holland were romantically linked. An insider told People that the two co-stars had even gone on secret vacays together although the pair denied it at the time. Rumors resurfaced in 2018 when Skai Jackson's mom posted an Instagram comment affirming that the two had been seeing each other "for a while now" ... and then denied it. Between then and the summer of 2021, all we have are sweet social media interactions to suggest romance. 
Anyhow, if Zendaya and Holland are finally a thing, at least we know Holland's not opposed to settling in L.A. "I'm a London boy, born and bred, and I'll be there for as long as I can," he told Evening Standard in 2017. "That said, I do love LA, I love the sunshine and one day I'm sure I'll be here."