How To Host A Safe Halloween Party During COVID
Evgeny Atamanenko/Shutterstock
One of the many things you may have skipped out on last year due to the pandemic is celebrating Halloween. But since last year, we have had COVID vaccines that are safe for those age 12 and up, so that helps slow and even prevent serious illness and transition (via GAVI). So does that mean you can dust off your Halloween decorations, pop on a costume, and throw a party? Well, that all depends.
While many people are vaccinated, not everyone is or can be, and the Delta variant is the predominant strain in the U.S., which spreads more quickly and can have a larger impact on kids and immunocompromised people than previous strains of the virus (from Yale Medicine). So basically, things are getting better, but the pandemic is still a thing. One thing we do know about it, though, is that transmission is much lower outdoors compared to indoors, and Dr. Anthony Fauci went on CNN's State of the Union to say trick-or-treating has the OK, particularly for vaccinated people, as it's a predominantly outdoor activity.
Halloween 2021 isn't the time to expand your social circle at an indoor party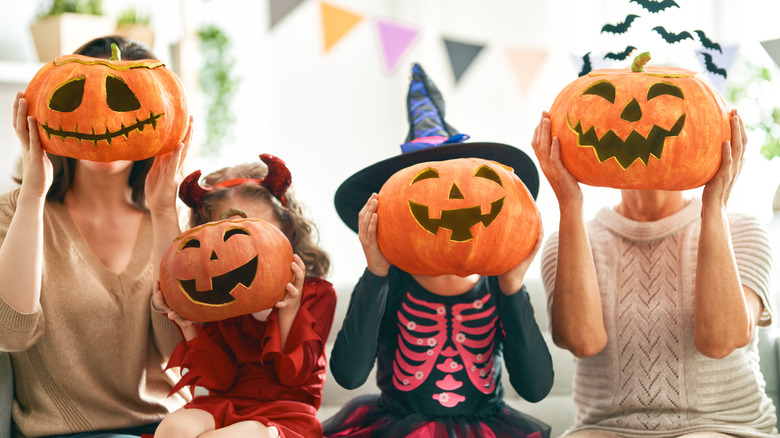 Yuganov Konstantin/Shutterstock
That logic also goes to hosting a Halloween party. If you can, do it outside, and have enough space to allow people to socially distance (via WHO). If you're going to be serving food, having individual servings or a BYOB approach instead of communal dishes could make guests feel more comfortable, and have plenty of hand sanitizer around (from AARP).
As the host, keep in mind that your guests may have differing levels of comfort with get-togethers, so make sure you're clear in your invitation what it is that you're going to be doing at your event in regards to the pandemic, advises magazine 5280 — will it be outside? Inside? Do you know everyone who will be there has been vaccinated? Are you requiring masks? Stick to your guns and make it clear what you're going to allow at your event.
For a better safe than sorry approach — particularly if you're going for an indoor event — you should still limit yourself to a smaller party with people who you know and have been previously spending time with, or those who you know have been vaccinated (from Detroit Free Press).
You can always still go for the 2020 classic — a Zoom Halloween party. Less clean-up and zero COVID risk. Whatever you choose, be safe, and happy Halloween!