Teen Mom: Young Moms Club Season 2 - Details We Know So Far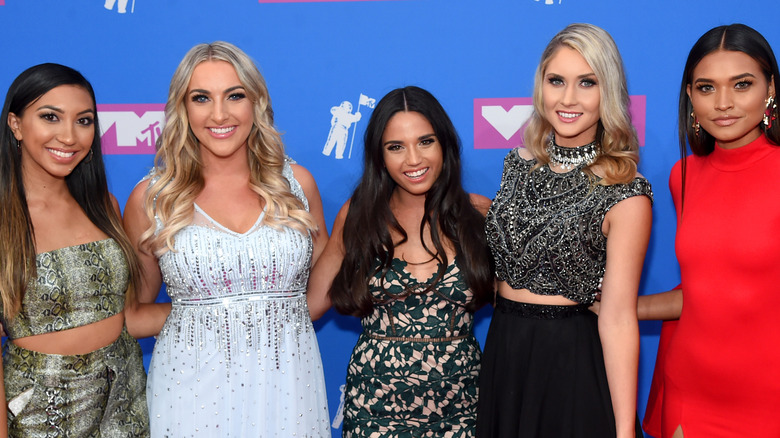 Jamie Mccarthy/Getty Images
All the "16 & Pregnant" and "Teen Mom" stars out there know their stuff when it comes to the network of MTV reality shows. Over the years, there have been a number of spinoffs. There's one you may have even missed.
"Teen Mom: Young Mom's Club" was originally branded by MTV as a show called "Pretty Little Mamas" (via Starcasm). The series premiered on August 30, 2019 with terrible ratings that sent the network into a scramble. The show following the lives of a group of five privileged young moms didn't grip audiences.The second week's numbers were even worse, leading to MTV pulling the show before episode three even aired. 
In April 2020, MTV announced it was rebranding the series. It didn't explain the reason behind the rebrand, what would be different, or how it would work. "Teen Mom" fans were skeptical, as "Pretty Little Mamas" had more of the polished reality series look of other MTV series, like "The Hills." Even "Teen Mom OG" star Tyler Baltierra spoke out against attaching the show to the "Teen Mom" universe.
When is Season 2 of "Teen Mom: Young Mom's Club" being released?
After being rebranded as "Teen Mom: Young Moms Club," the reality series didn't fare much better. By the end of the show's six episode run, it was pulling in less than 300,000 viewers per episode (via The Ashley's Reality Roundup). By comparison, an episode of "Teen Mom 2" airing the same night brought in over 800,000 viewers. 
Since cast member Cheyenne Latu added "failed reality show star" to her Instagram bio, it seems safe to say the show won't be coming back for a second season. Still, it's not outside of the realm of possibility, as the pandemic changed and altered filming schedules for quite a bit. A second season of a thus-far unpopular series might not get priority, but it might not get the axe either.
Lindsie Chrisley and "Teen Mom 2" star Kailyn Lowry's "Coffee Convos Podcast" featured "Teen Mom OG" stars Catelynn Lowell and Tyler Baltierra as guests. There, the four mused about why "Young Moms Club" wasn't working. "I don't know what it was. They tried a couple different titles, slapped some stuff together and it failed horribly," Baltierra commented. Lowell added, "A lot of our fans were like, 'Why are we going to watch this when they all live with their parents in the pool house and have nannies?'"
Who is in the cast of "Teen Mom: Young Mom's Club" Season 2?
"Teen Mom: Young Moms Club" followed a group of six moms between the ages of 24 and 25 as they navigated their different parenting experiences, their longtime friendships, and more. The cast included Heather Miinch and her two kids, Chandlar Walby and her two kids, Nikki Hussey and her daughter, Nicole Pleskow and her daughter, Alyssa Abrenica and her son, and Cheyenne Latu and her two children.
The cast may have seemed unrelatable to some, but others really connected with the stars of "Teen Mom: Young Moms Club." "I liked it. Obviously, it wasn't realistic for most of us, but I still enjoyed seeing how the other half lived +kids," one viewer shared on Reddit. "And yes, Chandler [sic] by far was the best. She's the only one I follow on Instagram. Of course, it wasn't nearly as good as early seasons of teen mom & 2 but honestly, did anyone actually expect it to be...?"
If "Teen Mom: Young Moms Club" were to make a Season 2 comeback, there's a chance some of the ladies could return. There's also a chance that they'll find a new group of mom friends to follow who may be more in line with the feel of other "Teen Mom" series. Only time and casting calls will tell!