How To Revamp Old Halloween Decorations For A New Look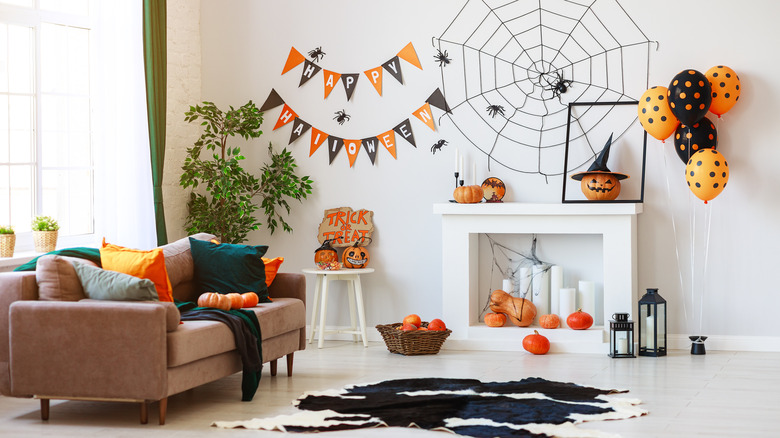 Evgeny Atamanenko/Shutterstock
We've all been there; the weather starts to cool down, you turn that page on your calendar, and you're excited to bust out the Halloween decorations. You carry the box up from the basement, but when you open it, everything inside seems a little flat. Trends change for home decor just like they do for fashion, but that doesn't mean you have to buy all new items each year. Thankfully, there are plenty of ways to revamp those old Halloween decorations and make them new again.
Halloween decorations are up for about a month at best, so it doesn't make sense to constantly buy all new items each year. You're already likely buying candy and a costume, so let's not add more to the budget. Instead, take some time to spruce up the Halloween decorations that you already have. This way you're saving money and getting into the fall spirit at the same time.
Here are some ideas to revamp your Halloween decorations for every level of craft enthusiast, from DIYer through and through to those who only own a glue stick.
Bust out the spray paint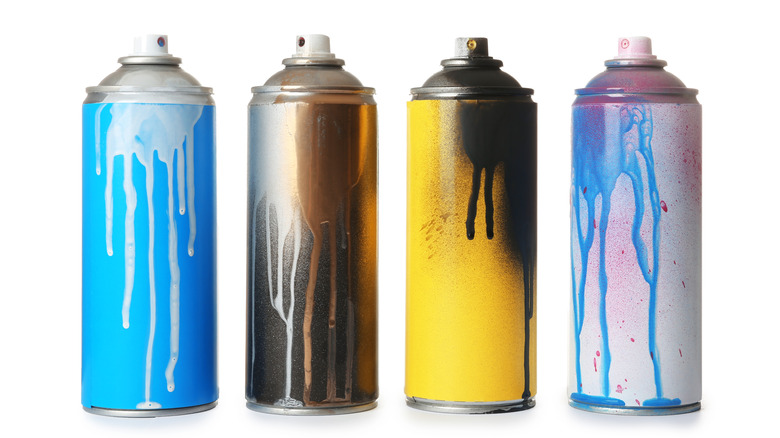 New Africa/Shutterstock
Two words, say it and your Halloween will be magically transformed — spray paint. There's nothing that can completely transform your items as quickly as that little bottle. It's about as easy as crafting gets, my friends. Just aim, shoot, cover, and you have a completely new item. Spray paint is perfect if you're looking to go for a completely new aesthetic for your Halloween. 
Say you have traditional orange and black decor, but you want something brand new. Spray it. Maybe you want to take some old hand-me-down decorations and give them new life. Spray it. It's a great way to change up your decor every year without ruining it.
As far as the color goes, run wild! Spray those ugly old bats a neon pink, if it tickles your fancy. Opt for neutral shades of pumpkins as a fresh up-cycle. Good Housekeeping suggests spray painting fake plants a deeper color to make the space pop, which is great for adding a spooky touch. If you hate them, you can always wait for them to dry and spray right over it. There's no way to mess it up.
The best part is that you don't even have to be the least bit artistic to pull this transformation off. Just make sure you also invest in some heavy duty hand soap, because this one could get a little messy.
Switch up the location of your decorations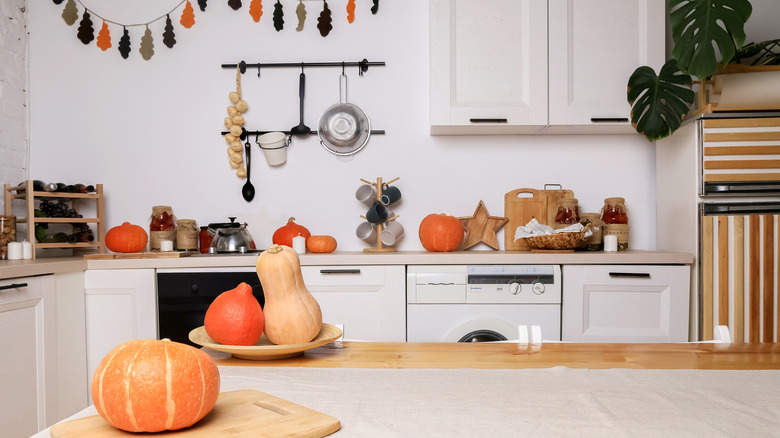 Zarubina_Yuliya/Shutterstock
Another way to spruce up your old Halloween decorations is moving them around. Okay, that sounds simple but it's more than just switching up which shelves you put pumpkins on. Of course, stepping out of the traditional places for decorations can easily make an item feel new, but try taking it one step further by bringing outdoor decorations inside.
Whether you're bringing live pumpkins into the kitchen or taking that oversized ghost and hanging it in the hallway instead of the overhang, this is a great way to transform an old item. After all, there's nothing like statement pieces, especially around Halloween. Now's the time to go big, if there ever was one.
Just make sure that you're cleaning those Halloween decorations pretty well before you place them inside your home. Try opening your box of Halloween decorations outside before bringing them in. That's a great way to make sure no dirt comes in along with the faux cobwebs.
Add Halloween printables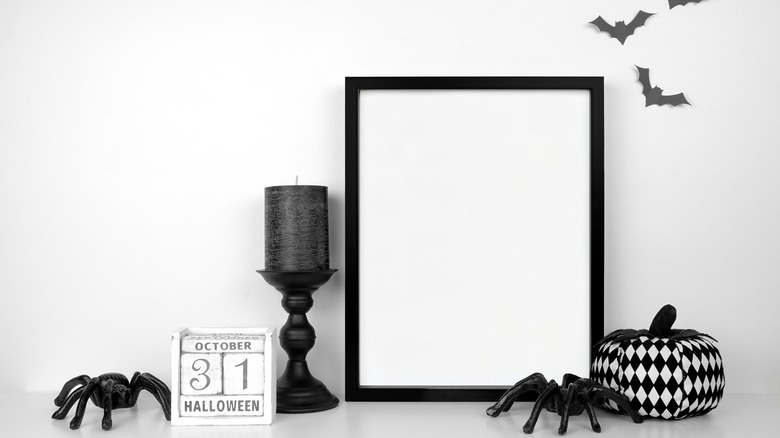 JeniFoto/Shutterstock
Halloween decorations sit in a box for a good 10 months out of the year, so it only makes sense that they'll need some refreshing when they're pulled out. Printables — aka pieces of art you can download and print at home — are a great way to do that. While you could easily find and print some spooky photos for those frames, there's a more unconventional way to use printables as well.
Make those old items new again by printing out new faces for your pumpkins or revamping those old bottles with free stick-on printables, as Yahoo! suggests. You could even wrap some of the art around the fronts of candles that you have laying around to give them a more Halloween feel. There are so many different printables out there, that you can likely find a way to refresh any old decorations that you have on hand. Bonus points that most of the options out there are also free, so you won't have to break the bank while redecorating.
Add demension with accessories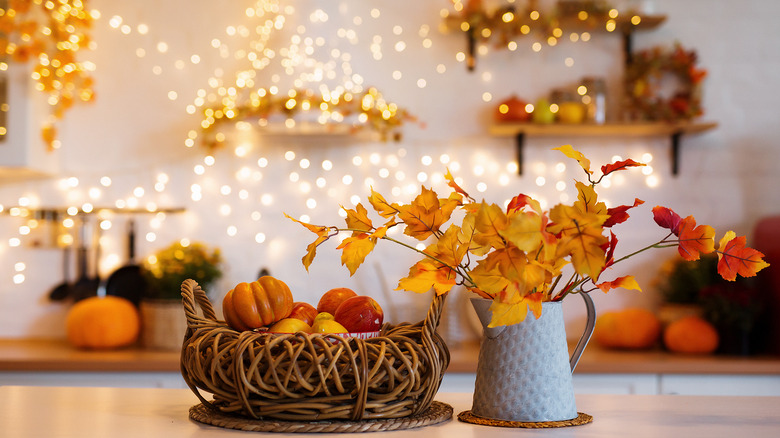 sergiophoto/Shutterstock
The hands down easiest way to transform a space is to add some twinkle lights, especially in the fall. If you decorate your shelf the exact same way you always do for Halloween, this year, add some lights and it will look completely different. Not to mention that, with the days getting shorter, this is a great way to make a space feel more comfortable as it starts to get darker sooner. Lights add instant depth to any space, so throwing them around the decor on a shelf or a coffee table is a great way to amp up old decorations.
It can be so easy to get caught up in the hype of buying new decorations every year, but a few tweaks here and there make old items brand new again. After all, in the grand scheme of things, these decor items will only be up for about a month before you're onto the next holiday. You might as well spend more time appreciating what you have rather than buying more. It also helps that "old" is actually pretty on-brand for the holiday.