Instead Of Tossing Them, Here's What You Should Do With Your Halloween Costumes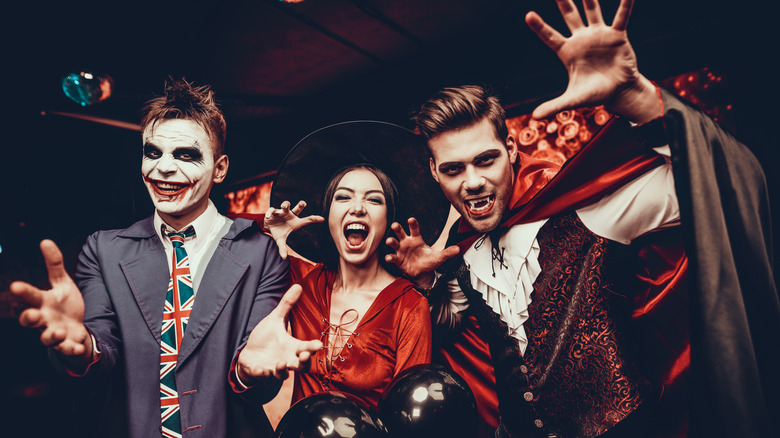 VGstockstudio/Shutterstock
Halloween 2020 was a bizarre time. Parties and school carnivals were canceled, many parents kept their kids home, and people created weird tube devices to dispense candy to trick-or-treaters in a socially distanced fashion. What a difference a year makes. With millions vaccinated and businesses and schools opening up, it looks like we're ready to get our ghoul on. The National Retail Federation estimates that Americans will spend a staggering $10.14 billion (that's "billion" with a "b") on Halloween 2021, more than $2 billion over the previous year, as noted by USA Today. 
Of that total, $3.32 million is expected to go toward costumes alone. Today, it's not enough to cut a couple of holes in an old sheet and call it a day, like Charlie Brown. No, the occasion calls for trips to Spirit Halloween or browsing Amazon for getups for every age, ranging from adorable to downright freakish. You can even do a mash-up, like an Elvira hair and makeup with an unexpected outfit like a pirate or a hippie, or a couples costume like Beauty and the Beast, two Minions, or a coffee cup and doughnut.
Then comes November 1. Overnight, the costumes that were the hit of the neighborhood candy collection have turned into just another bunch of fabric at the back of your closet. You can't save them for next year; the kids won't fit into theirs, and you can't very well show up to the Halloween party as Wanda two years in a row. But before you consign those costumes to the trash, consider these alternatives.
Consider donating your used Halloween costumes to give them new life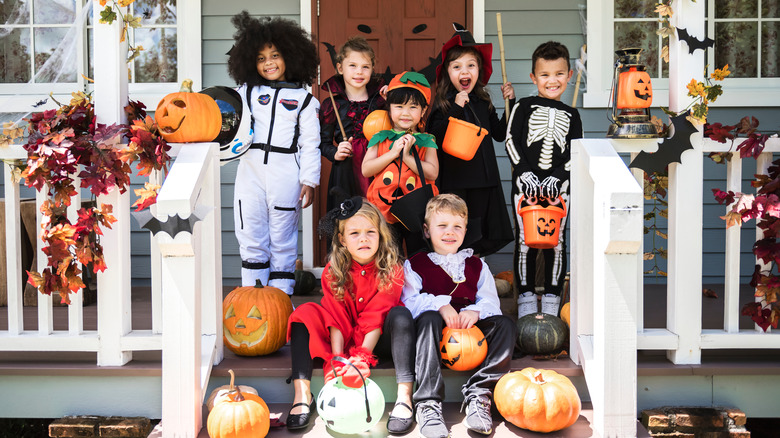 Rawpixel.com/Shutterstock
Of course, Halloween costumes don't have to be limited to October 31. You can put all your outfits into a dress-up box and let your kids have fun play-acting any time of year (it can be a parent's rainy-day godsend). You can also save your costumes and wear them to a local or national cosplay event (like Comic-Con). Some parents host "costume swap" events where they can trade this year's costumes for a gently used collection for the following year (via National Day Calendar). Or you can try reselling it at a garage sale, consignment shop, or through an online outlet like Facebook Marketplace. 
Another option — donate your Halloween garb to people in need. You can start by approaching your local children's hospital (or the pediatric wing of a general hospital) to see if they take costume donations (via PopSugar). No child wants to spend Halloween in a hospital bed, but being able to dress up for the holiday can help brighten their day.
Organizations that accept costume donations for families in need include 'Ween Dream, based in the New Orleans area (via HuffPost) The organization specifically collects children's costumes (including dance recital costumes). They ask that the outfits be new or gently used; they also take props like wands and wings. The Halloween Helpers was created in 2008 by an 11-year-old girl, and has since collected more than 10,000 costumes that are distributed to nonprofits nationwide. Halloween may be all about spooks, but donating your old costumes is guaranteed to bring smiles.