Who Is Reba McEntire's Son, Race Car Driver Shelby Blackstock?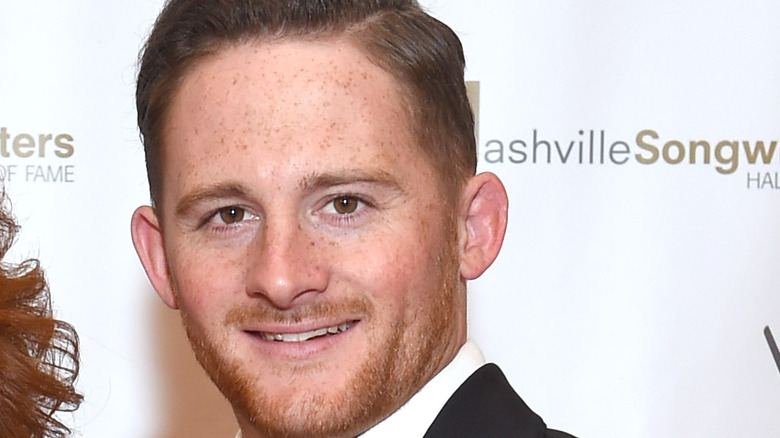 Jason Kempin/Getty Images
Reba McEntire can belt out a country tune, start a clothing brand, and successfully build an entertainment empire. But it looks like her offspring might be racing in to take over the spotlight. McEntire's son, Shelby Blackstock, has been on the professional race car driving circuit for ten years and hasn't shown any signs of letting off the gas (via Country Fan Cast).
So who is this speedster? Born in 1990, the now 31-year old is the only child of McEntire and her former husband, Narvel Blackstock. The parents are no longer together. And reportedly, Shelby was "devastated over his parents' decision," according to an insider. They added, "He is extremely close to them both and he wanted very much for them to stay together" (per Closer Weekly).
Years later, the young Blackstock is still tight with his parents. And perhaps the love for being behind the wheel is genetic. McEntire started her time behind the wheel at the age of five on her parents ranch. Her job was to drive a truck around while her father was in the back of the bed kicking out bails of hay to feed the cattle (via The Boot).
Blackstock's need for speed started on a golf cart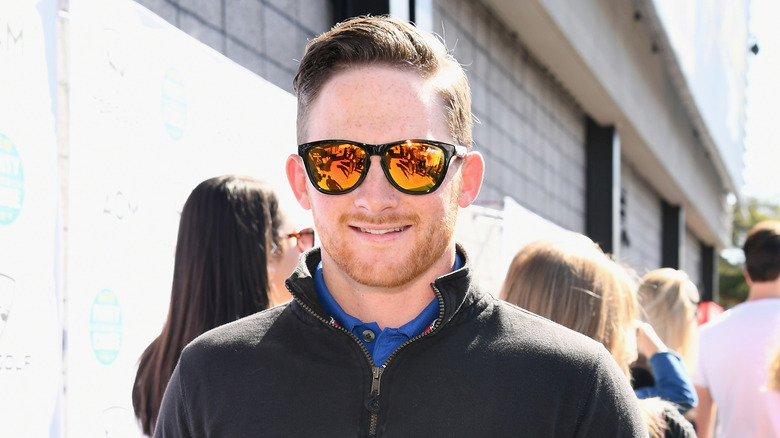 Emma Mcintyre/Getty Images
No word how Blackstock faired in getting his driver's license as a teenager. But McEntire likes to claim her son got his start in racing by chasing geese with a golf cart. "Shelby would jump on the golf cart, and he would be driving. He could barely touch the gas pedal," she shared. "He would drive me around the place, and he would say, 'Hang on! It's going to be a bumpy ride!'" (per Cody).
Blackstock's career in actual racing took off at the starting line, and he dropped out of the University of Arizona to focus on his now career. His mother was shocked by his decision at the time. "He came to me when he was a freshman in college and said, 'I don't want to go to college anymore. I want to be a race car driver!' I said, 'Who are you, and what have you done with Shelby?'" she explained. "I had no idea."
Luckily, Blackstock's need for speed was a success. After just five months of practice, McEntire's only son participated in one of the world's most famous races in Daytona, Florida. "It's like a kid in a candy store," he told the Daytona Beach News-Journal. "You get to drive the car you've been wanting to drive forever" (per Taste of Country).
Blackstock is ready to switch to a slower gear in his personal life
Since his debut, Blackstock has raced for Ford, Andretti Autosport, and is currently signed on with LAP Motorsports (per Country Fan Cast). And at the time of writing, he has entered a total of 233 races and has nearly 20% podium percentage (via Driver Database).
So, what does McEntire think of her son's fast and furious career choice? "I'm very happy that he's racing because that's his passion. I'm from a rodeo family. The scare tactics and everything are very similar in rodeo. The adrenaline does flow very fast, but I'm used to that" she said (per Taste of Country).
On the home front, he may be revving up to produce some grandchildren for his famous mother. At the end of 2020, he proposed to his longtime girlfriend Marissa Branch at Disneyland. "Closing out the best year of my life the right way — I'm engaged to my best friend!" he captioned under a picture of his surprised now-fiancée, who was wearing Minnie ears at the time (per Instagram).