The Truth About Melissa Joan Hart's Sister, Emily Hart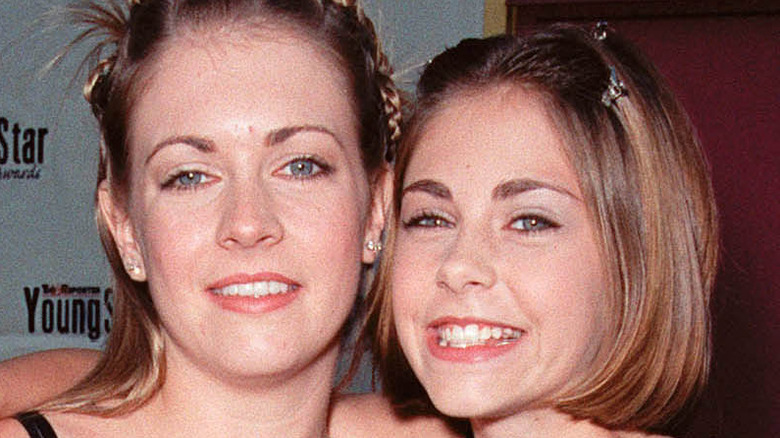 Featureflash Photo Agency/Shutterstock
If you like talking black cats, kooky aunts, and casting spells, you probably loved the show "Sabrina the Teenage Witch" that aired on television back in the 1990s (via Us Weekly). The show centered around Sabrina, a teenager who happened to be a witch, living with her two aunts and their talking black cat, Salem.
The show was so popular that it debuted to 17 million viewers and continued to keep fans coming back for more throughout seven seasons (via the New York Post). The show celebrated the 25th anniversary of its debut in September 2021, where star Melissa Joan Hart called it "the little engine that could." It seems the show wasn't expected to be such a hit, but 25 years later, people are still crazy about it.
If you're a fan of the show, you likely remember Sabrina's cousin who occasionally appeared in episodes. As it turns out, that cousin was Hart's real-life sister, Emily Hart.
Emily Hart was on Sabrina the Teenage Witch all seven seasons
If you thought the family resemblance between Sabrina and her cousin, Amanda Wiccan, was too good to be true, you were right. Amanda was played by Emily Hart, the biological sister of the show's star, Melissa Joan Hart (via 80s Kids). The two share a strong family resemblance! On top of that, the role of Amanda was beloved by fans.
While her character was a bratty teenager, there was something about her that won fans over. Emily even took home a Young Artist Award for her recurring guest appearance on her sister's show in 1998 (via All Famous Birthdays). Emily would make an appearance on the show throughout all seven of its seasons.
The version of "Sabrina the Teenage Witch" we are all familiar with wasn't the only time the Hart sisters collaborated as teenage witches on television. There was a short-running animated series called "Sabrina: The Animated Series" where Emily played the role of Sabrina, while Melissa voiced the roles of her on-screen aunts (via Behind the Voice Actors). The show was short-lived.
Emily Hart almost got her own spin-off show
As it turns out, the executive producer behind the show was the mother of the Hart sisters, Paula Hart (per Entertainment Weekly). When it looked as though "Sabrina the Teenage Witch" was coming to a close, Mama Hart pushed to get Emily a spin-off based on her character, Amanda.
"'Sabrina' will be on for quite some time," noted Paula. "But as she's growing older, it's time to fill those shoes again with a younger witch." However, Emily was not exactly on board with the idea. She shared, "I was pretty excited, but then I also was sort of upset. I don't want to take time off from school, I don't think you understand how much I love school."
In the end, Emily's wishes were granted. She got to stay in school, as the spin-off show never took off (via Showbiz Cheat Sheet). Emily continued acting and moved to New York, but her career has since slowed down from her days on "Sabrina the Teenage Witch" (via 80s Kids).