Why Leah Remini Was Petrified To Shoot Her Very First Scene With Ben Affleck
Kathy Hutchins/Shutterstock
It doesn't seem like anything scares Leah Remini. Not only is she known for playing tough talking characters like Carrie Heffernan on "The King of Queens," but she has also spent the last few years taking on the Church of Scientology, shining a spotlight on the organization and its practices via her A&E show "Leah Remini: Scientology and the Aftermath." Although the show — which earned her an Emmy Award — is over, Remini continues to be a vocal opponent of the church, even as she alleges that it continues to "threaten" her and "try to destroy" her and her family's lives (via Newsweek). 
"I want to focus on protecting its future victims. We've done our job," she told The Hollywood Reporter. "The public is seeing what a truly evil organization it is. It's not about religious beliefs. They can believe whatever the f*** they want. But they can't just do whatever the f*** they want."
Yet there is one thing Remini will admit once left her "petrified" — although it has nothing to do with Scientology. Instead, it was sharing a scene with Ben Affleck in the 1995 film "Glory Daze," which also starred Alyssa Milano, Matthew McConaughey and more.
Leah Remini couldn't stop laughing during a scene with Ben Affleck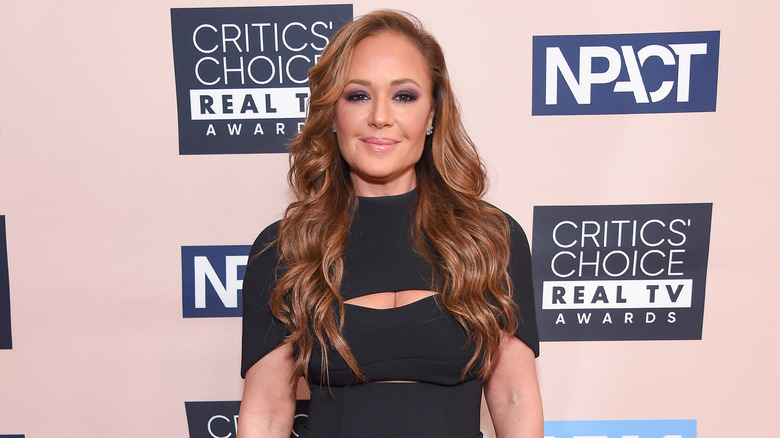 DFree/Shutterstock
Leah Remini remembers being "petrified" when filming a scene with Ben Affleck on the 1995 film "Glory Daze" because she couldn't stop laughing at another actor. "I wasn't established in any way to be like, 'Go screw yourself. I'm laughing.' You know what I mean? I was petrified," Remini told People, adding "I was horrified at myself because I kept ruining takes because that guy in the clip was so funny in real life. He kept doing different things, and so he kept making me laugh."
All worked out, though, and now with Affleck back on with Remini's good friend Jennifer Lopez, the actors have all been hanging out together. They even spent time playing Remini's favorite board game, Rummikub. "I just wanted to make sure that they had my game there in case when I come, we're playing the game," she revealed to People. "And so I quickly explained it to him thinking that he would lose. And I maybe didn't say everything that he was supposed to do, but he was catching up, which I wasn't happy about. And I was like, 'We need to stop. I have to go. I have things I got to do.'"