Tristan Thomas Was Caught Gushing Over Khloé Kardashian For This Inspiring Reason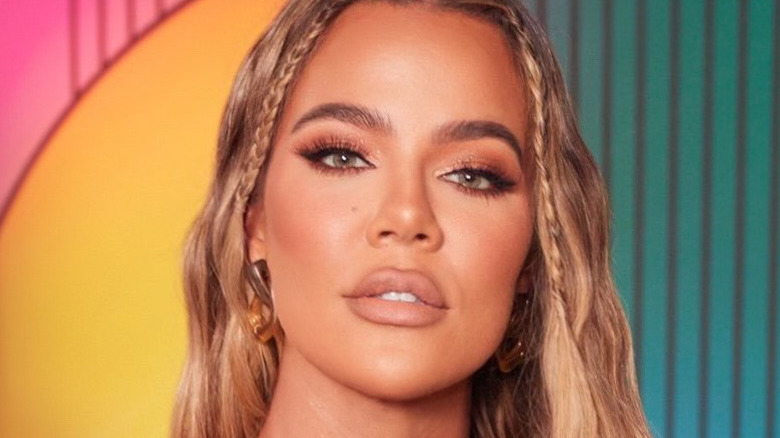 Shein X 100k Challenge 2021/Getty Images
You can't blame a guy for trying — we guess. Khloé Kardashian's ex and the father of her daughter True is known to take to social media in an attempt to flatter the reality star following their latest breakup. Remember when Tristan Thompson left a flirty comment on a photo the Good American champion shared of herself in a bathing suit in an outdoor shower? Fans were not having it, and in fact, even Kardashian's ex-husband, Lamar Odom, shot down Thompson's efforts.
It seems he didn't learn from the incident, as Thompson has yet again resorted to Instagram to compliment the woman he allegedly cheated on multiple times (via People and The Cut). This time, the pro basketball player is impressed with Kardashian's new Health magazine cover, which shows off her athletic physique. The star shared the cover with her 189 million followers along with the caption, "Thank you Health Magazine for having me on your cover. I worked so hard in the gym for this and I celebrated with pizza (my weakness) right afterwards."
Kardashian's friends and family members were quick to comment on the impressive image, with her mom, Kris Jenner, notably writing, "Wow Khloe!!!!!!!! You are so beautiful and amazing inside and out and show all of us how to be empowered, inspirational, happy, and peaceful and that laughter is the best medicine... I love you so much!!!!!!"
Then, there was Thompson's comment.
Tristan Thompson should be inspired by Khloé Kardashian given her outlook on health
Tristan Thompson's comment on Khloé Kardashian's Instagram post featuring her Health cover was very complimentary, with the athlete writing, "Wow!! You are so motivational Koko! So proud of your hard work and dedication to your healthcare and fitness. Abs of steel!! BRB I need to do some sit ups."
But fans were less than enthused, with hundreds of responses chastising Thompson for his comment. "Leave her alone, or commit to her. It's not hard," one Kardashian supporter said. "CRINGEEEEEEEE," commented someone else, while other ride-or-die fans of the star called his words "pathetic" and "lame."
No matter what her fans had to say about her ex gushing over her cover photo, it must be said that Kardashian's commitment to health is very inspiring. As she told Health about her overall wellness at this stage in her life, "For me, it's about practicing healthy habits on a daily basis. I have to think of it as a lifestyle rather than thinking I want to try this diet or some other thing someone was talking about."
She added, "It's cliché, but it's all about mind, body, and soul.... So, it is really not about the physical appearance. That's a by-product."