What's Going On Between Khloé Kardashian's Exes?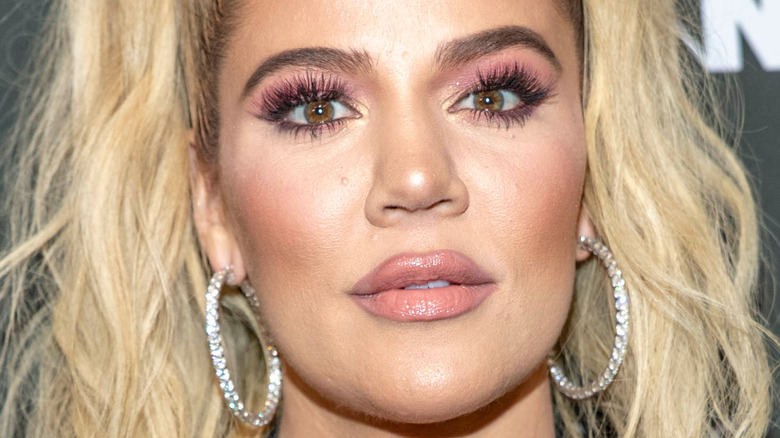 Shutterstock
It seems Khloé Kardashian's two exes are fighting over who can flirt with her. First, a refresher on the reality star's past relationships. Fans will remember she was married to basketball player Lamar Odom from 2009 to 2016 (via The Sun). The wedding was televised for "Keeping Up With the Kardashians" (via Us Weekly). And while the couple seemed happy for a stretch of time, the break up was contentious, with Kardashian ultimately deciding Odom should beat his drug addiction before he could handle having a family (via Distractify).
Odom was also unfaithful, but he isn't proud of how things ended, as he previously said, "I wish I could have been more of a man. It still bothers me to this day. But regret is something we have to learn to live with."
Kardashian eventually moved on with basketball player Tristan Thompson. The two welcomed their daughter, True, in 2018 (via People). But sadly, again, the reality star was the victim of a cheating significant other, with rumors dogging the duo that Thompson was unfaithful even when she was pregnant (via ET Online). While it seemed they might work things out, the couple is no longer together.
That hasn't stopped Thompson from defending his ex against her other ex on social media.
Fans are not impressed with Tristan Thompson's act
As The Sun reports, Kardashian recently shared a bikini photo to her Instagram, to which Odom commented, "Hottie," along with fire, heart eyes, and red heart emoji. Well, Thompson wasn't having it, and responded, "God brought you back the first time. Play if you want, different results."
Page Six explained the comment was likely alluding to how Odom overdosed on drugs in 2016. Ouch. Of course, Kardashian's followers quickly weighed in on the apparent feud, with one writing, "you're just mad because you know you never had the love her and Lammy had."
Another fan blasted Thompson, commenting, "you didn't respect this girl at anytime. Fool." Someone else said, "what's even funnier is she was married to Lamar wonder why she won't marry you."
For her part, the Good American founder shared a quote to her Instagram Story that seemed to address her feelings on the situation: "Remember, most of your stress comes from the way you respond, not the way your life is. Adjust your attitude. Change how you see things. Look for the good in all situations. Take the lesson and find new opportunities to grow. Let the extra stress, worrying, and overthinking go."