Stephanie Grisham Opens Up About What Melania Trump Was Really Like In Private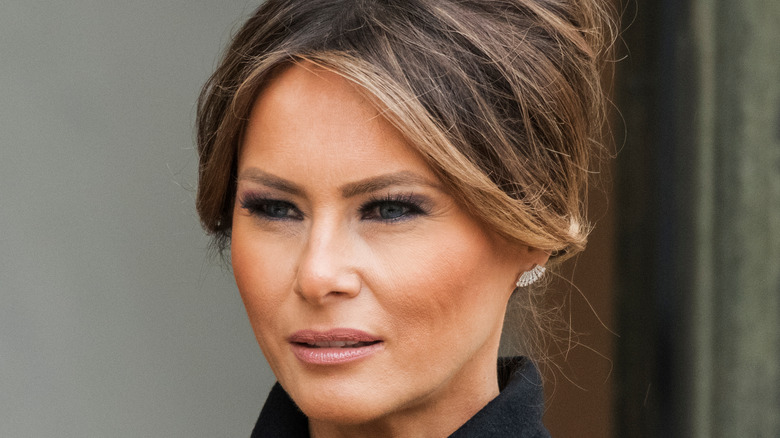 Frederic Legrand - COMEO/Shutterstock
Stephanie Grisham rose quickly through the ranks of the first Donald Trump presidential campaign to become first the president's press secretary, then the chief of staff for first lady Melania Trump. The two women bonded quickly, and Grisham became Melania's trusted confidante and loyal defender. Then things went south just as fast. Grisham became stressed over the tense White House atmosphere and concerned over some of the president's policies. As Grisham describes in her new memoir, "I'll Take Your Questions Now," her friendship with the first lady crumbled on January 6, 2021, when Melania declined to comment publicly against the insurrection on the Capitol building (Grisham also believes that Melania sides with her husband's claims of election fraud, via The Guardian).
Grisham's book has only widened the rift between herself and the Trumps. Melania has called it "an attempt to redeem herself after a poor performance as press secretary, failed personal relationships, and unprofessional behavior in the White House," (via Politico). But despite her strong words against the Trump administration, Grisham still admires the former first lady in some ways. In a recent interview with People, Grisham offered her thoughts on the private side of Melania.
To start with, Grisham admires the former first lady's family values. "She's a really devoted mom [to son Barron]," she told the magazine, adding that Melania is also close to her parents. "I think going forward for the rest of my life, I will only ever implicitly trust my family and I think that's where she is too," Grisham said. 
Stephanie Grisham thinks Melania Trump can be nice but stubborn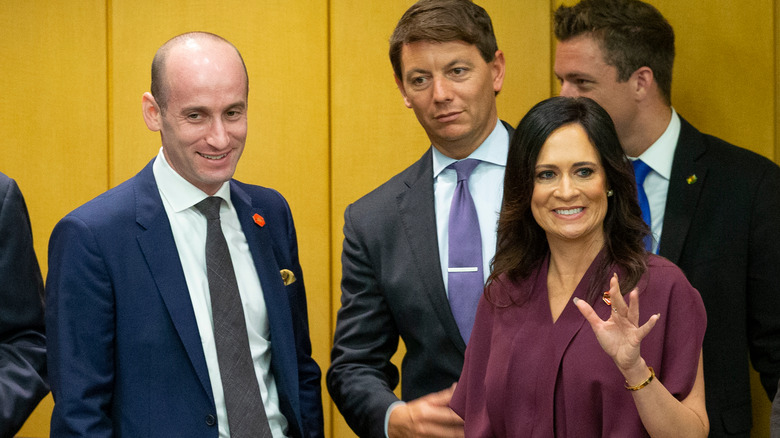 lev radin/Shutterstock
In her sit down with People, Stephanie Grisham also praised Melania Trump's sense of humor and her kindness, "which I think is so funny for me to say, when you consider the statements she's put out about me," she said. The former first lady always remembered Grisham's birthday, and would ask about her personal life. 
But, added Grisham, Melania Trump can also be somewhat two-faced — "being nice to people that I knew for a fact she didn't like," she explained. "She's very, very good at that." Grisham also describes Melania as being "stubborn" if she doesn't get her way. Grisham noted that, as a former model, Melania is always concerned about her personal image, always making sure to look good and not say too much in public. Privately, however, the former first lady is more relaxed and "very animated."
Contrary to popular rumor, Melania and Donald Trump's marriage is "a real partnership," Grisham said, adding that the former president never vented his infamous temper on his wife. The two usually see eye to eye on key political issues, with one notable exception: Donald Trump's policy on separating undocumented immigrants from their children. "I know [Melania] tried to talk him out of it and that was the one he wouldn't budge on," Grisham said. 
Now trying to move on from her White House experiences, Grisham still has some mixed feelings about her relationship with the former first family. "I liked them and I disliked them," she told People. "I miss them and I hope I never see them again."